Why an Electric Trolley May Be Best for Moving Heavy Loads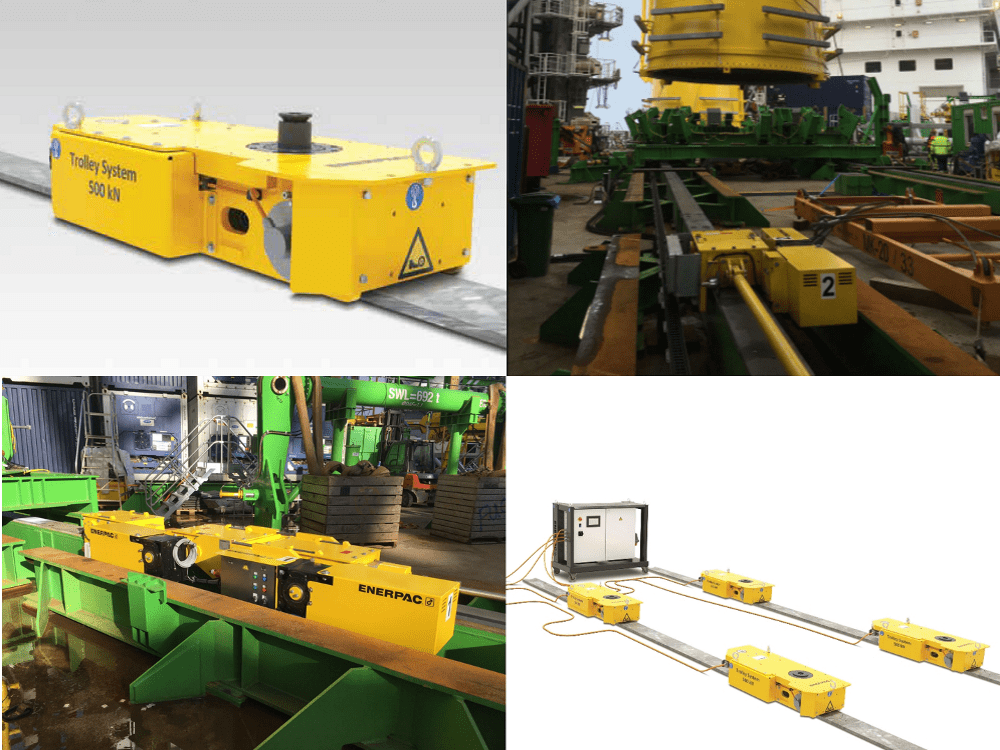 There's no doubt that advancements in new technologies bring great advantages to us all.
But for manufacturers and plant operators, this can present new challenges. Expectations are higher, schedules are tighter, and assemblies of large bulky items are becoming more complex.
Many large structures (for example in the rail and aerospace industries) are manufactured in stages, with sub-assemblies and parts being moved during fabrication and brought together for final assembly.
There's a number of different ways to move products and assemblies on-site, each with their own advantages and disadvantages. Before we cover electric trolleys, let's look at the alternatives.
Overhead Gantry Crane
These are used widely inside factories and warehouses, for picking up and placing goods, or moving heavy items across the production line during manufacturing. Gantry cranes offer a good solution so long as you're happy with a permanent structure and the relatively high cost of purchase and installation. However, with large and irregular-shaped structures, there is also cost and time involved to design, build and install rigging to attach to the overhead crane as well as the inherent risk of moving large objects at an extended height.
Mobile Cranes
Unlike the familiar tower cranes, we see on construction sites, a mobile crane is smaller and can be driven to the worksite into spaces where a tower crane will not fit. However, they aren't ideal for repeatable work inside an industrial unit as their size makes them impractical. Operators also need to be certified.
Self-Propelled Modular Transporters
A self-propelled modular transporter (SPMT ) can offer great flexibility for moving loads indoors and outdoors throughout your plant. They aren't the cheapest solution and are only suitable for applications with a starting height of around 30" (762mm).
Forklift Trucks
Forklift trucks are great for moving relatively smaller palletized items. Yet, a forklift cannot be used to move the very large and heavy machinery encountered in the power generation, oil & gas, and industrial industries.
Skidding Systems
A skidding system is modular and uses hydraulic push-pull cylinders to move the load over a pre-constructed track. A series of special PTFE-coated pads are placed on the skid tracks to reduce friction. The push-pull units are powered by a split flow pump, ensuring each skid beam travels synchronously.
The main benefit of a skidding system is that it allows loads to be moved using a sliding motion. This makes them well-suited to applications where headroom is limited. Downsides include a much slower travel speed compared with the other methods described above and the 'stop start' motion doesn't suit all types of load. Also, a separate hydraulic pump is also needed which is not always convenient.
Electric Trolleys and How They Work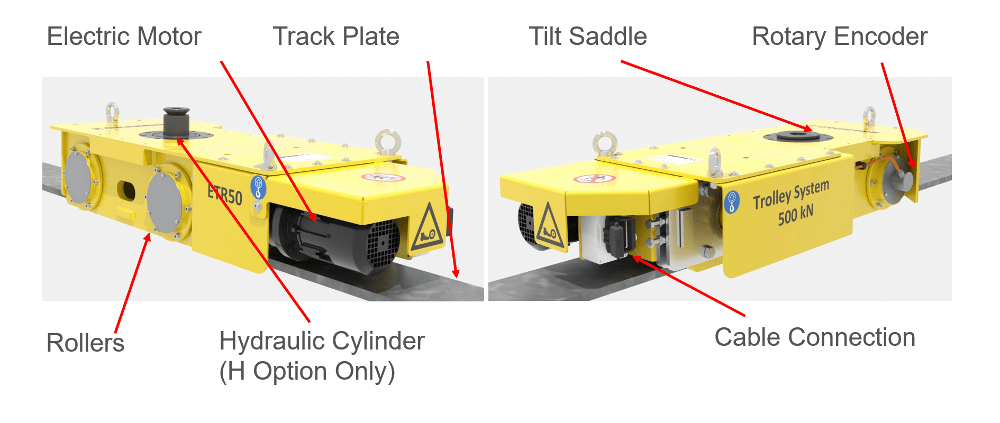 An electric trolley for heavy loads operates on a pre-constructed and fixed guided track. A typical system includes 4 trolleys, 2 tracks, and 1 controller. Depending upon the model chosen, each trolley unit has the capacity to support a 50-tons (500kN) or 100-tons (1000kN).
Within each unit there's an electric motor, a roller and a rotary encoder. There's also an option to add a hydraulic cylinder to enable vertical lifting. The whole system is controlled using a hand-held wireless controller.
A trolley system provides automatic synchronization of traveling with an accuracy of 0.39 inch (10 mm). A single operator has the ability to combine up to eight trolley units that are synchronized together.
Electric Trolley Vs Skidding System
Of all the various transport methods covered above, a skidding system is the most similar to an electric trolley. However, there are significant differences. First of all, an electric trolley provides a smooth and continuous motion – an important advantage when moving loads containing sensitive or fragile equipment. The skidding system uses hydraulic cylinders that deliver a 'stop start' incremental motion.
An electric trolley is driven by a self-contained drive , unlike skidding systems which use a separate hydraulic pump. They also move the load faster, typically 50 m/hour (164 ft/hour) loaded travel speed, and 100 m/hour (328 ft/hour) unloaded/reset speed.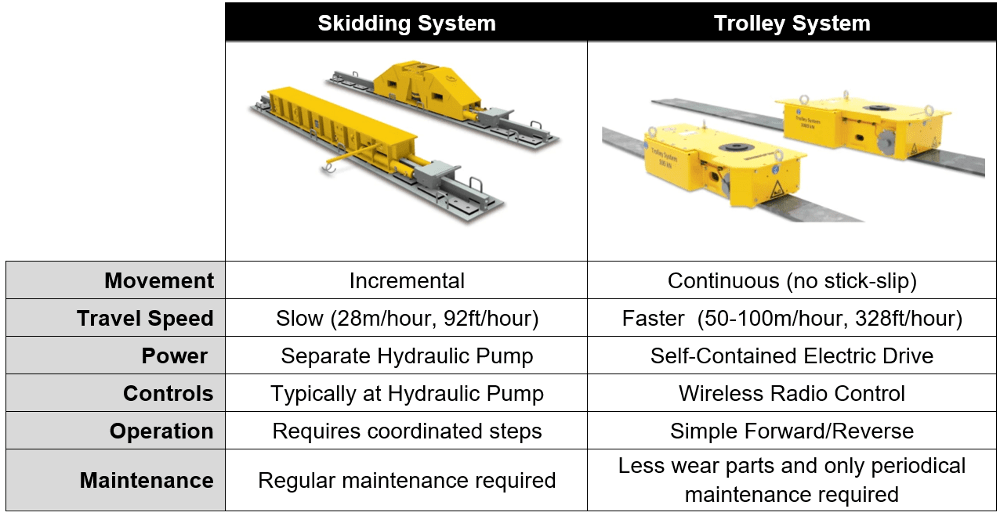 Features and Benefits of an Electric Trolley System
Low Height: Safer and Perfect for Indoor Transportation
Need to move loads close to ground level on a dedicated path? An electric trolley can do this. They work by traveling on guided low-profile tracks with controlled synchronization. This means no swinging loads, or other risks associated with moving large loads at overhead height. The low height also ensures resistance to side load.
Continuous Smooth Movement: Reduced Risk of Damage
Moving sensitive equipment with the stop start motion of a skidding system presents the risk of damage. However, the inverter incorporated into Enerpac Trolley Systems allows speed to ramp up smoothly, maintaining continuous movement and slowing down smoothly. The standard control panel includes software with pre-programmed ramp up and slow down speeds.
Fast Travel Speed
Although slower than a forklift or overhead crane, an electric trolley system is much faster than a skidding system. The trolley system enables efficient job completion, thanks to its 50 m/hour (164 ft/hour) loaded travel speed. And when unloaded and returning to pick up another load the speed is twice as quick at an impressive 100 m/hour (328 ft/hour).
Repeatable
Although easily transportable to use elsewhere at your plant, the trolley system also suits repetitive movements.
Versatile and Flexible
An electric trolley system can be quickly configured to suit a wide range of applications. For example, eight units can be used for longer loads instead of the usual four. And if you need to include lifting as part of your transporting operation, you can add on hydraulic cylinders to the units or bolt on an Enerpac Cube Jack.
Convenience
Electric trolley systems are designed with convenience in mind. They're easy to transport and set up, and the wireless controls and built-in synchronization makes things easy for the operator. The simple flat steel plates used for the tracks are just 20mm thick – small enough to be driven over by a forklift!
There's no consumables to worry about and maintenance intervals are long.
Low Cost
An electric trolley offers lower cost when compared to cranes with an equal capacity, and jobs with repetitive movements such as those performed daily or weekly can see the savings quickly add up.
Clean Usage
With the trolleys being driven electrically , there's no need for hydraulic power units, gasoline or diesel fuels.
Industries with Applications Suited to Electric Trolleys
With electric trolleys being so versatile there is plenty of opportunities to use them across many different sectors.
Power Generation
Oil & Gas
Petrochem and refinery
Offshore Modules
Heavy Industrial
Heavy manufacturing
Ship Building
Summary
An electric trolley system can be summed up using just eight words: Smooth, clean, versatile, expandable, convenient, low, cost-effective, and repeatable.