New Technologies and Industrial Tools: Doing It Right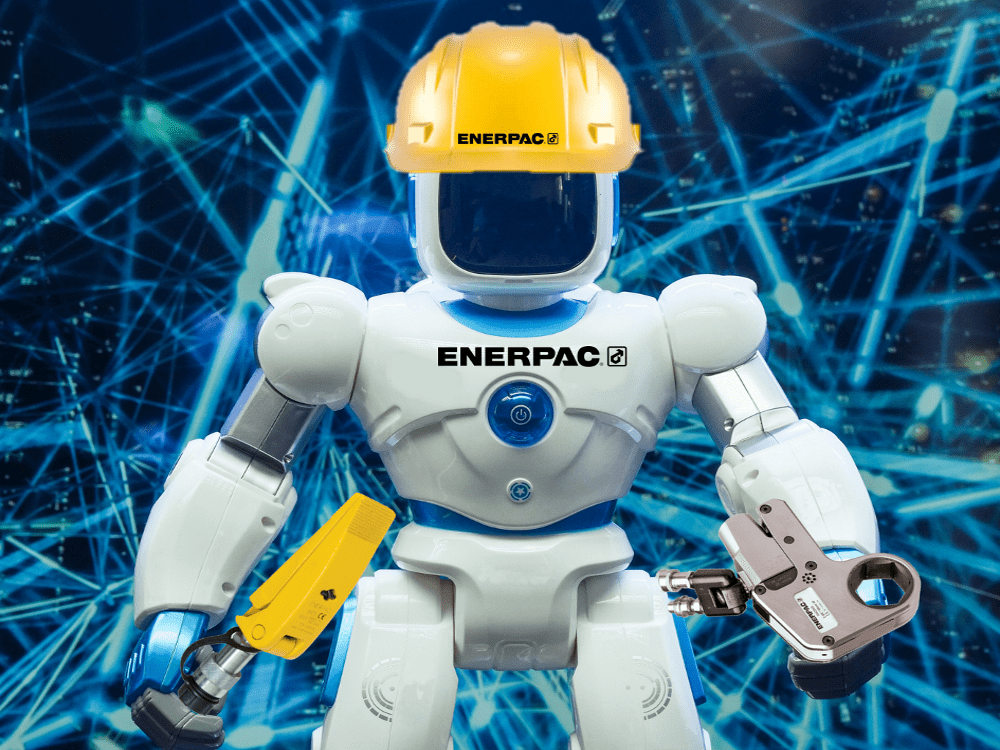 As consumers, we all enjoy the benefits of a more connected world. Smart enabled TV's, automated receipts, and parcel delivery tracking are all embedded within our daily lives – so much so that we now expect this level of connectivity as standard.
But what about industrial tools? Robots to replace bolting technicians may be some way off – but there are benefits that new technologies will provide in the near, and not so distant future.
New Technologies and Industrial Tools
Compared to a smartphone or TV, industrial tools are far less complex. And many would argue against adding unnecessary 'bells and whistles' to a hydraulic torque wrench, pump, or cylinder – especially if it's just to jump on the IoT (Internet of Things) bandwagon.
Most important of all is that every tool is right for the job and it helps the user complete the task effectively and safely – without any fuss.
Furthermore, many tools need to operate effectively in very harsh environments and remote locations, and these aren't the best conditions for sensitive electronic devices!
Perhaps this is one reason industrial tool manufacturers have been reluctant to explore the added value new technologies can offer.
New Possibilities
One approach is to look towards consumer products for inspiration. But not to 'shoehorn in' complex microchips, processors, and Bluetooth technology where they don't really help. Starting out simple and getting things right is a much more sensible approach.
The Benefits of QR Codes
QR codes have been around for some time, and although regarded as 'old school' to some people, they can provide huge benefits. Just adding a QR code onto a tool's serial plate and scanning it with a smartphone app opens up a whole new world of possibilities.
How good would it be to get instant access to this information from a mobile device?
Product Operators Manual – Not just a pdf, but a cloud-based up-to-date version, including easily accessible instructions and a demonstration video.
The date the tool was last serviced – with an automated pop-up reminder
Automated data logging – e.g. torque readings on flange bolts
Calibration certificates
The ability to manage your whole fleet of tools from the palm of your hand
Related products: e.g., valve and pump compatibility
Pressure to torque conversion charts
The correct flange bolt tightening sequence
Battery-Powered Industrial Tools

Battery performance has taken great strides within the last five years. On the domestic front, batteries are no longer confined to toys, torches, and radios. They've advanced enough to power many portable DIY and garden tools. A great example is battery-powered lawnmowers, which now allow you to cut your lawn without the hassle of trailing power cables or the use of air-polluting gasoline.
More powerful batteries are now being used for industrial applications:
Solar energy can be stored using sophisticated battery storage systems, and battery-powered transport vehicles are set to become the standard.
Drones are now commonly used for surveillance and checking the condition of buildings and bridges,
Battery-powered hand-held tools give users more freedom to work anywhere on-site – without the need for trailing leads or heavy gasoline-powered pumps.
Some examples of industrial tools using battery power include cordless hydraulic pumps, cordless cutters, and remote-control units. As the image below of the Enerpac "WalkPac" from 1995 shows, the concept of a battery-powered hydraulic pump is not so new. However, it is quite a contrast to the lighter more recent XC-Series shown alongside.

What are the Risks?
Introducing products that use new technologies comes with risks, and when used in an industrial setting these could be significant. Especially if the product has not been extensively tested. We all know that technology isn't perfect. Your Bluetooth speaker at home cutting out sure is annoying, but imagine what could happen if a wireless controller failed during a load lift! Without a failsafe backup, the consequences could be severe.
Regarding batteries, not all working environments are right for battery-powered tools. Cold temperatures cause battery performance to drop, and charging becomes more difficult at extremely low temperatures. Plus, in any environment where there is an explosion risk, air-powered tools are always the recommended option.
When it comes to managing customer data, there are legal obligations to cover. The massive growth in the internet of things creates many new opportunities for cyber-attack. Users now expect companies to identify, address, and minimize risks surrounding the privacy and protection of their data in the cloud. Even within the B2B sector, people increasingly want companies to be fully transparent about where their data goes, who sees it, and what will be done with it.
Finding New Opportunities for Innovation
Innovation can come from two different sources. First, there's the development of new technologies, but secondly, (and arguably more valuable) is what you can find from observing tool users when out on the job site.
Understanding a user's pain points is not easy for an engineer or industrial designer to visualize while working in the office. Seeing jobs carried out in real-time and talking 1:1 with the operator is more likely to uncover new solutions. Often the tool user may have done a particular task in the same way for many years, not realizing new technology exists to do it better. The focus should be on the job to be done and not just centered around the tool itself..
Conclusion
Technology makes many things possible, but just because you can, doesn't mean you should. (Remember 3D televisions or Google Glass?).
For users of industrial tools, the stakes are incredibly high, and tools simply must work every time. The consequences of a synchronized heavy-lift failing, or delayed maintenance because of a flat battery are far too great to take any chances.
Only from manufacturers that combine user insight with a robust product development process will see more exciting and reliable new products emerge. Tools that help users get the job done safer, smarter, and more efficiently.