Heavy Machinery Moving Equipment: Your Options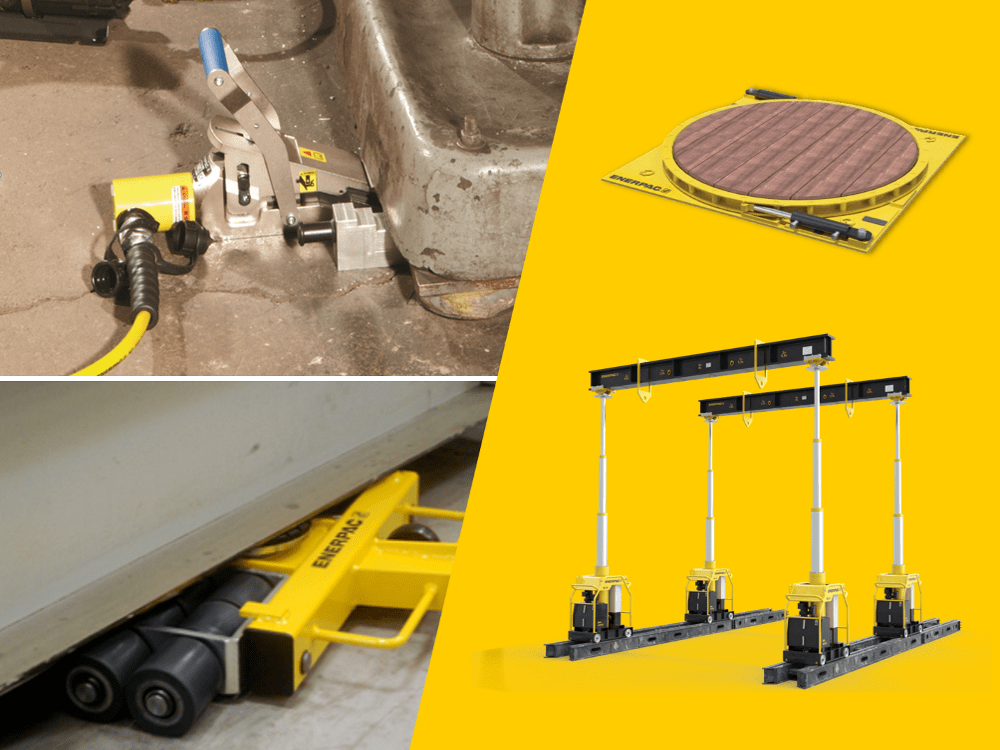 There are many different types of heavy machinery moving equipment. Knowing exactly what's available and what each type can do will help you make the right choice for your machine-moving challenges. Making sure you do your research thoroughly will ensure you get equipment that offers the maneuverability to handle a wide range of projects.
Finding a product to get the job done is the key, but it's also worth looking out for features that can improve productivity. For example, powered machine skates, and other tools with wireless controls allow just one person to complete the job.
If you're looking to buy a selection of machine moving tools, choosing a sole manufacturer with a full portfolio of products (such as Enerpac) can help to simplify the process.
Types of Heavy Machinery Moving Equipment
Lifting Wedges
Low Height Hydraulic Cylinders
Toe Jacks
Machine Skates
Portable Gantries
Skidding Systems
Turntables
Coordinated Lifting Pumps
If you're a machinery moving contractor, no doubt you'll be aware of what each of these can do. But if your company prefers to handle these projects in-house, we recommend you read through the brief summaries below.
Lifting Wedges
In many cases, when you need to move a heavy piece of equipment, there's only a small amount of clearance between the floor and the underside of the load. Using a lifting wedge helps you make that all important first step before inserting your next piece of moving equipment.

Lifting wedges make use of an integral hydraulic cylinder and stepped jaws. They make it possible to start your lift project when there's a gap as small as 0.39". Activating the lifting wedge typically expands the gap up to 2.72". If there's not a cylinder integrated into the design of the wedge, you will need to attach an external hand or foot-operated hydraulic pump.
Low Height Hydraulic Cylinders
Also known as pancake cylinders, these simple tools provide an impressive power-to-height ratio. Compact designs such as the Enerpac CUSP10 have a collapsed height of as little as 2.85" and a load capacity of up to 10 tons.

When selecting a low-height cylinder, as well as the height and load capacity, make sure you pay attention to the stroke of the cylinder, as some can be as little as 0.26". If you're looking for a cylinder that combines low collapsed height with a long stroke a telescopic hydraulic cylinder is a great choice.

Toe Jacks
If you have an access gap of 0.79" or more, an Enerpac Toe Jack provides a superb solution when a long stroke is needed. For example, the SOH106 toe jack provides a stroke of more than 5.39".

Toe jacks are easy to use and are simply moved into place by positioning the toe underneath the load. An added bonus is the head of the toe jack can also be positioned under loads with greater clearance – making it possible to raise loads from 11.61" up to 17".
Machine Skates
You may have heard these described as dollies, machine-moving skates, load skates, or roller skids.
But whatever you choose to call them they all do the same thing – which is to use their integral rollers to slip under the load – allowing it to move effortlessly across the factory floor. To work effectively, load skates need a smooth flat floor surface, free from any dirt or debris.

You can either push or pull load skates manually, or if needed, with the assistance of a forklift or a tug. Different types include fixed roller steerable skates, roller tracks, and those with 360-degree directional movement.
Find out more about choosing load skates in our article Load Moving Skates: Key Considerations and Options.

Machine Mover's Virtual Tool Room
Everything you need in one place
PRODUCT UPDATE – AVAILABLE NOW!
Recently added to the Enerpac collection of machinery moving equipment is the new EMLS Series of battery-powered machine skates. These will boost your efficiency and improve operator safety by allowing a single user to move loads of up to 55 tons a safe distance away from the load. Complete your moving challenges up to 4 x faster than conventional methods with high maneuverability and precision control.
Click on the button below to find out more.
Portable Gantries
Compared to other types of heavy machinery moving equipment mentioned, portable hydraulic gantries are generally used for lifting much heavier loads. Typical examples include generators, transformers, turbines, and medical equipment. What sets them apart from other machine-moving equipment is that they lift the load from above.

Despite their use for large and heavy loads, some portable hydraulic gantries are designed to fit around loads where space is tight. One such example is the Enerpac ML40. Unlike many other gantries, the clever design of the ML40 makes it possible to move modules into the building through a standard doorway. And when it comes to operating the gantry, unlike larger models the ML40 is powered by simply plugging it into a standard electric socket.

Skidding Systems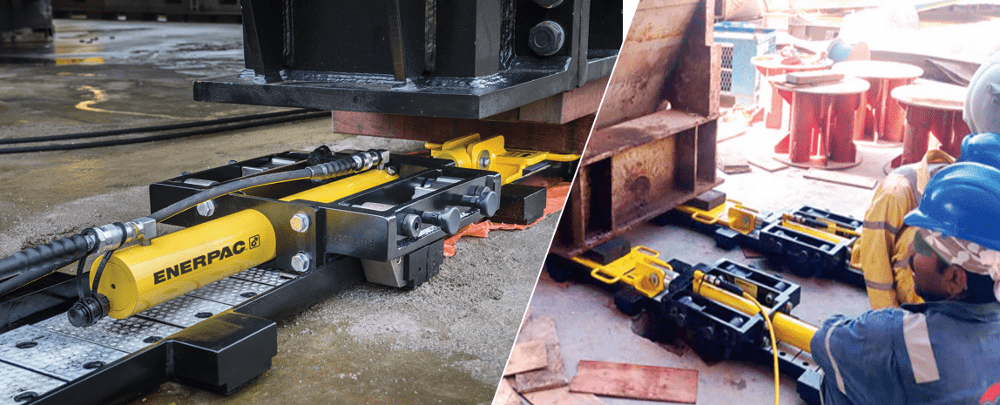 A skidding system is useful if the load is too heavy for load skates – and whenever it's not practical to use a hydraulic gantry. They allow a load to be slid across a pre-constructed track assembled onsite. They work using a series of skid beams moved by hydraulic push-pull cylinders, each moving over a series of special low friction PTFE-coated pads on the skid tracks. Skidding systems are often used with turntables to move loads in tight spaces.
Hydraulic Turntables
A hydraulic turntable is a great addition to a machine mover's equipment list. They provide safe and controlled rotation of heavy loads weighing up to 450 tons. Changing the direction of rotation is easy and the base of the load sits on the hardwood surface.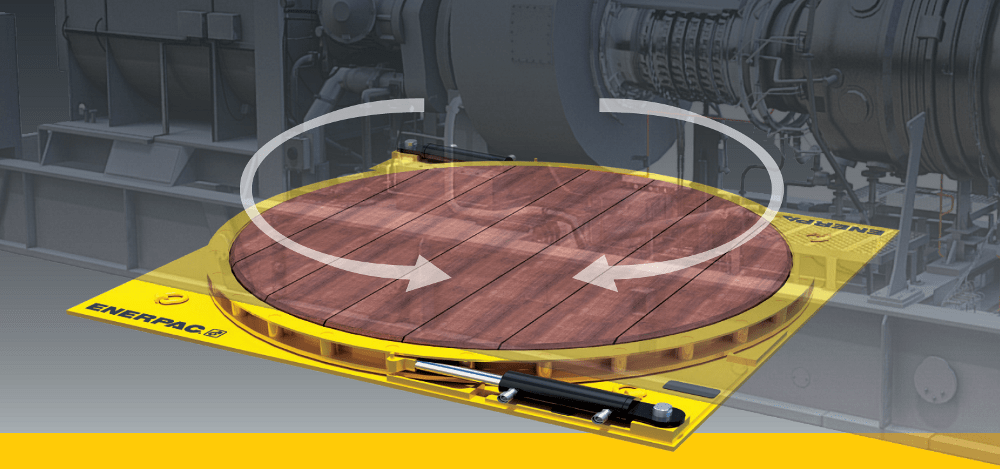 Like many of the other tools mentioned, a turntable incorporates hydraulic cylinders that do the hard work, (this can be one or two depending upon the model chosen). Therefore, to work effectively they need to be linked up to a compatible hydraulic pump.
Coordinated Lifting Pumps for Heavy Machinery Moving Equipment

Load-moving projects can vary in size and complexity. When lifting or lowering using multiple lift points, a coordinated lifting pump provides the required high degree of control and accuracy. This means a single operator can take full control over large and complex lifts with accuracy and complete confidence.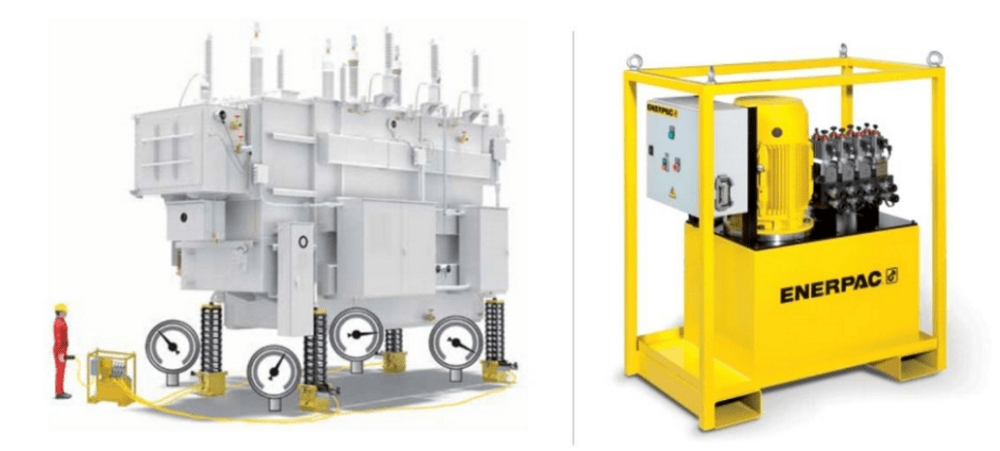 There are different types of controlled lifting pumps available. Split flow pumps have 2 to 8 outlets and work using a remote-controlled pendant. Where synchronization of maximum 4% is acceptable, split flow Pumps are a safe and economical solution.
When greater accuracy is needed, an EVO System provides this and also offers advanced features, such as an intuitive user interface, several flow options, and built-in warning alarms. They combine high-pressure hydraulics with PLC (Programmable Logic Controller) controls to monitor and control each lifting point. Multiple pumps can be networked together to control up to 48 total lifting points from a single operator control station.
Need to discuss your machine moving needs?