Moving Heavy Machines: Reasons to Consider a Portable Mini Gantry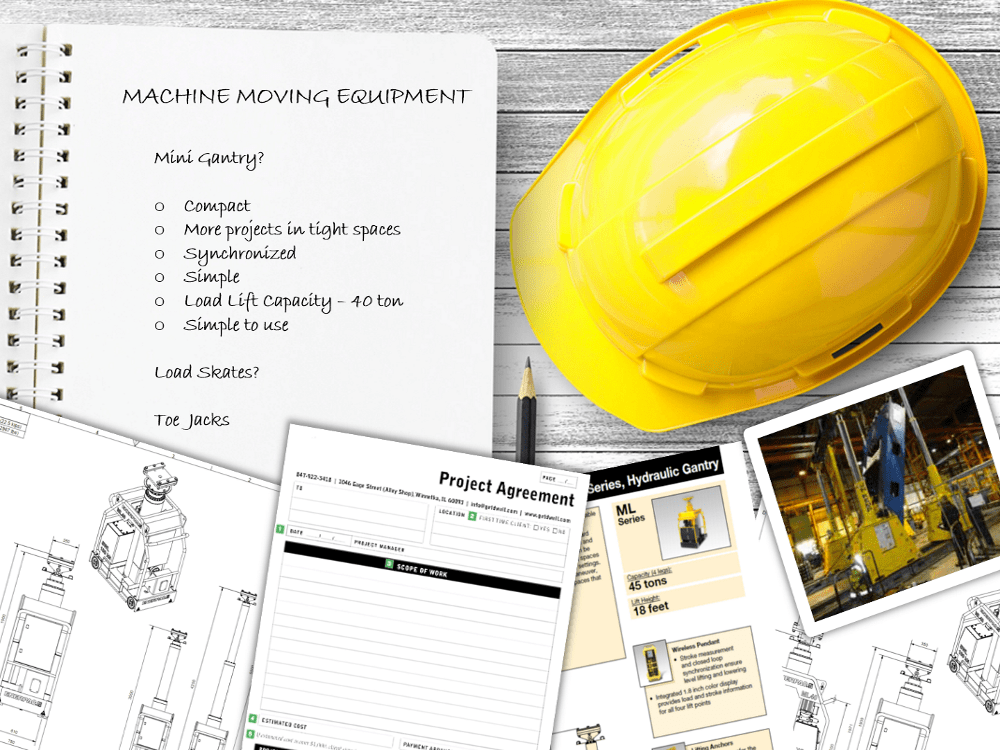 As a specialty transport service provider, you know equipment for lifting and moving heavy machines comes in a variety of formats. For many simple applications, load skates, toe jacks, cylinders, and lifting wedges are the right tools for the application.
But for moving heavier items, such as factory machines or medical equipment, a system with greater tonnage capacity, and precise control is needed. These types of jobs are ideal applications for a mini gantry.
Is a Mini Gantry worth the investment?
For machinery moving contractors ready to take on more projects the answer is an unequivocal yes. Being able to respond quickly to a customer's challenging machine move will give you an edge on your rivals.
Types of companies that can benefit from a mini gantry include those specializing in heavy machinery installation. These may include specialists in plant relocation, special transportation, or machinery maintenance, plus millwrights, rigging service companies, and medical equipment installers.
Hydraulic Gantries
For machine moving contractors, the hydraulic gantry is the go-to solution when a load needs lifting from above – especially if a truck-mounted crane isn't a viable option. But in some situations, getting a standard hydraulic gantry into the work area is difficult because of limited access to and within the building.
Machine movers will already know what a hydraulic gantry is, but for the benefit of everyone else; a hydraulic gantry consists of four lifting legs, each utilizing multi-stage telescoping cylinders and hydraulic pumps to lift a load. The legs support an overhead beam that attaches to the load using standard rigging components. The legs ride on portable steel skid tracks to allow the load to be moved horizontally once lifted from the ground.
Benefits of a Mini Hydraulic Gantry
#1. Maneuverability and Compact size – fits through a standard doorway
Many machine-moving contractors have a hydraulic gantry in their fleet. But few will have one that can be moved in modules that fit through a standard personnel doorway.
A gantry like this will cause less disruption to the shop floor during setup and will reduce the need to move auxiliary equipment near the load.
In hospitals, laboratories, and old buildings containing generators or sensitive equipment, quite often these facilities can have heavy machines tucked away that are only accessible through corridors and standard doorways. On projects like these, a mini gantry combined with a skidding system will offer an excellent solution for getting the load in or out of the building.
#2. Synchronized lifting
Heavy movers know the importance of a synchronized lift. Not just for reasons of operator safety, but also to safeguard the load. By choosing a gantry with alarm functions you'll have the reassurance that if something moves outside the set tolerances you will be alerted immediately.
#3. Convenience and simplicity
On any moving job time is money. Simplicity and ease of use go a long way towards making a project run smoothly. A good example that makes this possible is the Enerpac ML40 Mini Gantry. This product was purpose-designed to make life easier for operators and therefore does not require the need for specialized training. The advantage is the gantry can be used not only by machine-moving contractors, but also by reasonably skilled in-house operators.
When choosing a gantry consider the power source. Do you really want to use high voltage power connections or noisy generators? A mini gantry can be powered simply by plugging into a standard 115v or 230v electricity point. A self-contained system with the pump, controls, and drive system included also adds to the convenience.
#4. Capacity and Stroke
Don't be put off by the 'mini' in the mini gantry name. A gantry like this has the capacity to lift up to 40 tons – which is more than enough for many projects. Additionally, the telescopic legs offer the versatility to suit spaces with a low headroom clearance.
#5. Safety Features
Even the most experienced machine movers rely on safety features. The ability to use the gantry wirelessly, and at a safe distance is a vital feature to watch out for, as is the warning system mentioned earlier. Also, system modules with a narrow footprint help create more space for staff during installation.
#6. How versatile is a mini gantry?
With any plant purchase for moving heavy machines, you will want to recoup the money invested. Be reassured that a mini gantry will serve many different applications as compared with the larger models. Choosing optional accessories wisely will also open up even more possibilities.
Moving heavy machines with a mini gantry
In summary, a mini gantry has to potential to help you win more moving jobs. Their compact size, ease of use, and wireless control are all benefits that add value to your company's capabilities.
See more information on mini gantry specifications.

Machine Mover's Virtual Tool Room
Everything you need in one place