Using a Hydraulic Skidding System to move 16-ton transformers in a tight space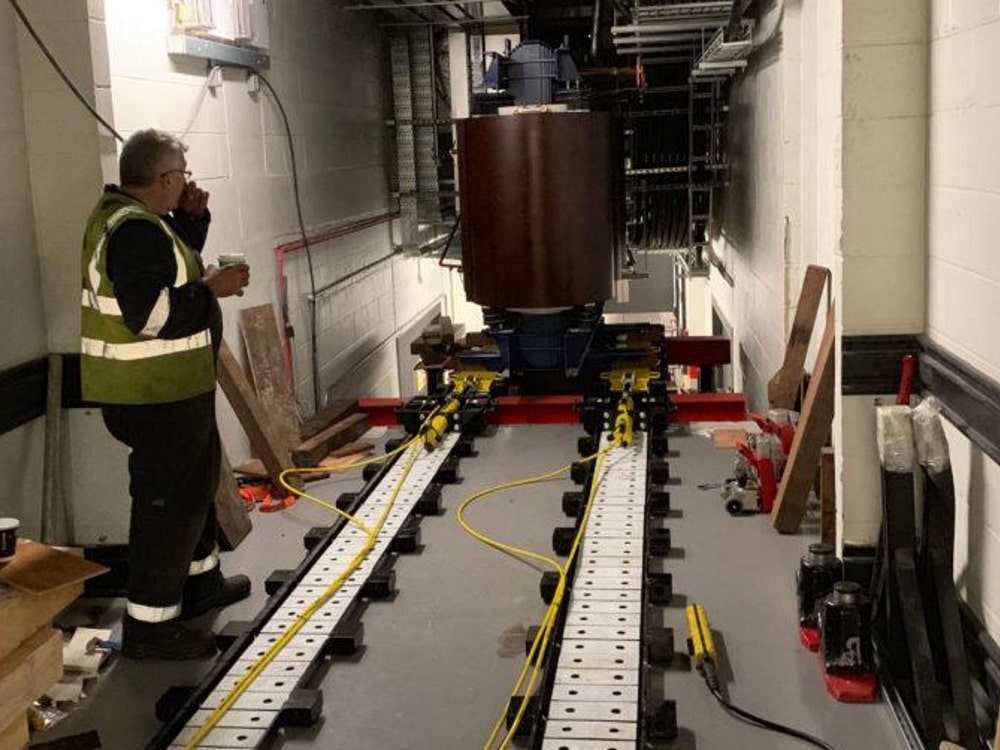 When heavy lifting projects are outdoors it usually means there's sufficient space around the load. This allows lifting equipment such as cranes, gantries, or jack-up systems to be used.
But what happens inside a building when access is restricted?
The summary below describes what was achieved using a hydraulic skidding system and Enerpac Climbing Jacks. You can read the full article here on heavyliftnews.com
Requirement
A firm in London, UK, needed to move four 16-ton transformers. This included two new replacements to be installed inside the building's basement. The transformers were 4m long, 2.2m high and 1.8m wide. Not only did they need moving along a 20m access corridor, they also needed to negotiate 3m drop.
Solution
UK based heavy machine lifting company, D. Turner & Son used a combination of an Enerpac LH400 Skidding System, Enerpac climbing Jacks, and a Split-flow Pump.
Hydraulic Skidding System
The LH400 Hydraulic Skid System was ideal for moving the transformers along the access corridor. This type of equipment is easy to transport and set out along the floor. The modular design comprises a series of skid beams allowing quick setup. Loads are moved by hydraulic push-pull units. Each traveling over special PTFE-coated pads placed on the skid tracks to reduce friction.
Enerpac offers several options for controlling the LH-Series skidding system. These include manual and wireless controls that allow complete control, and the freedom to see the operation from many locations.
Split Flow Pump
An Enerpac Split Flow Pump was also used to control the skidding operation – ensuring the skid beams traveled synchronously.
Lifting and lowering the transformers
Turner & Son used a platform supported on spreader beams, along with Enerpac Climbing Jacks and cribbing.
Watch the animated video to see how a hydraulic skidding system can be used.
Download Cube Jack Case Studies
Discover how Enerpac Cube Jacks helped in 10 heavy-lifting challenges