Hydraulic Jacking Equipment: The Enerpac JS-Series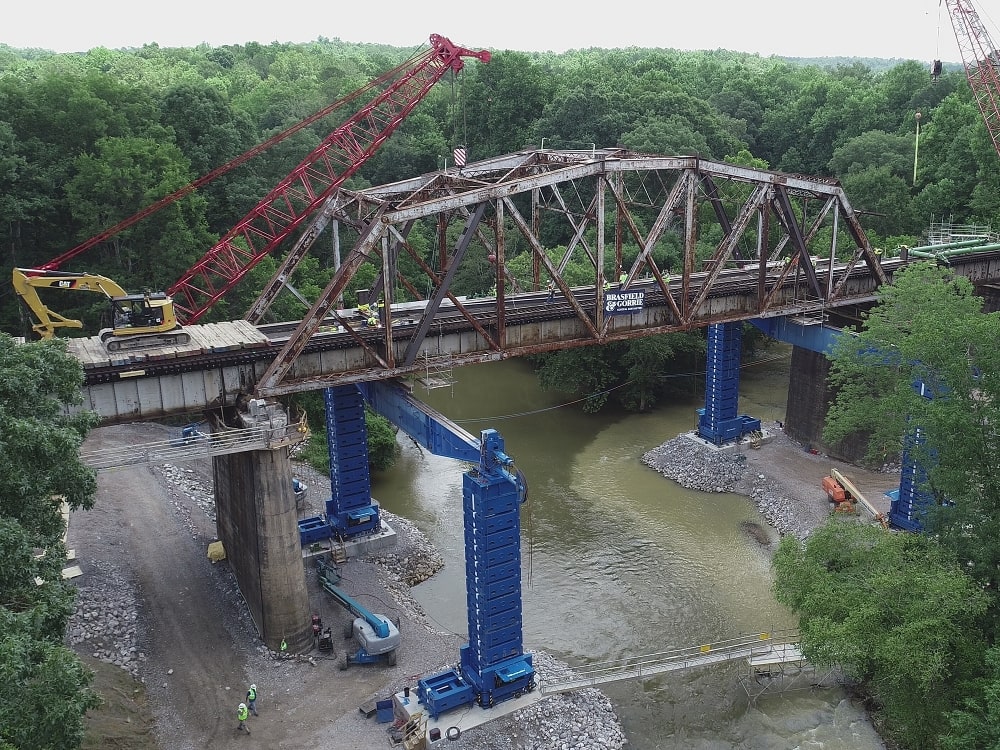 Heavy lifting can be complex and challenging. The variables of height, load, weight, size, and the space available means every single lift project is unique. Fortunately, heavy lifting technologies have evolved to keep up with the demands of modern construction methods and plant maintenance. Hydraulic jacking equipment is available in several different configurations. One example that offers precision control and synchronous lifting is the Jack-Up System.
What is a Jack-Up System?
The Enerpac Jack Up System excels at multi-point lifting. A typical setup includes four or more jack-up units – each positioned under a corner of the load. These individual jack-up units contain four hydraulic cylinders to lift and stack the steel boxes supporting the load.
Applications for a Hydraulic Jack-Up System
Unlike cranes or gantries which lift from above, jack-up systems are positioned below the load – making them especially suited to bridge construction, port crane lifting, power generation projects, and oil & gas installations.
Use a jack up system when…
You need to lift objects with a large footprint – such as a bridge deck or oil and gas module, or tunnel boring machine.
Lifting from below (however, it is also possible to lift from above when used with header beams).
When cranes do not offer the required combination of capacity and 'compactness'.
If you need to lift higher than traditional methods allow.
When it's not possible to use other methods due to high wind speed.
You want a high degree of accuracy, synchronization, and fast lifting.
What are the alternatives to a Jack Up System?
Similar hydraulic jacking equipment products include Climbing Jacks or Stage Jacks. These operate using the same hydraulic principle as a Jack-Up System but rely on the use of tropical hardwoods for cribbing blocks. Compared to a Jack-Up System provide less lift height and sideload is more difficult to manage.
How a Jack Up System works
In a jack-up system, hydraulic power is applied from the hydraulic power units built into each unit's lifting frame. The load lifts in increments as boxes slide into the system. These are then raised and stacked, forming 'lifting towers'. The load is then mechanically locked into position. Duration of the lift depends upon which model from the JS series you use, but this is generally between 5 and 20 feet per hour.
Computer-Controlled Operation
The self-contained computer control system in Enerpac Jack-Up Systems provides automatic synchronization of multiple networked lift points. The system also offers center of gravity calculation and up to 5% side load capacity (dependent on the capacity and lift height). Safety features include alarms for overload and stroke and an emergency stop.
What weight can you lift?
Enerpac provides 4 different sizes of Jack-Up system. The largest of these is the JS750, which has a lifting capacity of 750 metric tonnes (840 imperial tons) in each unit. This means a lifting project using four JS750 jack-up units has the capacity to lift a total load of up to 3,000 metric tonnes.
How high can they lift?
The maximum height is dependent upon the maximum sideload. The largest model, the JS750, is suitable for side loads of up to 5% at a height of 65.6 ft. However, you can increase lifting height using the bracing kits mentioned below.

Bridge Constructor's Equipment Guide
Find out about Enerpac Heavy Lifting Products
Extending Lifting Capability with Jack Up Accessories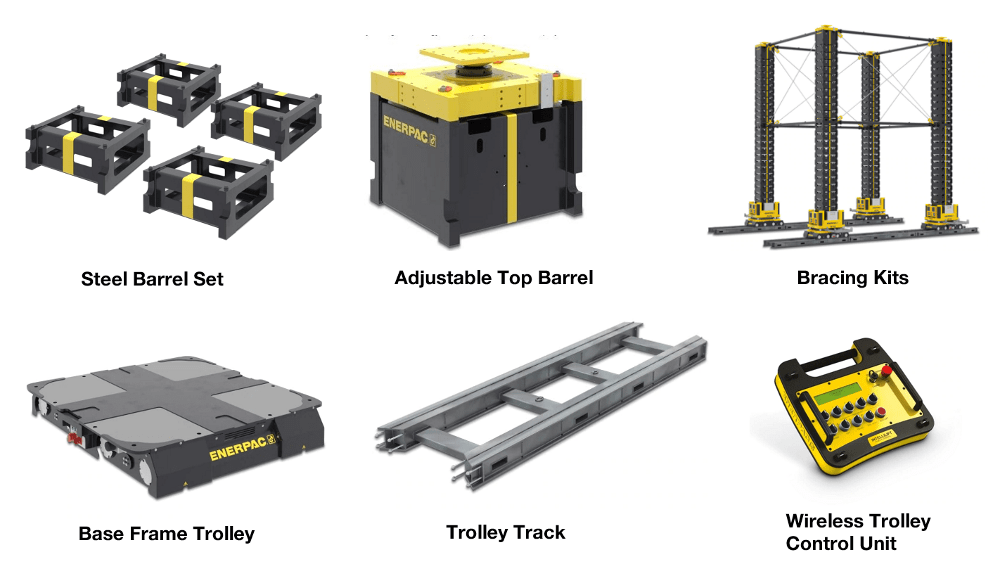 Extra Barrels
If you need to lift higher than your current equipment allows, you can buy extra barrel in sets of four.
Adjustable Barrels
These offer 'fine-tuning' to achieve the perfect height on awkward projects. They provide the ability to adjust the starting height of each leg, ensuring safe and stable lifting. They allow 300 mm (12 inches) of height adjustment to make contact with the load. This minimizes the need for excessive cribbing and support material. Adjustable top barrels include a double-acting lock nut cylinder with a swivel saddle.
Trolleys and Skid Tracks
Base Frame Trolleys allow horizontal travel of Jack-Up Systems at full load and at full height. They are smooth, fast, efficient, and eliminate the need for separate transportation equipment. (Note that you should use compatible Enerpac skid tracks to ensure proper support and guidance of the load).
Bracing Kits
For unique applications where you need additional lifting height, bracing kits are a solution to extend the safe lifting height of a Jack-Up System by up to 50%.
In conclusion, the Enerpac JS Series is tried and tested hydraulic jacking equipment. The steel barrels provide a more efficient way of working than using wooden cribbing blocks, and the wireless computer-controller allows synchronization of lifting points.
Download Cube Jack Case Studies
Discover how Enerpac Cube Jacks helped in 10 heavy-lifting challenges