Types of Hydraulic Pumps to Power Industrial Tools
The many types of hydraulic pumps available today mean there's one to suit just about any hydraulic application imaginable. But with so many features to consider, for anyone choosing a pump for the first time the choices may seem overwhelming.
Before you can select the right pump, first of all, you should understand the basics, and also the features that can be configured. Answering a few key questions about your intended applications will help you narrow the options.
Hydraulic Pump Power Sources
A key consideration is how you want the pump to be powered. What drives this decision is the location where you will be carrying out the work. For example, if you are working in a hazardous environment, a 'spark free' (ATEX certified) air-driven hydraulic pump will offer a safer solution.
If working at a remote location without access to compressed air or electric power, a battery-powered pump is the way to go. Manually powered pumps, such as foot pumps and hand pumps, offer a simple solution for smaller jobs. Especially those where the operation doesn't need to be repeated many times or when a very slow level of force is needed in a testing environment.
The most common power sources for hydraulic pumps are as follows.
Manual (hand or foot-powered)
Air-driven
Electric
Battery
Gasoline
Types of Hydraulic Pumps by Application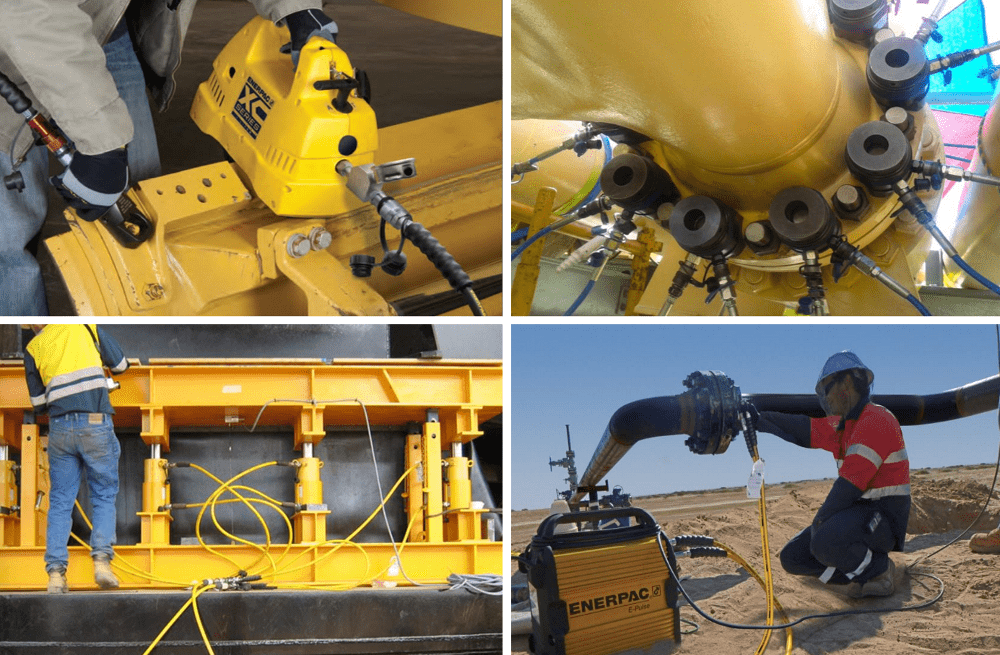 Most hydraulic pump manufacturers categorize their pumps by the intended pairing to the hydraulic tool and application. It's worth noting there are key differences that make them suited to each hydraulic application.
General Types of Hydraulic Pumps: For Cylinders, Flange Spreaders and Other Hydraulic Tools
Do you plan to use a pump with a hydraulic cylinder? The major consideration is whether you need a pump designed for a single or double-acting application. If the cylinder is double-acting, the pump will need at least two ports. One for the advance line – to extend the cylinder, the other for the return line – to retract it.
Hydraulic Torque Wrench Pumps
Pumps for hydraulic torque wrenches include a user-adjustable relief valve that allows the operator to easily set the correct torque pressure. They usually also include an onboard pressure gauge which can be either analog or digital.
They are available as air-driven, (ideal for use in oil & gas and petrochemical plants), and also as battery and electric-powered models.
By nature, pumps are generally very heavy, but lighter models are available which are easier to lift and carry to the work location. Roll cages are also a good feature to provide extra durability.
Tensioner Pumps
Hydraulic tensioner pumps are available in manual, air, and electric powered configurations. What makes a tensioner pump different is the capacity to work at very high pressures up to 21,750 psi (1500 bar). Pro Tip: Because these pumps operate at very high pressures you must always use fittings and hoses designed for these pressures.
Workholding Pumps
Machinery used in manufacturing plants often include built-in hydraulics to operate workholding setups. However, where there isn't such a system, (or if the hydraulic pressure needs increasing), a separate pump can be added.
These types of fixed bench application types of hydraulic pumps are powered by compressed air or electricity. Air-operated hydraulic pumps are powered by workshop air and are best suited to low or medium-duty cycles. Electric powered pumps are recommended for high-duty cycle applications and automation. They offer great versatility, low noise and provide the highest level of performance and durability.
Controlled Pumps for Multi-Point Lifting
For multi-point lifts, a controlled lifting pump offers a better solution than independently operated pumps. High precision movement of large objects requires synchronization of multiple lifting points. This can be achieved using a controlled lifting pump. By regulating the oil flow to each cylinder, these pumps provide incredibly accurate positional control. Manual intervention is minimized, the structural integrity of the load is maintained, and productivity and safety is assured.
Controlled lifting pumps feature both single and synchronized multiple outlet control either through joystick or pendant operation. More sophisticated models such as the EVO Synchronous Lifting System use stroke sensors. These can provide accuracy of up to 0.040 in (1 mm) between leading and lagging cylinders.
Performance and Function Considerations
Technical and performance considerations can be examined in great detail and will be covered in a pump series of blog posts. But for overview purposes consider the following checklist to match your intended use.
Application – Lifting, Torque, Tension, Workholding
Power Source
Oil Flow required – (affects the speed of the hydraulic tool)
Duty Cycle – intermittent or extended?
Required Usable Oil Capacity, (Number of cylinders and if double-acting)
Cylinder Compatibility: e.g., Single or Double Acting?
Lifting Speed for Cylinders (Important or Not Important?)
Voltage Available On-Site?
Control Type: Manual Vs Pendant Operation
Actuation Functions Required: Advance, Hold, Retract.
Portability: Carry by A Single Operator?
Manual Vs Solenoid Valve
Is Multi-Point Synchronous Lifting needed?
Worksite Environment: Spark Free, low Noise
Weight of the pump
For specifications of all types of hydraulic pumps visit the Enerpac website. If you need guidance get in touch with your nearest Enerpac distributor.