Work Safer: Avoiding Hand Injuries, Safety in Explosive Atmospheres, Reducing Operator Fatigue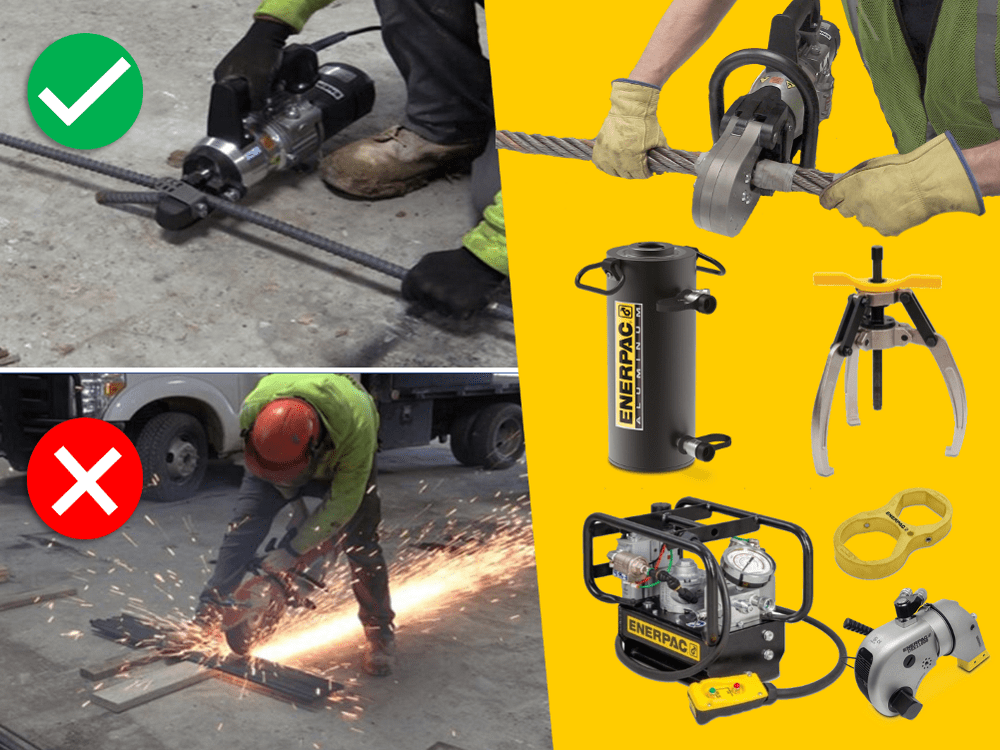 Part 1: Preventing Hand Injuries
One of the key ways to work safer is to prevent hand injuries. Incidents of this type often occur during equipment maintenance, assembly line work – and especially during bolting, where pinch points are a common hazard.
Ways to avoid hand injuries include:
Wearing proper safety gloves to suit the job
If you are the tool operator, let your co-worker know your hands are in a safe position
Choosing tools with features that reduce the risk of hand injuries, such as those described below.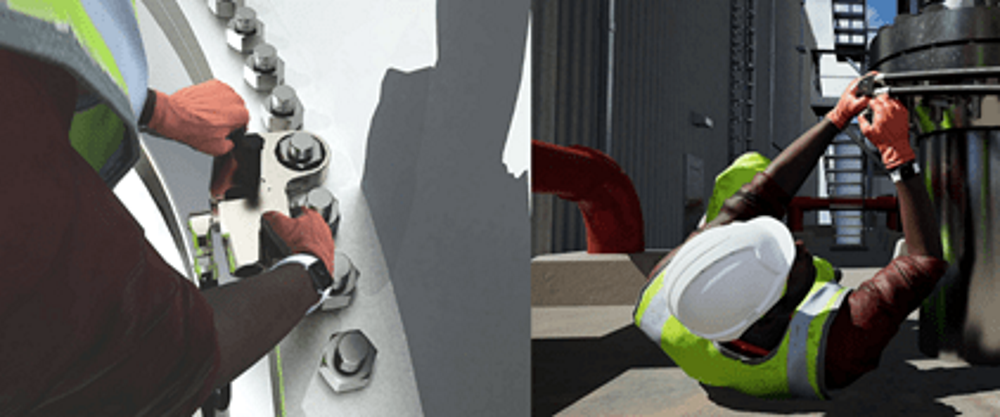 Ergonomic Hydraulic Torque Wrenches
When investing in a hydraulic torque wrench, make sure you specify ergonomic safety handles. A tool with a correctly positioned handle will help to minimize the risk of hand injuries or strains. Examples include the Enerpac S, W, HMT, and DSX-Series.
Backup Spanners
Adding to the safety of bolting applications, the BUS-Series Back-Up Spanners are hands-free tools that improve safety. They are lightweight, spark-free, and non-impact. Each spanner includes a safety cable with a quick-connect carabiner, stainless steel tethers, and secure Allen-key fixings.
Flange Spreading Wedges
Enerpac SWi-Series spreaders are engineered to overcome finger pinch points. These have increased step-depth on upper steps and forged main components for high strength and reliability. Handles are ergonomically positioned over the center of the spreader and revolve to aid horizontal or vertical spreading. Also provided as standard are safety blocks and lanyards 1.0 m (39″) in length.
Portable Machining Tools
Machining tools used onsite typically use rotating parts and therefore present a trapping hazard. There's also the potential of injury from the swarf or metal chippings flying out into the surrounding area.
Standing well clear of the machine and wearing PPE will help, as will using a remote pendant wherever possible. Enerpac pneumatic on-site machining tools are equipped with a two-hand deadman handle that prevents accidental start-up of equipment. They require the operator to have both hands on the valve – ensuring that hands are a safe distance away from moving parts at start-up.
Part 2: Work Safer in Explosive Atmospheres

Any hot working process has the potential to trigger a fire – especially if carried out near flammable substances. Serious or fatal injuries can occur if control measures are not in place.
Before carrying out any hot work, keep a lookout for the following:
Identify combustible materials in the area, including rubbish, paper, or dust
Ensure the area is well-ventilated
Consider safer mechanical or hydraulic tools to reduce the risk of spark or flame
Spark Free Cutting with Hydraulic and Mechanical Cutters

Whenever you need to cut bar, chain, cable, nuts, or other materials, Enerpac hydraulic and mechanic cutters will help you do this with minimal risk of sparks. This is safer than methods such as torching, grinding, and sawing, which expose users to the risks of exploding blades, sparks, and open flames. The controlled cutting process with the Enerpac cutters also prevents Hand Arm Vibration Syndrome (HAV).
See the video below which compares a hydraulic bar cutter with a gas saw.
The video below compares a hydraulic chain cutter with an angle grinder.
What is ATEX?
If you see that a tool is ATEX certified, you can be confident it will be safe to use in an explosive atmosphere. ATEX is an important European certification applicable to European countries, but tool users in all regions will also find it reassuring to see.
Part 3: Work Safer by Reducing Fatigue
Tired workers are reported to be 70% more likely to be involved in workplace accidents. Long shift hours, sleep loss, and strenuous tasks, such as prolonged carrying and moving heavy equipment are some of the many causes of fatigue.
You can take steps to work safer by avoiding fatigue-related accidents at your workplace by:
Allocating adequate breaks in work schedules
Assessing the work environment for conditions that might affect concentration, e.g., noisy workplaces impair performance
Using equipment and tools that reduce the need for intense and sustained physical exertion
Tools With Features to Help Minimize Fatigue

LAT Torque Wrench Pump
If you work on an offshore platform, or at a refinery or mine, the improved ergonomics and lightweight design of the Enerpac LAT Torque Wrench Pump enables a single operator to hand carry and transport it up ladders and stairs. This is a huge bonus where an elevator is not available. The compact design makes it ideal for use on narrow scaffolding, pipe racks, and lifts.
Lightweight Hydraulic Cylinders
Minimizing cylinder weight and using carrying handles are both important considerations when planning a lift project. In many cases, the strength offered by modern-day alloys is more than enough for many lift projects. So choosing a lighter aluminum cylinder instead of a steel equivalent makes transport and positioning much easier.
For instance, the RARH-Series Hollow Plunger Cylinder is a lightweight solution for double-acting applications. It includes a built-in safety valve to prevent accidental over-pressurization
Lightweight Hand Pumps
Enerpac offers a large selection of high-pressure hydraulic lightweight hand pumps featuring a compact design and lightweight construction for easy carrying. Two-speed lightweight hand pump models offer reduced handle strokes and lower handle effort. For instance, the P392 Two Speed Hand Pump has a lightweight and compact design and lower handle effort to reduce operator fatigue. The handle lock and lightweight construction both allow for easy carrying and the non-conductive fiberglass handle further enhance overall operator safety.
Hydraulic Pullers
Anyone maintaining vehicles, turbines, or working on aerospace applications will know how difficult it can be to remove shaft-mounted items such as bearings, gears, and sprockets. Doing this the old-fashioned way by hammering and heating is both time-consuming and dangerous.
A better alternative is to use the hydraulic and mechanical LG-Series Pullers. As well as making the job easier, the locking mechanisms in these retain the object after it has been removed from the shaft – therefore protecting the user from the danger of dropped objects.
Need Help?
If you would like to find out more about any of the tools described here – or to discuss training – please get in touch.