Applications for Hydraulic Cylinders: A Photo Gallery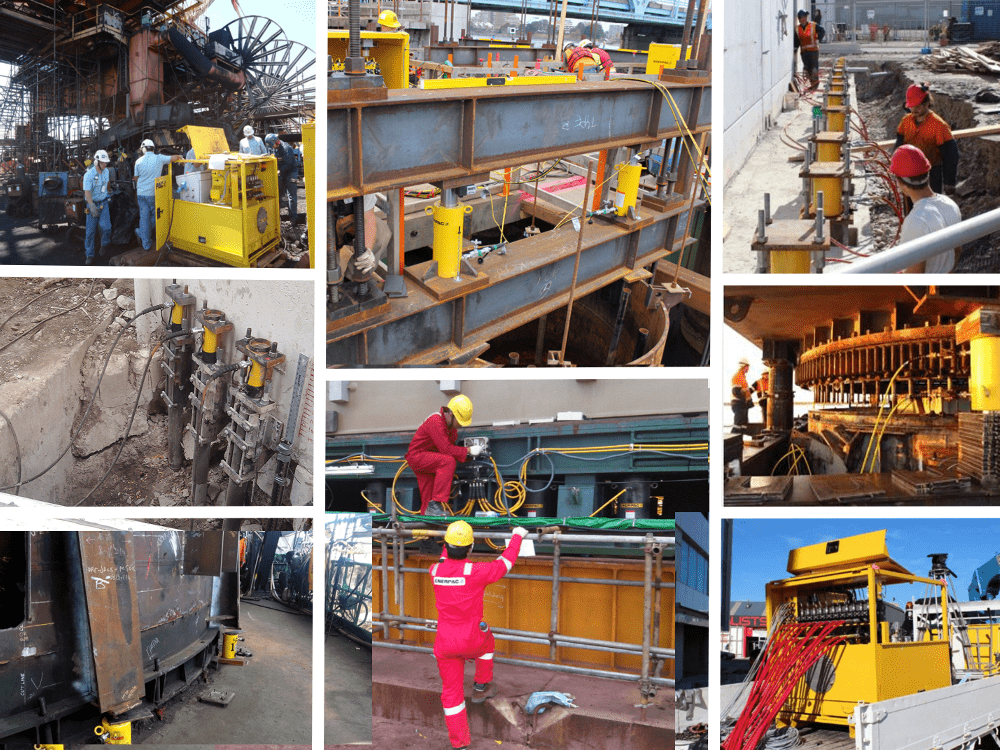 When it comes to applications for industrial tools, no matter how slick the studio product photographs are, or how comprehensive the list of features and benefits is – sometimes you need to see examples of products in real-life applications to fully understand their capabilities.
That's why we've put together a gallery of images showing hydraulic cylinders used on a variety of different projects in different environments.
Mining: Replacing a Bearing in a Stacker Reclaimer

A stacker reclaimer is a huge piece of mining machinery used for handling bulk materials. These systems move several thousand tons of aggregates per hour, and so require regular maintenance.
The above shows cylinders being used when a bearing needed replacing on a 470-ton stacker reclaimer. The project involved lifting the unit to a height of approximately 400 mm (15.74 inches).
An Enerpac Evo Split Flow Pump System allowed monitoring of the center-of-gravity and synchronization of the lifting points. The supplied control unit enabled the maintenance team to carry out the lifting operation from a safe distance of 30m (98ft) from the load.
Oil & Gas: Lifting a Coker for Base Repair Maintenance

Coker units are large structures that play a key part in the oil refining process. The project here involves a Coker weighing 600 tons and measuring 40m (131ft) tall, and 9m (29.5ft) diameter. The objective was to stabilize the foundation, which meant the Coker needed to be lifted approximately 100mm (4"). CLRG-Series High Tonnage Hydraulic Cylinders were used with an EVO Synchronous Lifting System.

How to Choose the Right Cylinder
Infrastructure: Repairing a Foundation after an Earthquake

The above image shows a project where 22 high tonnage CLRG double-acting cylinders were used to lift a foundation and building following an earthquake. An EVO Synchronous Lifting system was also used that enabled synchronous accuracy of all positions to less than 1mm (0,039").
Oil & Gas: Launching a 43,000 Ton Offshore Oil Platform

When lifting and moving a large structure, it is vital to maintain structural integrity by making sure it does not move or deflect outside the safe range.
As part of the launch process of the above offshore structure in Malaysia, there was the need to lift the whole unit using 352 high tonnage cylinders with synchronous lifting technology. The cylinders were arranged in groups and incorporated into active skids beneath the structure. The synchronous lifting system was able to sense and control any deflection within the required range of 210mm (8.3") over a 70m (230ft) span.
Infrastructure: Lifting a Historic Building for Renovation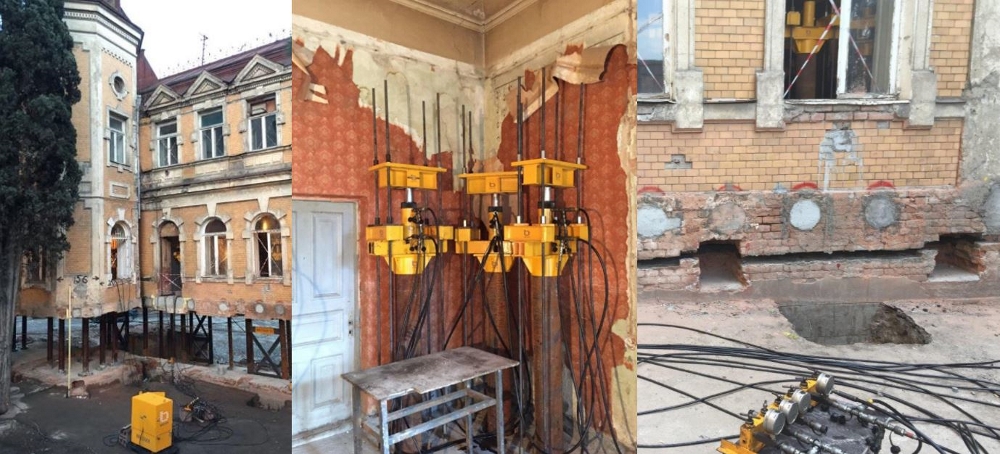 Here we see a 16-point EVO Synchronous Lifting System and 39 CLRG-Series Double-Acting Hydraulic Jacks being used to lift a 100-year-old historic building in Georgia's capital, where a repair of the foundation of the building was completed successfully.
Infrastructure: Lowering and Leveling a Bridge Caisson Pier Box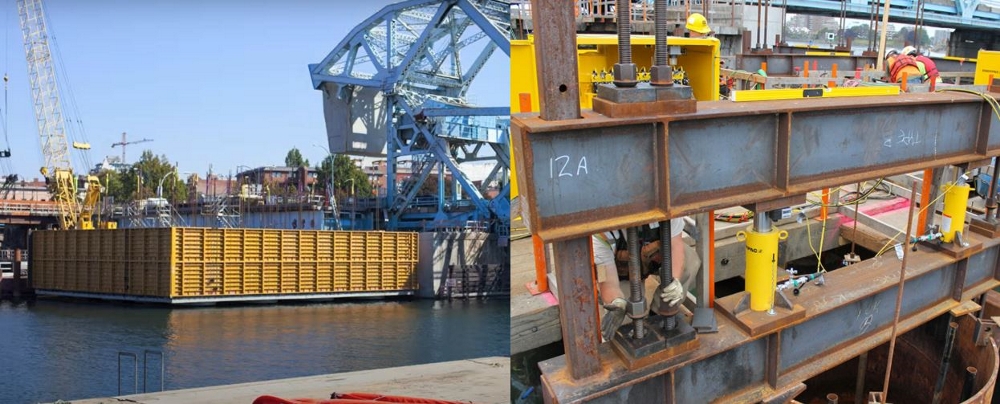 The image above shows the lowering of a caisson pier box during the construction of a new lifting bridge in Victoria, Canada. The purpose of the box is to house the mechanical and electrical components used to open and close the bridge.
A bar lowering method was used, with 32 single-acting high-tonnage cylinders and 3 synchronous control units networked together – all operated from a single master control unit.
Marine: Slew Bearing Replacement on a Ship Loader

Replacing the slew bearing on this 40-year-old ship loader required the upper structure to be lifted 300mm (12") to provide adequate clearance during replacement. An EVO Synchronous Lifting System with CLRG-Series High Tonnage Cylinders and RR-Series Double-Acting Cylinders were used for the 12-point lift.
Marine: Synchronously Lowering an 80 Ton Yacht

Here we see a yacht being lowered to allow it to be transported back to the water. The uneven weight distribution was a significant challenge with this project, so a synchronous lifting system was used with RAR1508 double-acting cylinders. Four cylinders were used to lower the yacht in stages of 100mm (3.9") each time.
Agriculture: Repairing the Foundation of a Tilting Silo

When part of a silo foundation dropped 4 inches, it caused the silo to tilt dangerously. The solution involved lifting and leveling the 308-ton silo, and structurally supporting it while the foundation was restabilized. RC Cylinders were used with a Z Class pump.
We hope this information about applications for hydraulic cylinders gives you an understanding of their endless applications. If you need further information or help choosing the right product please get in touch.