The Top 10 Hydraulic Gantry Accessories: New Possibilities – Reasons to Buy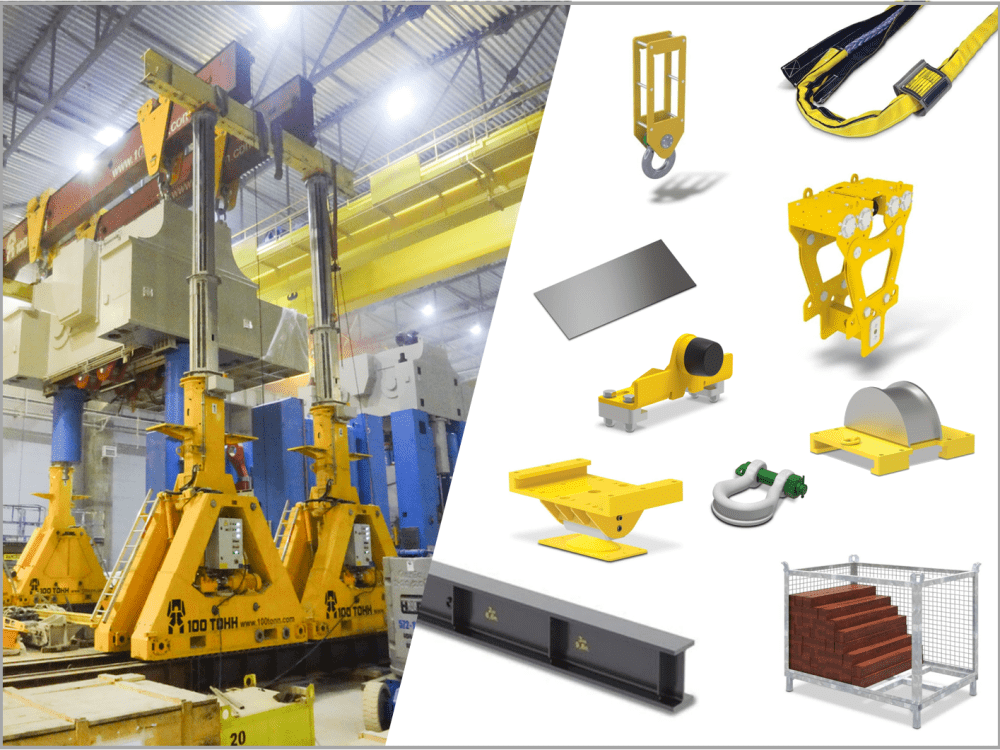 If you're familiar with hydraulic gantries, you'll be aware of the remarkable things they can achieve – especially in locations where traditional cranes and where permanent overhead structures aren't an option.
But their versatility can be improved further by adding some key accessories. In this article, we look at 10 accessories recommended for hydraulic gantries – each presented in a simple format defining what it does, and the reasons to buy.
The accessories featured here are all designed for Enerpac hydraulic gantries, but if your gantry is from a different manufacturer it's worth getting in touch to check if they're compatible. Contact Us
Quick Links

Gantry Side Shift Units

What is a Gantry Side Shift Unit?
A gantry side shift unit allows you to move your load across an extra axis. It uses electric propulsion controlled using the standard wireless gantry controls. They come in sets of 4 along with cable guides and a sturdy frame for transport and storage.
Reasons to buy
Using side shift units dramatically increases the versatility of a gantry. The ability to shift the load across the header beam opens up many more possibilities, including the ability for precise positioning within tolerances of just a few millimeters.
For the Enerpac HBH or HBB header beams, there are 3 sizes to choose from, with capacities per side shift of 42, 84, and 169 tons (375, 750, and 1500 kN). There's also an option to control the side-shift unit separate from the main gantry controls with a dedicated Side-Shift Control Panel can also be supplied.

Header Beams

What is a Header Beam?
Header beams are the components of a hydraulic gantry that bear the full weight of the load. Enerpac Header Beams are available in two types: HBH (H section), and HBB (Box section). Both types are available in lengths of either 19.69 ft or 26.25 ft (6m or 8m). The HBB box section type will withstand heavier loads than the HBH type.
Reasons to buy
Every gantry needs header beams, and these are specified at the time of ordering. However, at some point in the future, you may need a longer header beam or greater capacity to take on bigger projects.
They're sold in pairs, and depending on the type chosen, they will include either fork pockets or lifting eyes for transport and positioning. Also provided is a load chart, based on a single point in the center of the beam. Details showing the capacity 'off-center' per lifting anchor are available on request.


Bridge Construction Case Studies
Skid Tracks

What is a Skid Track?
Skid tracks are another must-have essential. They provide a level and stable surface providing guidance for the gantry leg units to travel smoothly forwards and backward in a single plane. Skid tracks are also critical to help distribute the load over the underlying support surface.
Reasons to buy
Buying additional skid tracks allows you to construct an extended track length. Having more of these at the ready means you can respond quickly to a wider range of customer projects. Different track sizes and capacities are available to suit the ML, SL, and SBL Enerpac gantries. These are available in two standard lengths, 10 ft, and 20 ft (3m and 6m).
Track End Stops

What a track end stop does
Track end stops provide a physical stop at end of the skid track to prevent the gantry leg units from overshooting the track. Any experienced operator will know when it's time to stop advancing the gantry, but adding a gantry stop provides a safety backup for peace of mind. The Enerpac TES track end stop is adjustable, and therefore fits onto all Enerpac GST Series Skid Tracks. They're sold in sets of 4 pieces, with two needed for stopping each direction of travel.
Reasons to buy
Gantry Track End Stops provide peace of mind by significantly reducing the risk of accidents and injuries that could happen due to over-travel of the gantry legs.
Sling Guides

Purpose of a Sling Guide
The name pretty much sums up what they are. Sling guides are sold in sets of four and are bolted to the top of the header beam. They ensure the slings remain correctly positioned throughout the lifting process.
Reasons to buy
As well as keeping them in position, these guides protect slings from damage by spreading the force of the load over the rounded top surface. There are several variants to choose from to work with different header beams and side shift units. They are also a simple way to increase the height of a lift without needing to invest in custom-length slings or beams.
Top Swivel Kits

What does a Top Swivel Kit do?
Top swivel kits allow mounting for additional header beams. They're sold in sets of four and mount onto the top of SSU series side shift units.
Reasons to buy
Top Swivel Kits enable you to add cross header beams for extra support, to extend lifting height, and to increase the flexibility of your gantry setup by adding additional load manipulation devices, such as strand jacks or rotation units.
Lifting Anchors

What a lifting anchor does
Lifting anchors (or lifting lugs), allow you to attach rigging to transfer the load to the top of the beam. They can accommodate a shackle or attach directly to the load. Lifting anchors remain fixed in the same position on the header beam, whereas side shift units move across the beam.
Reasons to buy
Lifting anchors are another gantry essential. Having a selection with varying lifting capacities means you're equipped to take on a wider range of lifting jobs. The capacity of Enerpac LL Series lifting anchors ranges from 56 – 281 imperial tons per anchor (500 – 2500kN).
Steel Shimming Plates

Steel Gantry Shimming Plates
Steel Shimming Plates are used as packing to align gantry skid tracks. They fill the gap under the track, ensuring the tracks are level and securely supported.
Reasons to buy
Using a gantry on a track that is not level or sufficiently supported presents considerable risks to the operators, the load, and the gantry. The Enerpac STSP500 shimming plates are available in packs of 500 plates and are compatible with all Enerpac gantries.
Tarpaulin Covers

Tarpaulin Gantry Covers
There's no mystery about what this accessory is and what it does. They protect your gantry legs when storing them outside.
Reasons to buy
A hydraulic gantry is a significant investment that will serve you well for many years if treated well. A zipper makes the cover simple to remove and install. They're sold in sets of four and are purpose-designed to suit each gantry series.

Azobe Wood Timbers

What is Azobe Wood?
Azobe is a popular high-density hardwood with good mechanical and physical properties. This makes it ideal for construction projects as both a permanent construction material and when supporting heavy loads. Each piece measures 4 x 4 x 59 inches (1500 x 100 x 100 mm).
Reasons to buy
Use STAW100 Hydraulic Gantry Azobe Timber from Enerpac when support is needed beneath your gantry track. A set includes 100 pieces, and you may also want to consider the STAWTF Transport Frame to keep the timbers secure while transporting and during storage.
To discuss accessories for your gantry, get in touch with your nearest heavy lifting specialist.