Different types of pullers and the key features to consider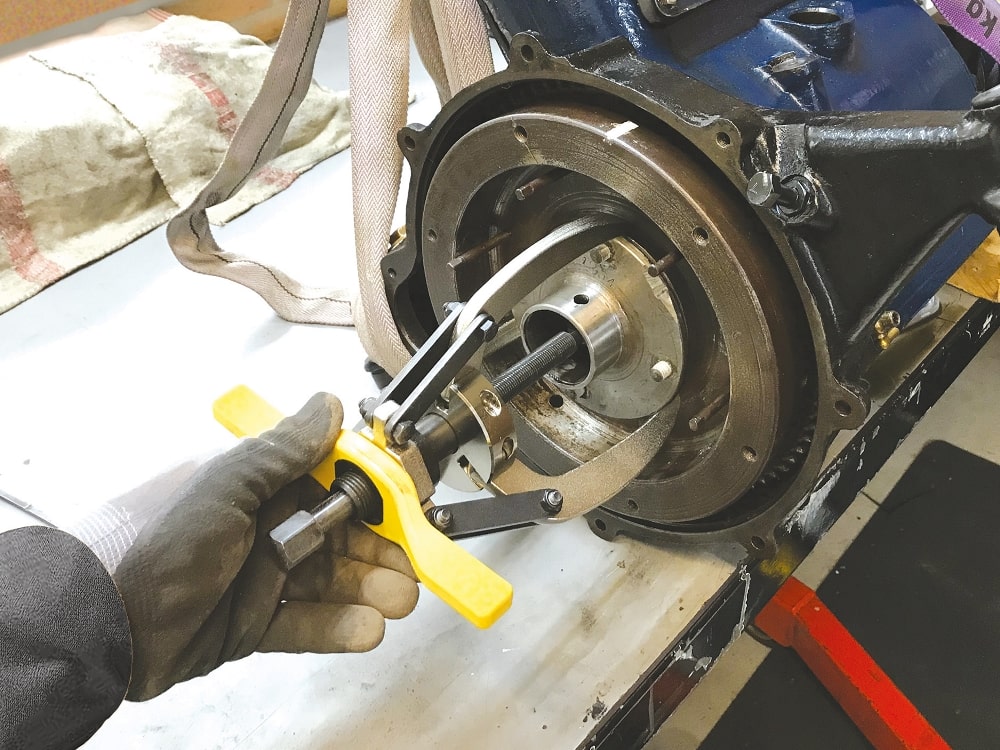 Trying to remove shaft-mounted components without using the right types of puller can be frustrating and time-consuming. Interference fits, dirt, and corrosion can make the removal process difficult.
Trying alternatives to pullers, such as cutting, torching, or hammering presents clear safety risks. Furthermore, there's also the likelihood of causing damage to the machine components you are trying to maintain!
Mechanical and hydraulic pullers are great tools for removing components across many different industrial sectors. Smaller types of puller are widely used by technicians in places such as small automotive workshops. Larger higher tonnage models are used throughout heavy industries, such as those shown in the diagram below.
Projects requiring the use of a puller usually involve the maintenance of rotating equipment. Common components to remove include bearings, gears, wheels, pins, bushings, sleeves, couplers, sprockets, and pulleys.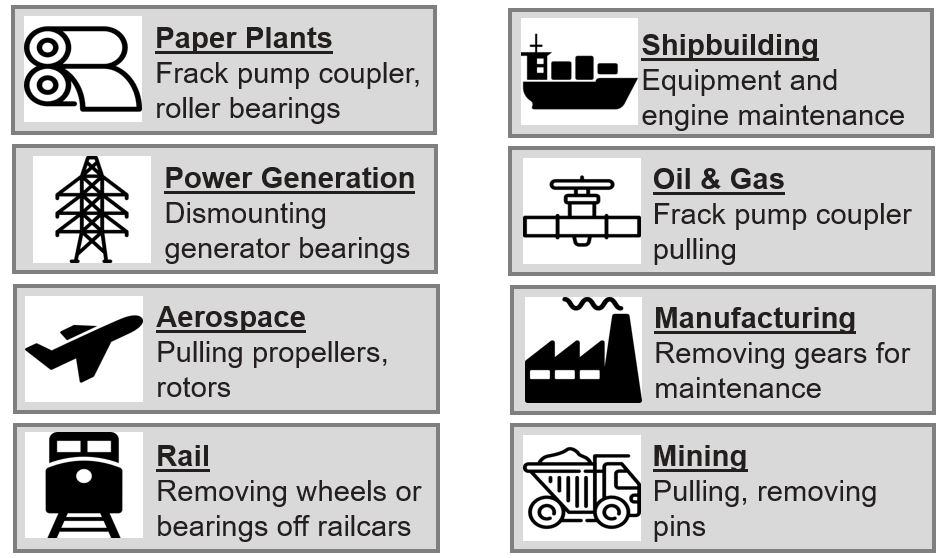 What are the main types of puller?
There are many different types of puller available to choose from. If you select one best suited to your application, you'll get the job done safely, efficiently – and without causing damage.
Two Jaw and Three Jaw Pullers
The most common types of puller are available in either 3 jaw or 2 jaw configurations. 3 jaw pullers are the most widely used because the extra jaw helps distribute the force more evenly. But where access is limited a 2-jaw puller can be used, provided it is used carefully.
Mechanical and Hydraulic Pullers
Mechanical pullers work by rotating a crossbar which moves the centre bolt/force screw towards the shaft.
Hydraulic pullers include an integral hydraulic cylinder that is powered by a pump to apply the required force. The plunger then provides direct, non-twisting application of thrust, which is more effective and more secure.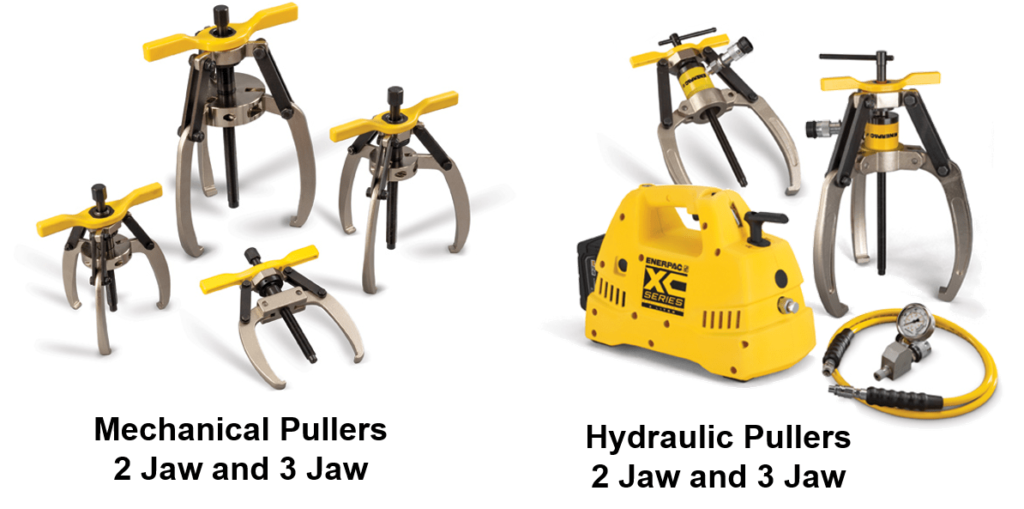 If you're looking specifically for tools to remove bearings, there's a number of dedicated tools designed for this. For example, Enerpac offers bearing pullers, bearing separators, and bearing cup pullers.
Internal Pullers
These are used to remove shaft-mounted parts where no spindle support is available. An internal puller is used with an attached slide hammer which allows a high-impact force to be applied.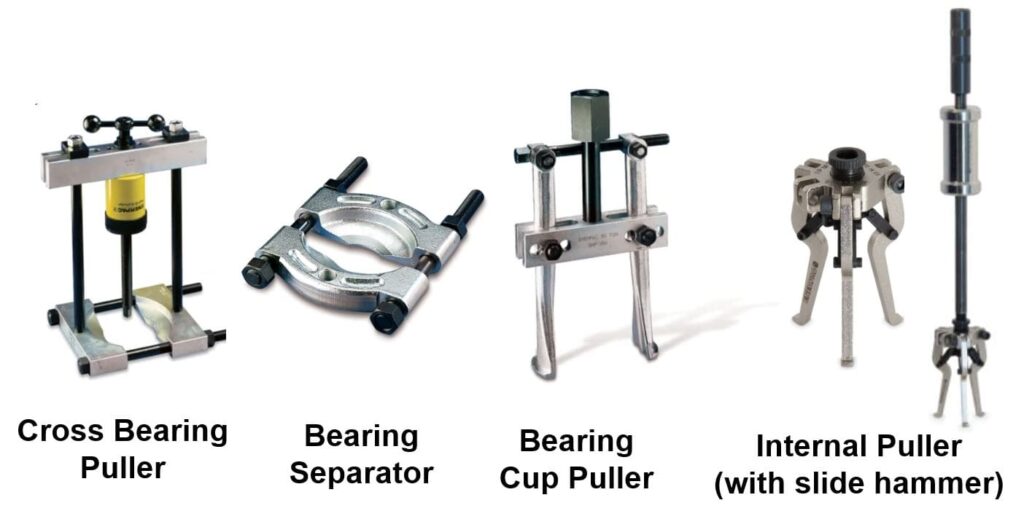 Features to consider when choosing a puller
Two or three jaws?
As described above, where space permits it is best to use a 3 jaw puller. They are safer and easier to use.
Hydraulic vs mechanical
Hydraulic types of puller are easier to operate than their mechanical equivalents, but you will need a pump, hose, and gauge. Depending upon the size of the puller, the pump may be powered by hand, air, or electric.
Reach
The reach is the available distance between the pulling surface of the jaw and the jaw head of the puller. This distance varies and decreases as the jaws open. Enerpac lock grip pullers offer an impressive reach to diameter ratio. This is because they include a different method to the cage system that others use. Additionally, the inside profile of the jaws allows for deeper components to be pulled.
Synchronous and Self-Centering Jaws
The synchronous feature of Enerpac lock grip pullers allows all jaws to move simultaneously. Benefits of this feature are that the spindle stays centered on the shaft, misalignment is prevented, set up requires fewer people, and takes and less time.
Locking Mechanism
The locking mechanism helps prevent jaws from slipping off the application during the pulling process. Turning the puller handle locks the jaws onto the application – allowing the shaft mounted component be pulled free when the spindle is turned.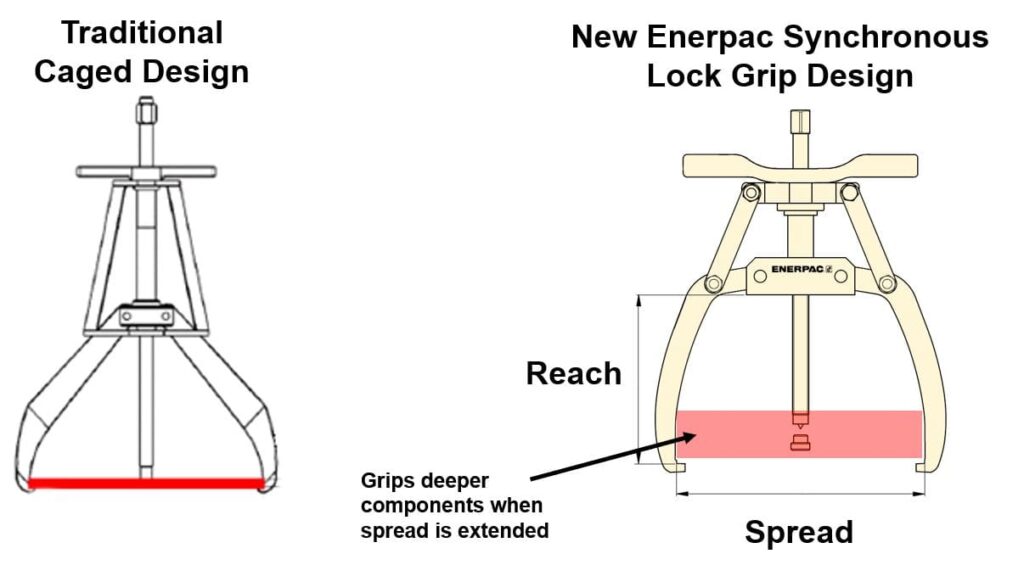 Spread
The spread is simply the diameter that the jaws extend to. Usually up to 25 inches
Tonnage
Pullers are available with a wide range of capacities. The majority of models available range somewhere between 2 and 64 imperial tons. However, specialist 2 and 3 jaw 100-ton puller units are available from Enerpac. These large and heavy products are mounted on a cart with an on-board lift and hydraulic pump.
Picture of 100-ton puller.
Buy Puller Sets
Pullers are available to buy individually, or as part of a set. If you expect to carry out different pulling jobs regularly then consider buying a set. A typical set will include the puller, a pump, a hose, and pressure gauge. Master puller sets include not just one puller type but also, cross bearing puller, a bearing separator, and a bearing cup puller.