Machine Skates: Key Considerations and Options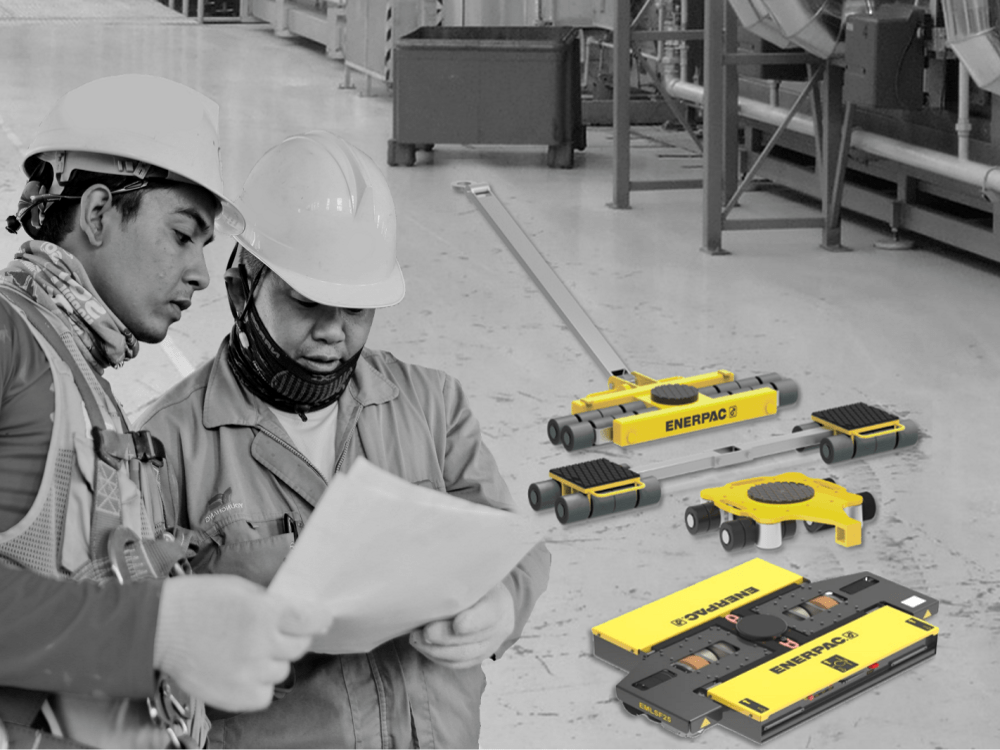 Machine skates offer a simple and effective solution when you need to move heavy equipment around your shop floor – especially when space is restricted. You may have also heard the terms dollies, machine moving skates, and roller skids. Essentially, these names are mostly interchangeable, as the tools all do the same thing – which is to slip under the load, reduce drag forces and make a move easy, efficient, and safe.
Typical places where machine moving skates are used:
• Machine shops
• Manufacturing plants
• Hospitals
• Warehouses
• Aerospace
• Rail Industry
• Docks
• Power plants
• Petrochemical plants
• Rigging
There are different types of load-moving skates to choose from, each with varying features for a wide spectrum of machine-moving applications. Important! – attempting to move an extremely heavy load with the wrong equipment can create a dangerous situation for you, your employees, and the equipment. However, making the right selection is easy once you know your load and have noted the requirements for your specific needs.
Key Considerations When Choosing Machine Skates and Dollies
Frequency
If you intend to carry out a one-off shop floor reorganization or relocation, then buying your own equipment may not be the most cost-effective option. However, it's worth noting that load skates are handy pieces of equipment, and could be used elsewhere in your business, e.g., for material handling or moving goods around your warehouse. The good news is that most load skate manufacturers offer a broad selection of individual skates and pre-configured sets – allowing you to get exactly what you need.
Floor Type
If avoiding floor damage is a high priority you should choose load skates with the most appropriate rollers. Metal rollers offer a solution for high-tonnage moves, but these can easily damage some floor surface types.
For light to medium-duty machine moving situations, polyurethane rollers are commonly provided as standard. These are ideal for finished floors like wood, tile, vinyl, and carpet. Nylon rollers are an alternative and provide increased wear resistance, prevention of setting under static loads, and increased protection against floor damage. Nylon rollers are less likely to leave residue on the floor or become impregnated with sharp debris. That's why they are a good choice for clean rooms such as medical, hi-tech, and laboratory environments.
Rolling Resistance
When moving any piece of heavy equipment, you will want it to move as easily as possible. Rolling resistance can be kept to a minimum if you choose a design with good-quality bearings and the most appropriate roller material. Nylon rollers are much harder than the standard polyurethane ones and provide less rolling resistance and increased load capacity.
Footprint
Machine moving skates are available to cover projects with different-sized footprints. One of the most common configurations is the three-point setup that uses steerable skates at the front with dual trailing skates at the rear of the load. The dual trailing rear skates are connected by one or more bars that offer adjustment to suit different footprints. The purpose of the bar is to ensure the two rear skates remain parallel throughout the whole moving operation.
Manoeuvrability
Every project has its own unique requirements, and in many cases, you will need to move the load not only in a straight line, but also around any surrounding equipment and obstacles. Having the ability to rotate the load is important – but not so much that control and safety are compromised. (The last thing you need on the shop floor is a 10-ton load behaving like an unruly supermarket trolley!). There will, of course, be some applications in tight spaces when you need to use steerable load skates that offer 360-degree rotation, but these can be kept under control using a metal pin that allows the rollers to be locked when axial rotation is not needed. Using the right combination of fixed and steerable skates under the load is the key to a trouble-free and safe equipment move.
Productivity
Finding a suitable product to get the job done without any fuss is the main objective. But it's also worth looking out for features that can improve productivity. For example, powered machine skates, and other tools with wireless controls allow just one person to complete the job. And if you're looking to buy a selection of machine moving tools, choosing a sole manufacturer with a full portfolio of products (such as Enerpac) can help to simplify the process.
Tonnage
The capacity of individual load skates ranges from just a single ton all the way up to 35-tons. So, you will need to know the weight of your load to ensure you use the right setup. As an example, if your load weighs 70-tons and you're using a set, this load will be shared between the front and rear load skates. In this instance, you will need to use front and rear skates that have the capacity to handle a minimum of 35-tons each.
Tug Assisted vs Manual
Two types of T bars to pull and steer the load include manual T bars and towable handles.
When moving loads of 10-tons or more, the chances are these will be too heavy to move manually. For this reason, the larger capacity load skates often have a towable ring handle provided either as standard or as an option. This will allow the load to be moved with powered assistance.

Machine Mover's Virtual Tool Room
Everything you need in one place
Types of Machine Moving Skates

PRODUCT UPDATE!
Battery Powered Machine Skates – AVAILABLE NOW!
Recently added to the Enerpac collection of machinery moving equipment is the new EMLS Series of battery-powered machine skates. These boost efficiency and improve operator safety by allowing a single user to move loads of up to 55 imperial tons a safe distance away from the load. Using a powered skate like this can help you work up to 4 x faster than conventional methods with high maneuverability and precision control.

EMLS Battery Powered Machine Skates
Available Now!
Chain Roller Machine Skates
A chain roller, also known as a roller skid, is a heavy-duty load skate that includes a series of steel rollers. Advantages include high capacity, low cost, and a small footprint. They can be used with attachable load levelling plates and swivel turntables for turning corners. Disadvantages of this type are that they can damage finished floors and may also require steel plates to distribute the load.
Example: Enerpac ER30 Chain Load Roller Skate
Rotational Skates
This type offers 360-degree rotational movement using castor style wheel boxes. They are typically available in 3, 7, and 9-ton models and include nylon wheels as standard. Advantages include good protection of flooring, superior maneuverability, and low rolling resistance. It's worth noting that handles and connecting bars often need to be ordered separately, and load capacities are generally lower than other load skate types.
Example: Enerpac MLSR Series Load Moving Skates
Steerable Front Skates
The name pretty much explains what they do and how they work. Steerable front skates offer controllable directional movement using integral turntables that provide the flexibility to steer the load. Advantages are maneuverability along with low displacement force and low rolling resistance. They are commonly used at the front of the load and often work in combination with trailing rear skates to form a stable 3 point moving system.
The pulling handles are normally included and will be either the manual T type (on the 3 to 7-ton models) or the towable type for larger models. Standard wheels are usually polyurethane.
Example: Enerpac MLSF Series Load Moving Skates
Dual Trailing Rear Skates
These usually consist of two skates linked together with one or more connecting bars. The bars are generally available in different lengths or may be adjustable to suit different load widths. They are not steerable and simply trail the front steerable skates. Load capacities and wheel materials typically match the front steerable skates.
Example: Enerpac MLSD Series Load Moving Skates
Machine Skates Sets
A simple way to select the right equipment is to buy a pre-configured set. If your requirements change you can always buy extra modules and accessories to widen your scope for load-moving jobs, for example for different-sized loads, or for loads where the weight is not distributed equally.
Example: MLSS27, 27 Ton, Wheeled Load Skate Set
Related Equipment
Machine skates are typically used with other lifting tools. First, you need to get the load high enough to allow the load skates to be slid underneath. Common tools to do this include spreading wedges, low-height hydraulic cylinders with hydraulic pumps, and toe jacks.
If a load is too heavy for load skates, (for example a transformer), a portable hydraulic gantry can provide an effective way to lift from above. Following this, the load can be moved further using other equipment, such as skidding systems and turntables.