Hydraulic Cutters and Other Cutters Compared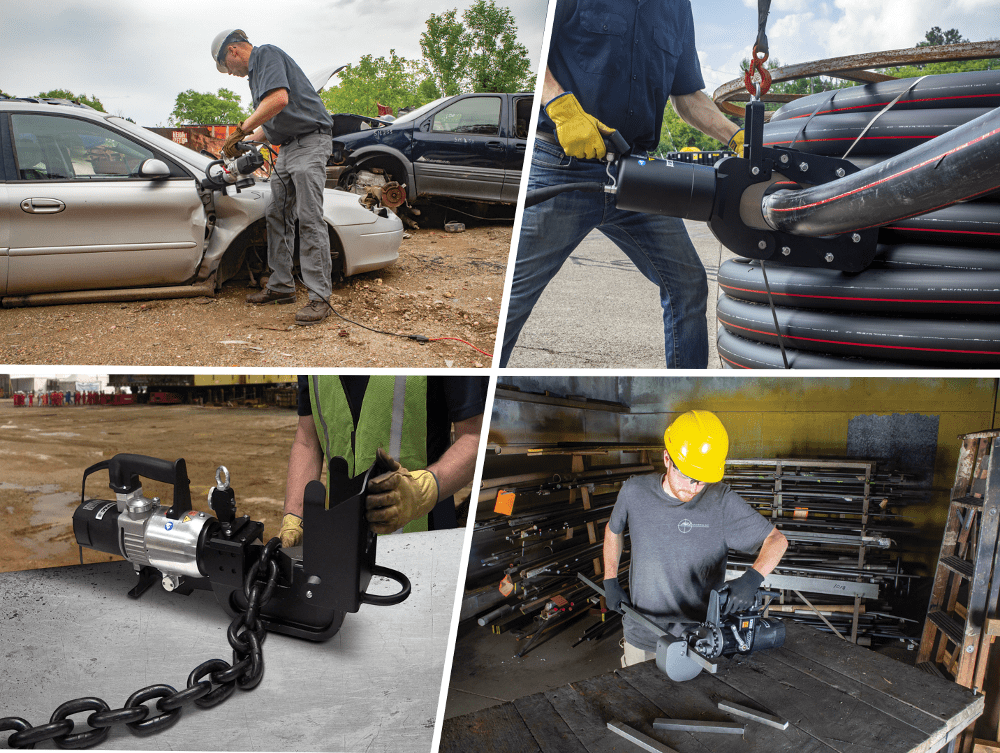 Hydraulic cutters and those powered by other methods can cut through tough materials quickly and safely. There are quite a few different types available, with some designed for cutting just one specific material.
Making sure you understand the capabilities of each type is vital. By doing so you will arrive at the right choice for your routine cutting applications or your next project.
Below, we cover the commonest types of industrial cutters and later summarize them with our at-a-glance hydraulic cutters comparison chart.
Skip to Cutter Type
Choosing a Hydraulic Cutter or Electric Cutter for Round and Square Section Bar
Powered bar cutters are designed to cut through round and flat bar in a matter of seconds, (but cutting both types is not possible using the same cutter). You need to select either a flat bar cutter or a round bar cutter – along with your preferred power option. But whatever you choose, rest assured it will be safer and easier than using grinding wheels and torches!
Round Bar Cutter/Rebar Cutter
These are especially useful for cutting rebar and round bar safely, efficiently, and cleanly. They are ideal for construction sites, metal fabrication shops or production environments. Choose between hydraulic, electric, and battery-powered models.

Hydraulic Bar Cutter
A bar cutter powered externally using a hydraulic pump will cut round bar diameters up to 2" (50mm). However, it's worth noting that this dimension may be less when cutting harder materials. Also, although hydraulics does most of the work, remember you will need an electricity supply to power the hydraulic pump.
Electric Bar Cutter
Electric bar cutters don't require a hydraulic pump. Simply plug the tool into the electric supply and you're good to go. Their compact size and low weight means they're easy to transport and carry around the job site. The maximum bar diameter that can be cut is 1" (25mm – which is less than hydraulic bar cutters using an external pump). But this is still enough to cover a wide range of bar cutting tasks.
Cordless Bar Cutter
A cordless bar cutter provides a convenient solution whenever mains electric power isn't available. Although not as powerful as the bar cutters described above, a cordless model can easily slice up to number 6 rebar or similar metal bar up to 0.79″ (20mm) diameter. These use powerful 20V Lithium-ion batteries for long-lasting performance – making them the perfect go-to solution for the job site on remote locations.
Flat Bar Cutters

A flat bar cutter is designed specifically for cutting through rectangular steel, doing so in just a few seconds. Unlike standard round-section bar cutters, the deep cutting head design accommodates metal bar up to 2.75″ (70 mm) high, and over half an inch (15 mm) thick.
Also included is the ability to stop the blade and reset at any time – providing a high degree of cutting precision and control. These features make them a good choice for use in industrial manufacturing facilities and metal fabrication shops.
For many construction and fabrication projects that require flat metal bar, much of the work takes place in a workshop environment before the components are delivered to the construction site. This is why plug-in electricity is the standard power method.
Hydraulic Chain Cutters
A powered chain cutter is a safe and efficient way to cut chain links with a section of up to 1.25" (32mm). These use internal hydraulics but are powered from an electrical power source.
A key advantage is that the chain links remain behind a transparent safety guard – protecting the operator's hands from potential injury while allowing the operator to monitor the cutting process.
Tools such as these are recommended for use on materials with a Rockwell hardness of as follows:
Rockwell Hardness 40 for link section sizes up to 1.25" (32mm) diameter.
Rockwell hardness 80 for link section sizes up to 1" (25mm) diameter.
Rockwell hardness 100 for link section sizes up to 0.75" (19mm) diameter.
Hydraulic Cable Cutters

A hydraulic cable cutter makes light work of cutting through heavy-duty electrical and power cables – the kind typically used in interior cabling, shipbuilding, and construction projects.
They attach to an external pump, with the most powerful capable of cutting diameters up to 7.09" (180mm). As well as being incredibly effective at cutting large diameter wire rope, the external pump helps to keep the cutting tool cool for longer during repeat operations.
A hydraulic cable cutter is ideal for cutting through steel wire rope used for:
Wind turbine tendons
Towing ropes (mooring, anchoring, etc.)
Offshore
Mooring lines
Anchor lines
Hoists
Runners
You can, of course, choose hand-held cutters for smaller diameter wire ropes and cables, but these lower-cost alternatives can be very slow and create hand fatigue.
Electric Powered Cable Cutter
These make use of durable, guillotine-style blades that remain effective throughout their rigorous use. They don't need to connect to an external pump and simply plug into the electric supply. An electric-powered cable cutter will have enough strength to cut through cables and wire rope – up to 2.17" (55mm) diameter.
Cutter and Spreader Combination Tool
This combined tool features powerful jaws that can cut and also spread. This makes it a versatile and simple tool for use at recycling plants, auto scrap yards, or for general-purpose industrial cutting and spreading tasks.
A cutter spreader is a simple plug-and-play tool, without any need for pumps, hoses, or batteries. Although incredibly powerful and versatile, the Enerpac tool only weighs a manageable 33 pounds, and for convenience features a rotatable head for optimal positioning on the workpiece.

Hydraulic Cutter for Decommissioning
A decommissioning cutter cuts through metal with powerful shear-style cutters. These are another useful tool for recycling and demolition tasks, for example, at auto scrap yards they help cut through the lower value shell to gain access to higher-value parts such as info systems, engines, power steering, etc. Other uses for decommissioning cutters include appliance recycling, cable recycling, metal fabrication, and general demolition.
Hydraulic Cutterheads
A hydraulic cutterhead is a simple tool that uses a guillotine action for cutting round bar, wire strand and cables. They simply attach onto the hydraulic hose and are controlled via the settings on the hydraulic pump.
Standard sized hydraulic cutterheads typically cut bar and wire strand up to 2" (25mm) diameter, but larger models designed specifically for cutting telephone and underground power cables can cut up to 4" (50mm) diameter.
Self-Contained Hydraulic Cutter
A self-contained cutter is so-called because no power supply or external pump is needed. These are manually operated tools with an integral lever that activates the hydraulics within the tool body. They will not cut many of the materials that a powered cutter can handle. But they do offer a simple solution when you need to cut diameters up to 0.75" (19mm) in materials such as:
Round copper bar or wire
Round aluminium bar or wire
Round soft steel bar
Round reinforcing bar
Wire strand bare copper or aluminium,
ACSR (aluminum conductor steel reinforced)
Wire strand guy steel wire strands
Self-contained cutters will not cut:
Cable telephone cable CPP
Underground power cable
Hydraulic Nut Splitter

When you need to remove seized nuts, a hydraulic nut splitter offers a safe and efficient method. Compared to other nut-cutting methods, they take less time and avoid costly damage to joint components.
Different types of nut splitters include:
Single blade – simple, compact ergonomic designs, that are easy to use.
Double blade – which sever both sides of the nut at the same time.
Hand operated – using an integral hand pump – (convenient for subsea applications and when working at height).
Nut splitters designed for the oil and gas industry – featuring;

Designs for BSA/ANSI flanges
Optional double-acting power-head – faster for repeat operations
Blade positioning scale to eliminate bolt damage
ATEX certification (spark free) – for hazardous environments
Available in both single-acting or double-acting configurations. (Double acting returns to blades the starting point faster).
Industrial Cutter Comparison Chart
Download the PDF for a handy at-a-glance comparison of the cutters