Essential Workshop Tools to Boost Productivity and Safety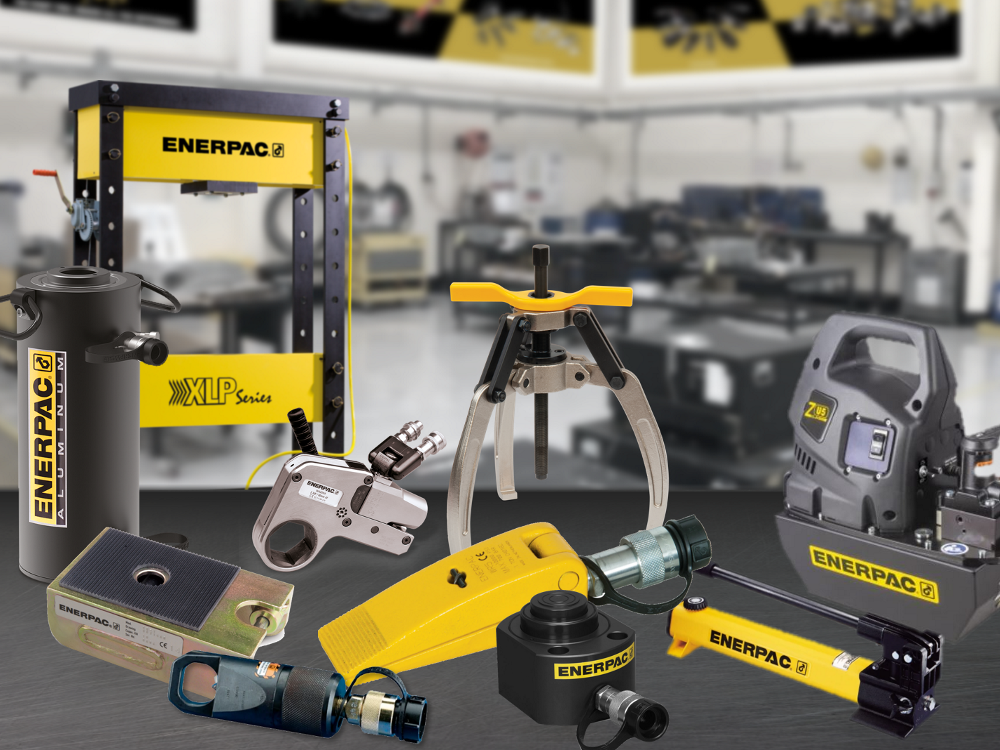 Regular readers of this blog will be well aware that Enerpac industrial tools are designed to withstand prolonged use in remote and challenging locations.
Our tools are a popular choice for workers at oil platforms, wind farms, and pipelines, but what about engineers based in maintenance workshops or at manufacturing plants?
What tools are relevant to their needs? and what are the benefits?
Let's take a look at some tools relevant to the workshop and plant applications.
Hydraulic Presses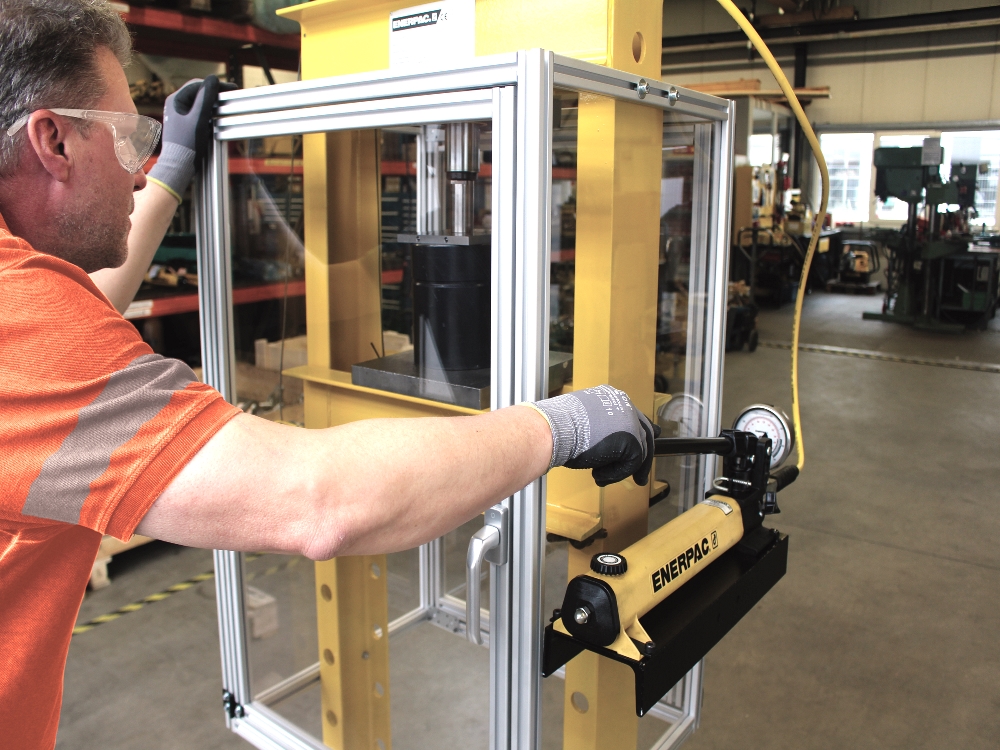 Hydraulic presses are incredibly versatile pieces of equipment – great for punching, forging, blanking, bending, and molding. They work using a hydraulic cylinder, which can be either spring return or double-acting.
A hydraulic press provides a quick and economical way to create intricate shapes in sheet metal. But many other applications are possible too. They're also used by mechanics, manufacturers of wood and paper products, and shop floor workers for product assembly.
Common types include C Frame, H Frame, Arbour, and C Clamp. Depending upon their size and tonnage capacity, these can be mounted on either the floor or a sturdy bench.
Features to consider are…
Tonnage
Stroke
Daylight adjustment
Quick return (for high-volume work).
Safety options (e.g., transparent safety screens, and pendants for remote operation).
Pullers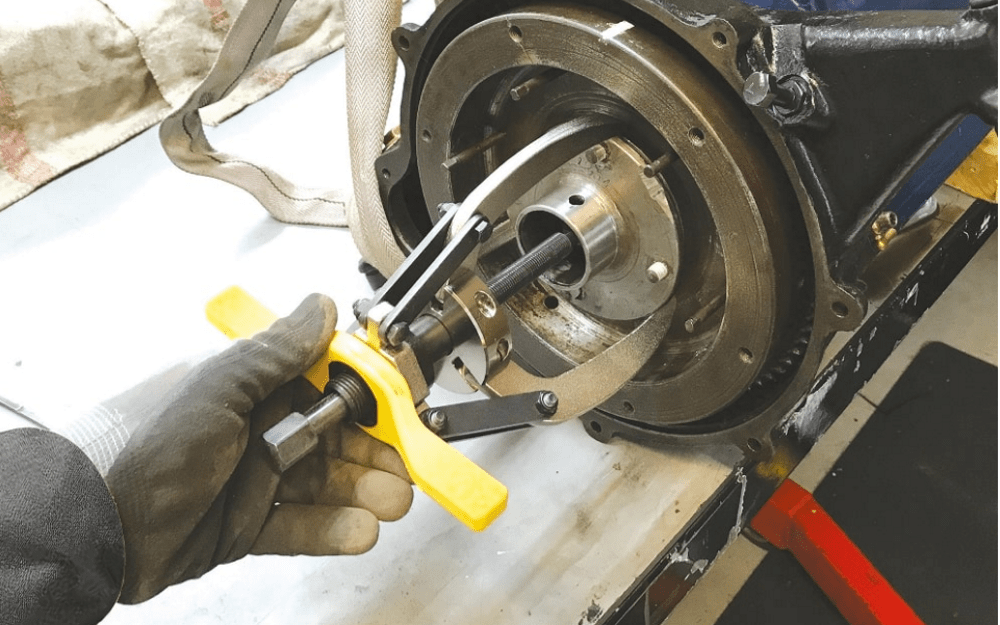 Pullers are essential tools for removing shaft-mounted components across many industries.
Smaller pullers are used by technicians in places such as automotive workshops, whereas larger higher tonnage models are more commonly used in the power generation, aerospace, rail, shipbuilding, paper plants, and mining industries.
Projects requiring a puller usually involve the maintenance of rotating equipment. Examples are bearings, gears, wheels, pins, bushings, sleeves, couplers, sprockets, and pulleys.
Features to consider include…
Tonnage
Spread distance
2 or 3 jaw? (3 jaw are more common and distribute the force more evenly)
Mechanical vs hydraulic
Internal, or external
Synchronous jaws
Is a locking mechanism needed?
Load Skates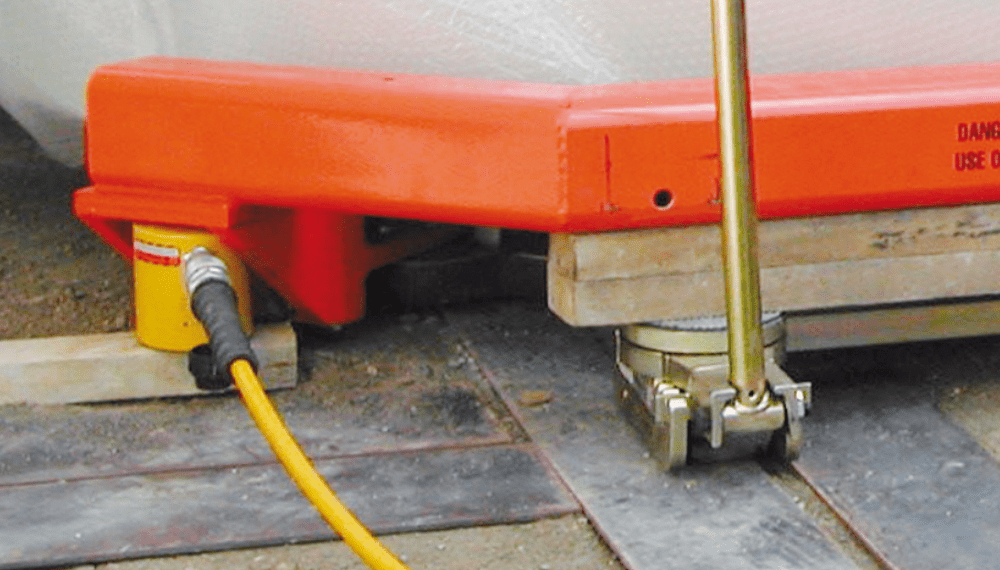 Load skates do what the name suggests. Think of a roller skate on steroids! In a workshop environment, they can be positioned underneath heavy loads to allow large items to be moved across the factory. (For example, when reorganizing equipment on the shop floor).
Essential design features to look for are…
Rugged and sturdy construction
Low rolling resistance
Low profile
Consider add-ins such as load leveling plates and swivel turntables.

Machine Mover's Virtual Tool Room
Everything you need in one place
Spreaders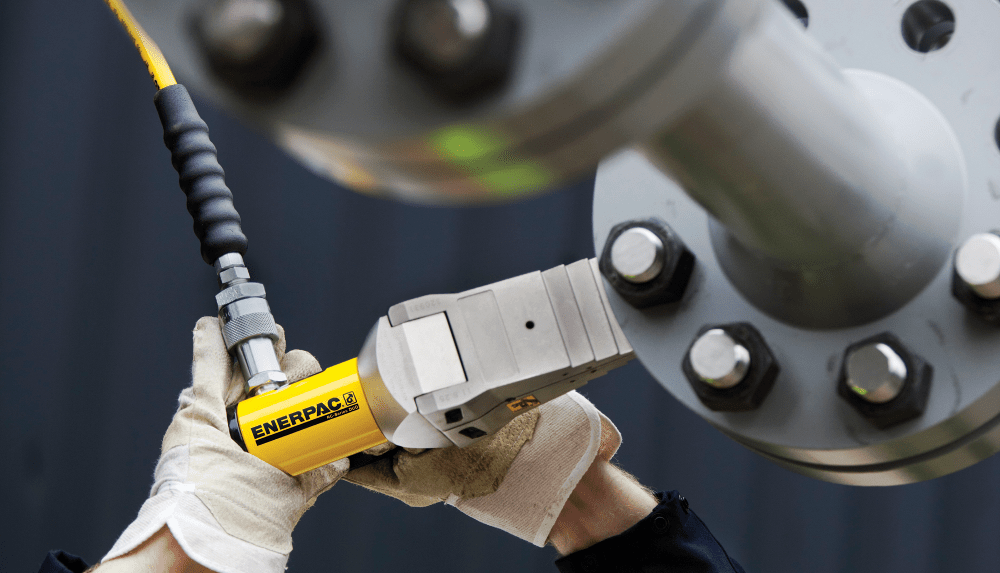 A common application for a spreader is pipe flange separation. But aside from pipeline applications, spreading wedges are invaluable when you need to make that all-important first step when lifting heavy equipment. Provided there's just a few millimeters available to insert the end of the spreader, and enough support on both surfaces, you're good to go. When enough clearance has been created with the spreader, you can then insert a small cylinder and then lower the load onto a load skate.
Spreader types include manually operated versions – both with, or without an integral hydraulic cylinder, and models requiring a separate hydraulic pump and hose.
Hydraulic Cylinders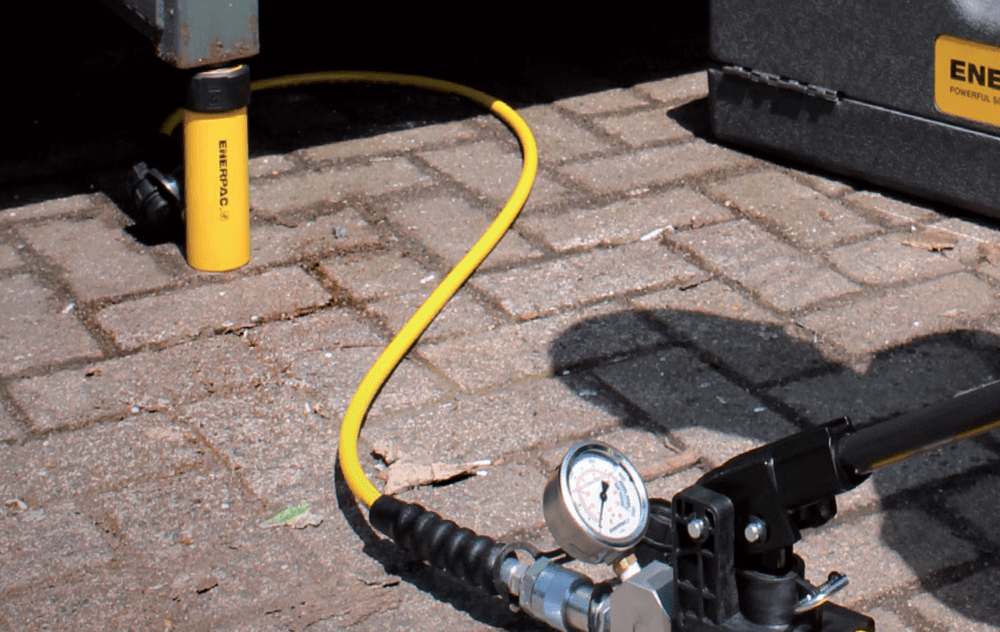 Hydraulic cylinders are versatile and essential items. Whenever there's the need to push, pull, clamp, punch, stamp, press, or hold it in place, you can be sure there's a cylinder to get the job done.
Many models are available in different sizes, even for workshop and shop floor applications in confined spaces. Consider low height 'pancake cylinders', and also 'multi-stage telescopic cylinders' which also have a low height, but with extended stroke capability.
Considerations when choosing a cylinder include.
• The space available
• Stroke
• Accuracy required
• Lockable load holding
• Weight of the load
• Cylinder mountings & lifting points
• Pull and push operation
• Hydraulic pressure
• Keeping the contact point with the cylinder's saddle level
Hydraulic Pumps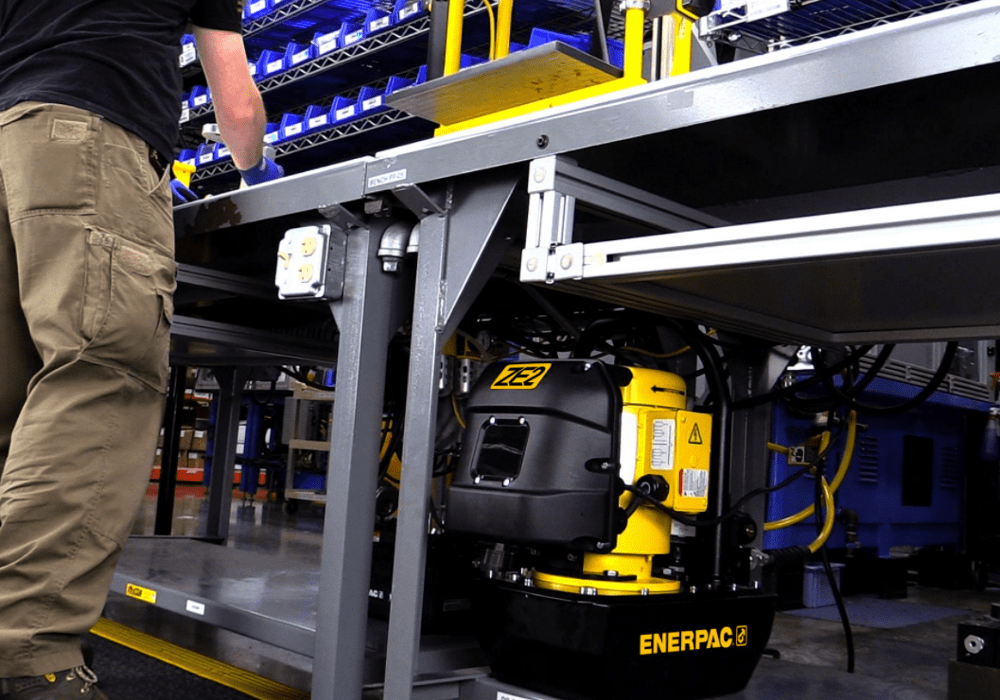 Machinery used in manufacturing plants often includes built-in hydraulics for work holding setups. However, where there isn't such a system, or if hydraulic pressure needs increasing, a separate pump can be added.
These types of fixed bench hydraulic pumps are powered by compressed air or electricity.
Air-operated types are powered by workshop air and are best suited to low or medium-duty cycles.
Electrically powered pumps are recommended for high-duty cycle applications and automation. They offer great versatility, low noise, and provide the highest level of performance and durability.
If low noise a priority, the new Enerpac ZE2 and ZW2 series hydraulic pumps are worthy of consideration. The induction motors used in these pumps are designed for quiet operation at 71 to 79 dBA – making them suitable for a wide range of assembly jobs and other indoor workshop applications.
Besides manufacturing applications, hydraulic pumps can also be used with many tools. For example, with torque wrenches, cylinders, nut splitters, cutters, pullers, and more.
There are many different things to consider when choosing a hydraulic pump. Check out our blog post Types of Hydraulic Pumps to Power Industrial Tools.
Torque Tools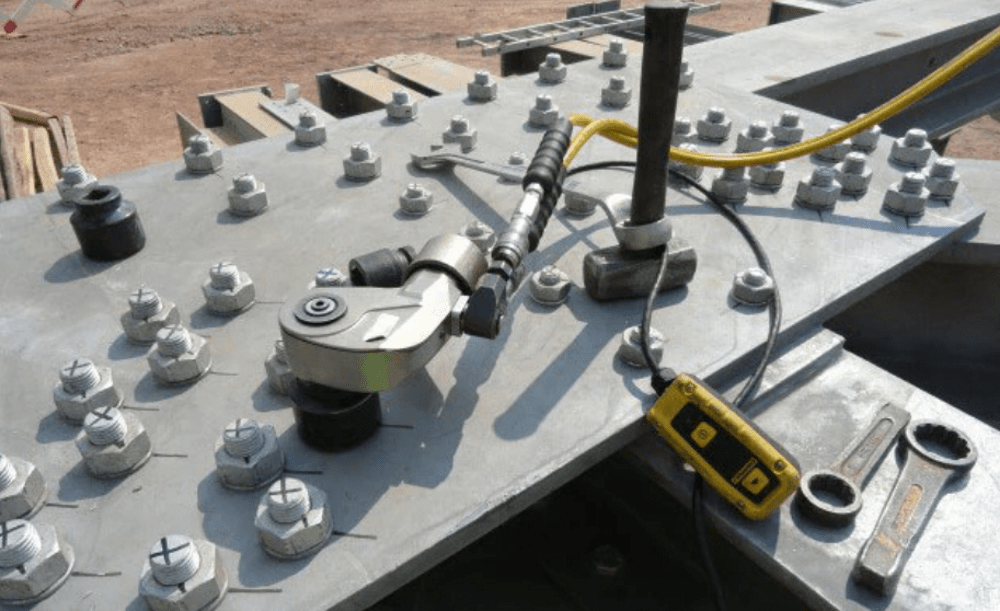 Hydraulic Torque Wrenches are essential tools for professionals working on oil and gas pipelines. But they're also useful for workers in maintenance workshops. Hydraulic and pneumatically powered types accept a wide range of different sized cassettes or sockets.
Some, such as the Enerpac HMT-Series, are interchangeable with different brands of cassette. This means you aren't tied into a single manufacturer. Good news if you're looking for a cost-effective way to upgrade your inventory of tools!
Both the HMT and DSX Series torque wrenches are manufactured with an aluminum body. The advantage is a reduced tool weight – offering a more portable solution when carrying around the workshop.
Key considerations include…
Hydraulic vs pneumatic power
Square drive vs the low-profile cassette type
Hex sizes
Torque output
Steel or aluminum bodied (for weight)
Heavy or occasional use
Safety features
Workholding Tools
Workholding tools provide a powerful clamping and positioning force for manufacturing processes. Three common categories are clamps, workholding supports, and workholding cylinders.
Clamps are available in various mount and operation types, including Link Clamps, Pull Down Clamps, and Swing Clamps.
Workholding supports offer a means of supporting the workpiece to minimize deflections. They automatically adjust to the contour of the workpiece and lock in position. The support then adds rigidity to the fixtured component to minimize machining variations.
Workholding cylinders are ideal for punching and clamping operations in manufacturing. For example, in the automotive sector.
Cutters and Nut Splitters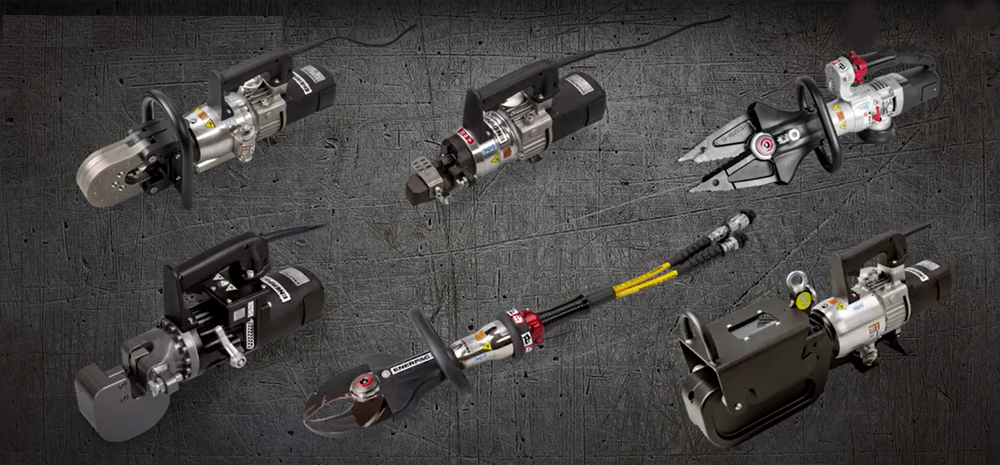 Hydraulic cutters and nut splitters make easy work of tough cutting jobs when working offsite and in the workshop. They offer a far safer cutting solution than torches, angle grinders, and circular saws.
Many different cutter types available, including decommissioning cutters, cable cutters, flat bar cutters, rebar cutters, and chain cutters.
These portable hand-held tools are powered either by a separate hydraulic pump or in some cases by a rechargeable battery. Hydraulic cutters may be useful for maintenance teams, and for production lines or resellers of chain, wire rope, and metal bar.
Hydraulic nut splitters provide a safe and efficient method for removing badly corroded and frozen nuts. They take less time and avoid costly damage to joint components. Models come in many sizes with the largest capable of cutting hex sizes of 5.38" 130mm.
System Components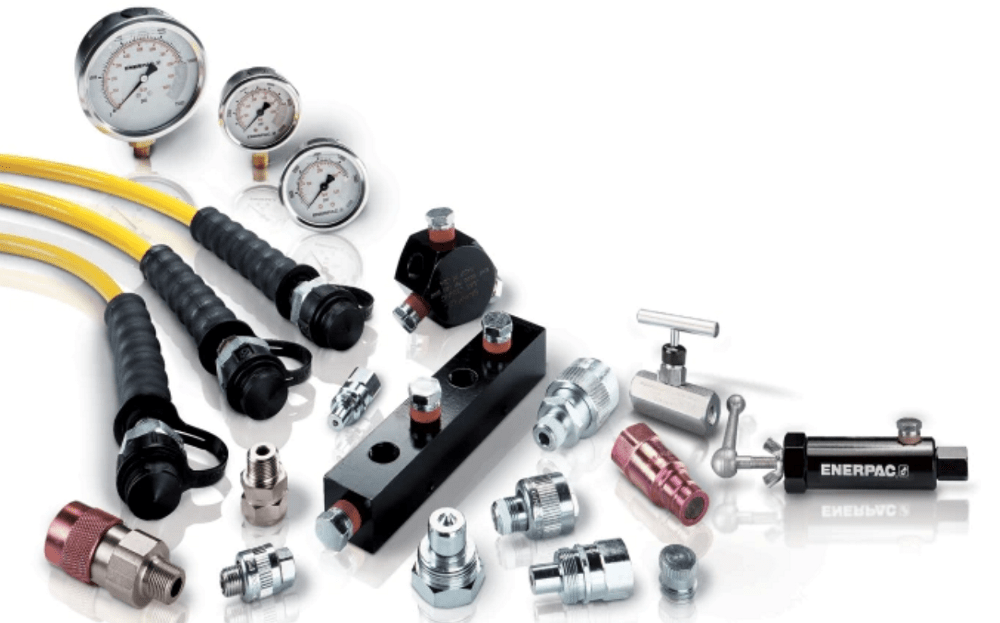 So far, we've covered the different types of tools for workshop applications. Next time you plan a tool purchase, don't forget hydraulic system components such as pressure gauges, gauge adaptors, hoses, couplers, and hydraulic oil. Keeping a good selection of these in your tool cupboard means you're well equipped to respond at short notice to any maintenance challenges.
To discuss your industrial tools needs with a specialist please get in touch with your nearest Enerpac Distributor.