Synchronous Hoist Applications Roundup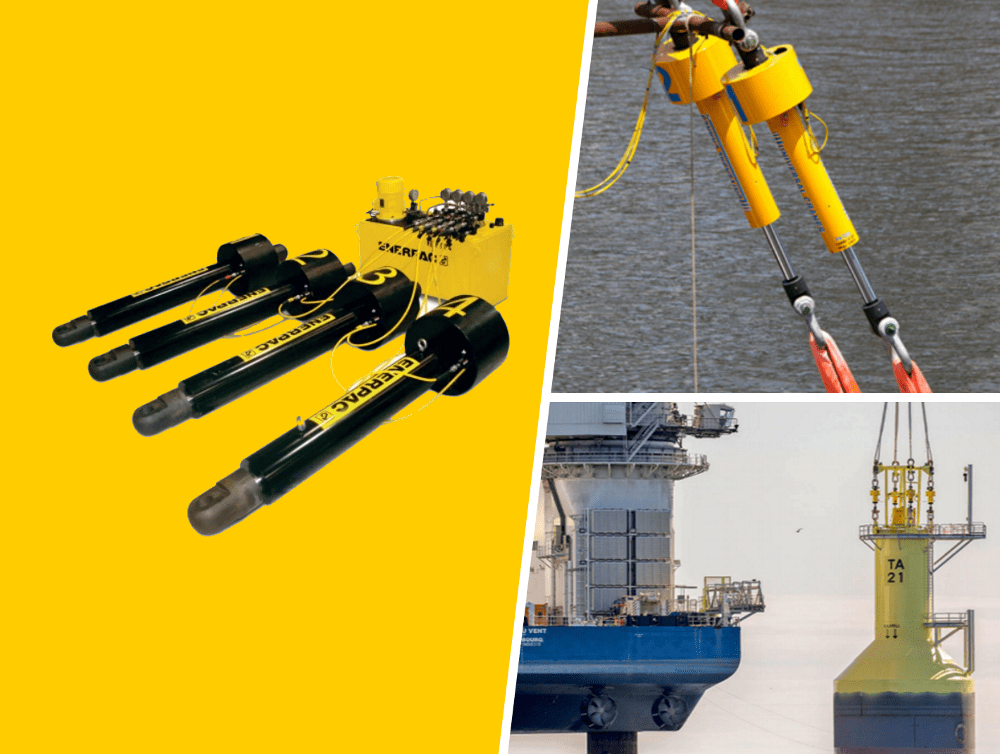 During a construction project, when a heavy load needs lifting from above, most of the time this can be done using a crane. However, when extra precision is needed, even the most highly skilled crane operator may find it difficult to position a large heavy, and unbalanced load.
One way to achieve greater accuracy is to add a Synchronous Hoist system below the hook of the crane. Doing this will enable a greater degree of precision and ensure the load remains level and balanced.
What is a Synchronous Hoist System?
A Synchronous Hoist System (SyncHoist) is a type of sling adjuster (aka a turnbuckle) that includes multiple hydraulic cylinders mounted directly in line with the rigging. A SyncHoist allows an operator to monitor and adjust each lift point, either independently, or together in a synchronized movement – even if the load is unbalanced. A great way to understand how they work is to look at real-life examples. Take a look at our recap of 6 examples where a SynchHoist played a key role in important construction projects.
Installing Pylon Sections of a Cable-Stayed Bridge with a SyncHoist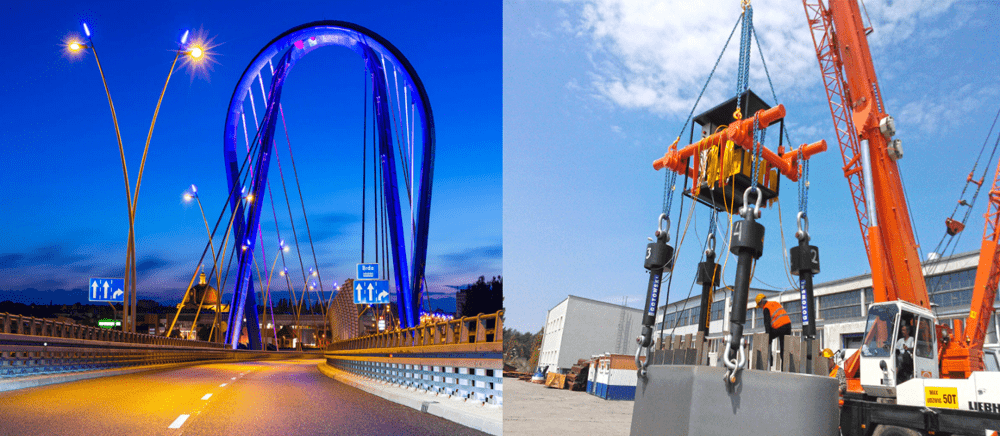 Shown above is a 200m long cable-stayed bridge spanning the Brda river in Poland. The SynchHoist system was used below the hook of a 350-ton crane to accurately position each section of the two 68m tall towers. The system comprised of four double-acting push-pull cylinders, enabling a single operator to mount each tower section.
Positioning Structural Steel for the Roof of the Mercedes-Benz Stadium

The Mercedes Benz Stadium in Atlanta is an impressive example of structural engineering. The stadium design includes a unique retractable roof featuring 8 petals, each weighing 500 tons. An Enerpac SyncHoist System was used to accurately lift and position the structural steel used in the roof. The synch hoist assembly included two spreader beams located below the hook, each with two hydraulic cylinders.
Placing Bridge Girders with Precise Control with a SyncHoist System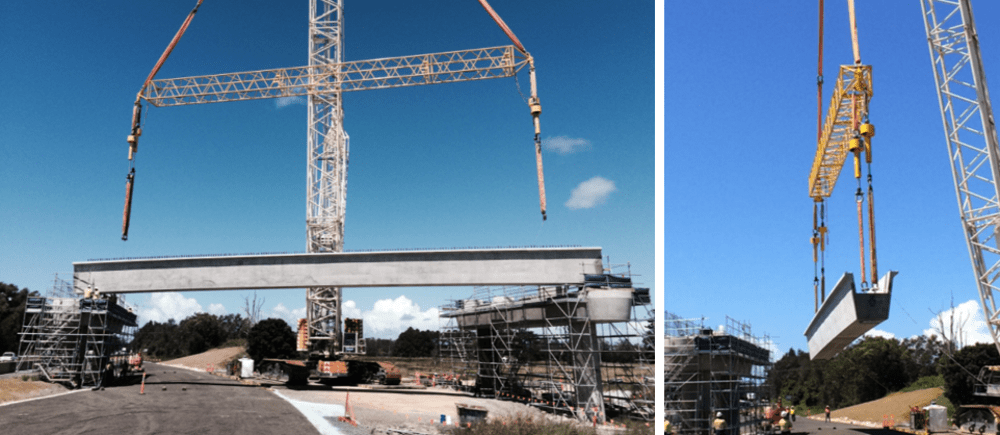 Part of the Pacific Highway expansion project in Australia included the construction of a new bridge over the Nambucca River. The bridge is 850 meters long, with the deck sections supported by 21 bridge spans. The Enerpac SyncHoist was used to position precast concrete girders which weighed up to 158 tonnes and measured 41 meters in length.

Bridge Construction Case Studies
SyncHoist Lifts and Positions Brisbane Riverwalk Concrete Girders

Building an 850m pedestrian Riverwalk in Brisbane, Australia required pre-cast concrete girders weighing 385 tons to be lifted and positioned into place. This was achieved using a crane mounted onto a 280-ton barge along with a wirelessly controlled, diesel-powered SyncHoist system under the crane's hook.
Installing Offshore Wind Turbine Base Foundations with a SyncHoist System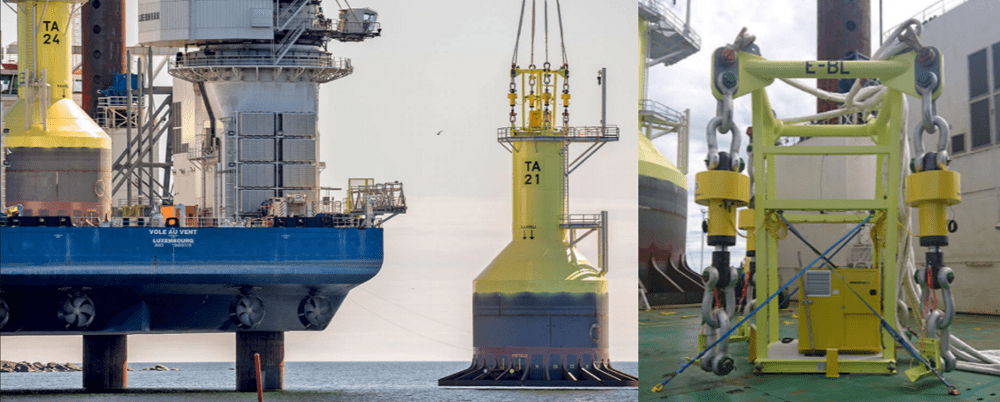 An Enerpac Synch Hoist system was used during the construction of the Tahkoluoto Offshore Wind Farm in Finland. Following preparation of the seabed to provide a level surface, ten hollow gravity base foundations each weighing up to 500 tonnes were installed. During lowering through the splash zone and positioning on the seabed, the SyncHoist system was used below the crane's hook to ensure the foundation remained as close to vertical as possible. The SyncHoist allowed the operator to lift and lower each cylinder independently to balance, tilt and position the foundations in response to feedback from four leveling sensors on the foundation.
Placement of 1,140-ton Nuclear Plant Module with a SyncHoist System

In South Carolina, USA, some challenges were encountered by rigging engineers when trying to level a module at a nuclear plant. The CA01 module, made entirely of steel, weighed 1,140 tons and measured 70 feet tall by 80 feet wide. Traditional crane lifting methods were attempted, but the team repeatedly needed to add additional counterweights to try and level it – ultimately requiring a lot of extra manpower, equipment, and time.
The team decided to use a SyncHoist system instead, which allowed operators to precisely monitor and adjust each lifting point independently and together in a synchronized manner.