How to Set-Up Your Single or Multi-Point Hydraulic System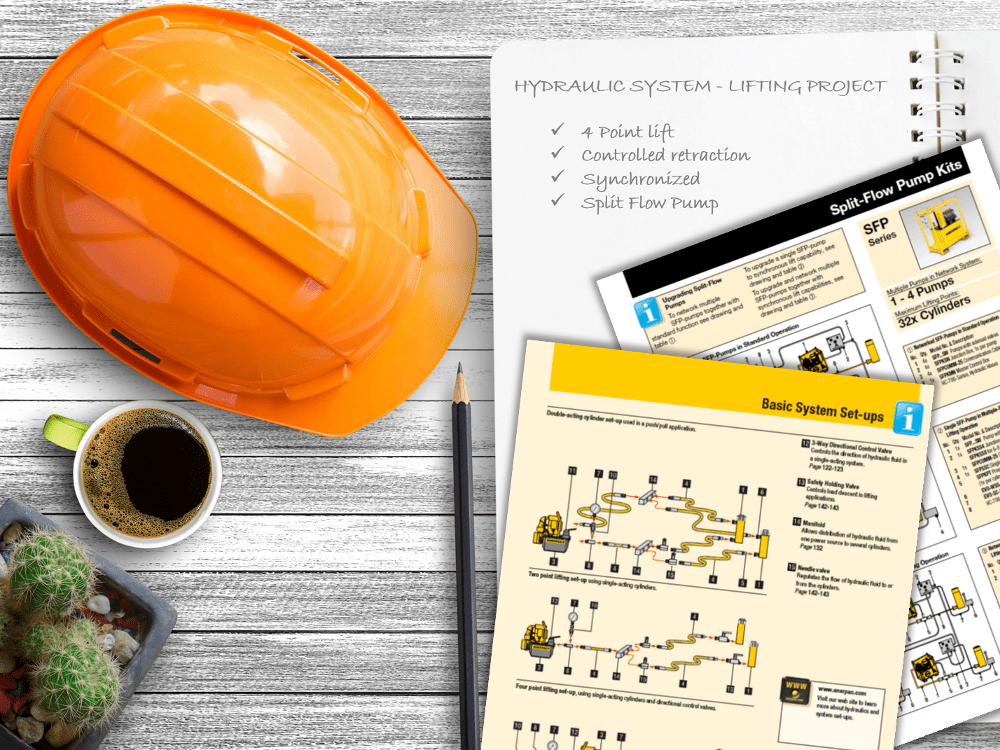 Hydraulic systems for lifting, lowering, or pulling can vary according to each individual project. There are many different configurations possible, so choosing the right components for your system should be done carefully to ensure a safe and successful outcome.
Important! For the inexperienced, understanding pressurized hydraulic systems can be complex. Every heavy-lift project has its own unique requirements and using the wrong set-up could be catastrophic. Please consult a suitably qualified and experienced person before you start work.
What follows is a simple introductory overview of how to configure a lifting system for anyone unfamiliar, or unaware of the options available. We've put together eight examples to get you started, ranging from simple hand pump cylinder sets to complex synchronous lifting systems.
If you need advice on choosing the right hydraulic cylinder please see our Buyer's Guide.
---
Basic Single-Acting Set-Up for Hydraulic Cylinders for General Applications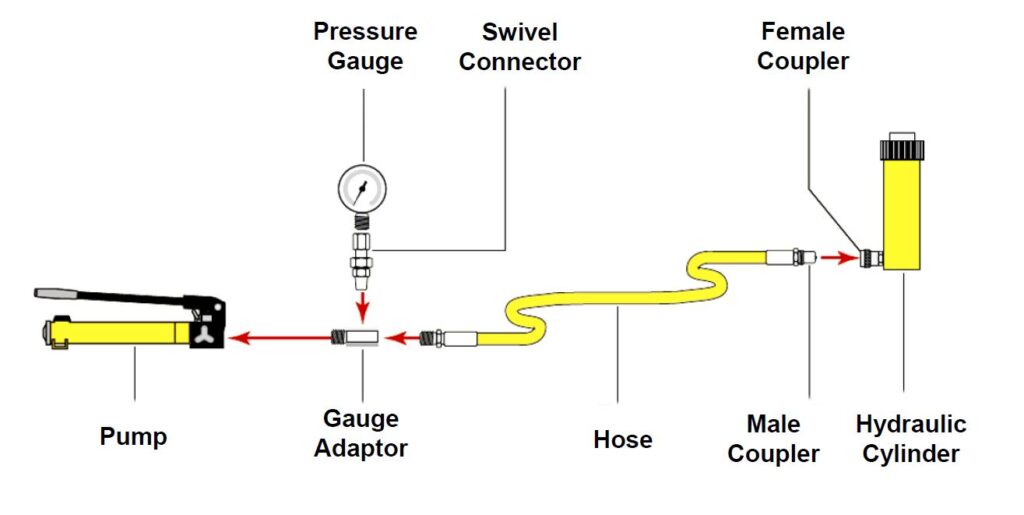 This diagram shows a very simple hydraulic system suitable for a single-acting lifting application. Arrangements like this can be used in a wide variety of general-purpose maintenance situations, or in a hydraulic press.
It shows a manual hand pump for controlling the cylinder advance. (Note that this could be substituted for a powered pump). It's worth knowing that a cylinder with a capacity of 25 ton and above may require many hand-pump strokes – especially for longer stroke applications.
For convenience, a set-up such as this can often be purchased as a kit. These contain everything you need, including a case for storage and protection of the items.
You may also want to consider maintenance kits and useful cylinder accessories, such as baseplates for additional stability or tilt saddles to prevent plunger damage. These additional items offers more versatility and can help prolong cylinder life.
Even in a simple setup such as this, using a pressure gauge is always recommended, as it gives a window into the hydraulic system. The Enerpac GA45GC 45® gauge assembly is perfect when using a hydraulic hand pump.
---
Single-Acting Cylinder Set-Up with Longer Stroke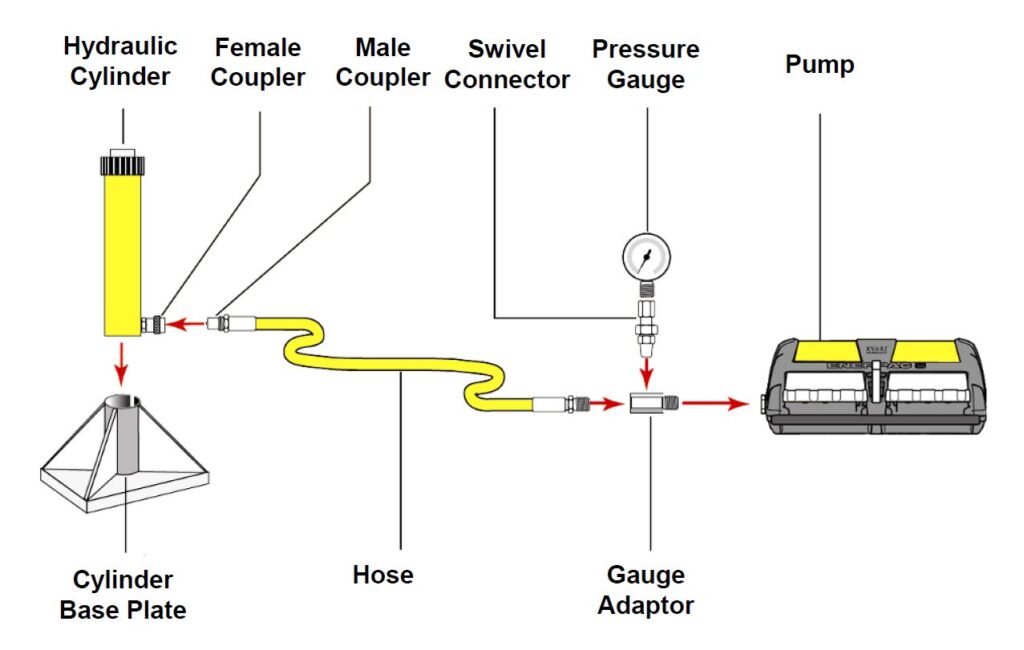 This shows another basic hydraulic system using a single-acting hydraulic cylinder. This time it includes a cylinder with a longer stroke and an air-powered hydraulic pump.
Note the use of a JBI-Series Cylinder Baseplate which increases both stability and load distribution.
When using any of our powered pumps (air/electric) we always recommend using our glycerine-filled gauges to reduce needle vibration for accurate pressure reading.
---
Double-Acting Cylinder Set-Up for a Powered Retract of Heavy Loads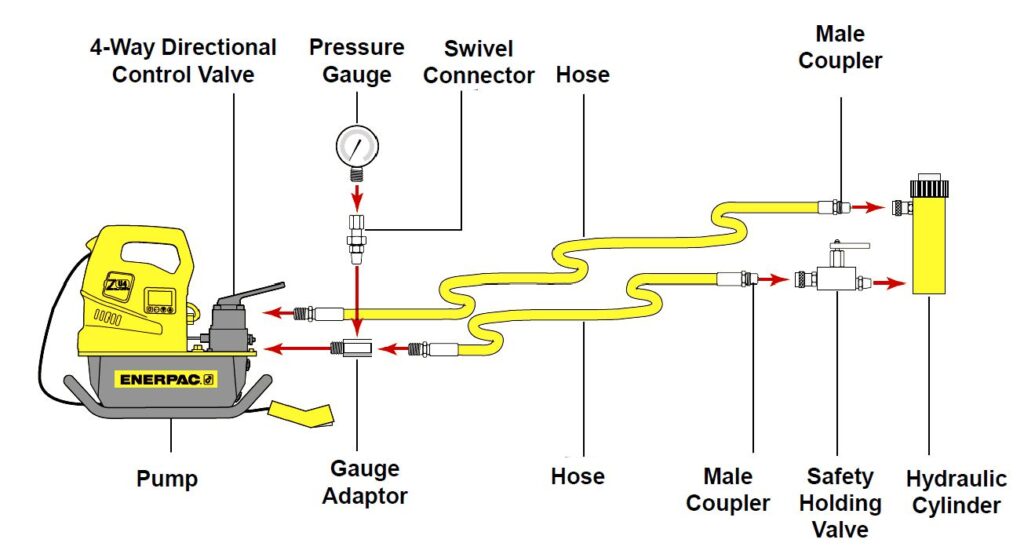 When lowering a heavy load it is sometimes important to have controlled retract. When this is a requirement, a system designed for a double-acting cylinder should be used. A double-acting cylinder uses hydraulics to lift or lower the load, unlike single-acting cylinders which rely on a return spring and gravity to retract the plunger. The latter can be time-consuming. (especially on longer stroke cylinders).
Using a pilot-operated check valve (v66) installed in the inlet port of the cylinder for temporary load holding.
As before, when using a powered pump, use a glycerine-filled gauge to minimize needle vibration.
The above diagram shows a powered pump, but a hand pump may be used, however, please ensure the pump reservoir is sufficient to both fully advance and retract the cylinder(s).
Note that a pump with a 4-Way Directional Control Valve is needed.
Install flow control valves in both advance/retract lines for greater control/fine-tuning.
Safety Tip – Ensure all couplers are connected and working properly – a defective or incorrectly attached coupler may block the flow, resulting in potential pressure intensification which would result in excess pressure flowing out the external pressure relief valve on cylinder.
---
2 Double-Acting Cylinder Set-Up for Push or Pull Applications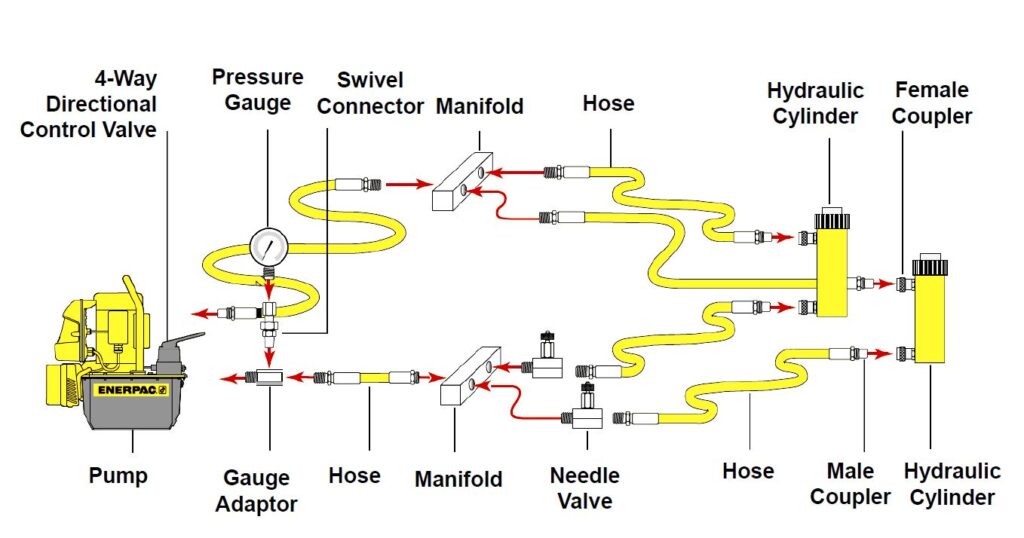 The system above is for applications requiring 2 lift points where a controlled lift is needed. Manifold blocks are used to split both flow directions to the 2 cylinders, with the advance line utilizing flow control valves to enable fine-tuning of the synchronicity of lifting across multiple points. Note that the pressure gauge goes into the advance line.
The flow valves are added to the manifolds for a controlled extension.
Whenever you intend to use multiple cylinders – make sure the pump has a large enough reservoir to contain enough hydraulic fluid for the stroke of all the cylinders.
Where a controlled retraction is required you could install flow control valves into the retract line manifold.
A pump with a 4-Way Directional Control Valve is needed.
For convenience, you could utilize the Enerpac AM42GC/AM41GC control manifold gauge assemblies, which incorporates the manifold, control valves, gauges, and couplers for up to 4 jacking locations.
---
2 Cylinder Set-Up Using Single-Acting Cylinders
The above shows another two-point lifting set-up, but this time it is simplified by using single-acting cylinders. A safety holding valve is used with each cylinder for temporary load holding.
For long-term load holding applications, consider Enerpac hydraulic lock nut cylinders which mechanically lock off the load ensuring safe working in and around the area.
Safety Tip – Never work under a hydraulically suspended load. Always mechanically lock the load either by using cribbing blocks or mechanically operated locknut cylinders.
---
Multi-Point Hydraulic System Using 4 Single-Acting Cylinders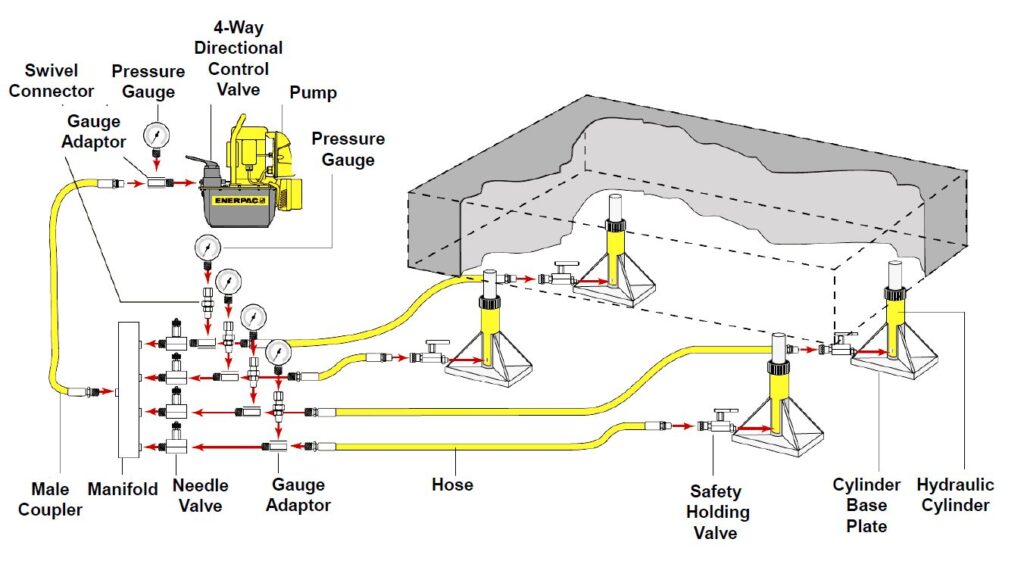 The above shows a common multi-point hydraulic system using single-acting cylinders and control manifolds.
It's recommended to install gauges on each outlet port of the control manifold, as this will show the load distribution across the four jacking points. This assists with load control and helps increase synchronicity.
JBI-Series base plates are used to help increase stability by spreading the load across a larger surface area.
V66 Pilot-operated check valves are utilized for temporary load holding.
Where long periods of load holding are required, consider Enerpac mechanical lock nut cylinders and/or utilizing cribbing.
---
4 Point Set-Up Using 4 Single-Acting Cylinders and the NEW Enerpac Split Flow Manifold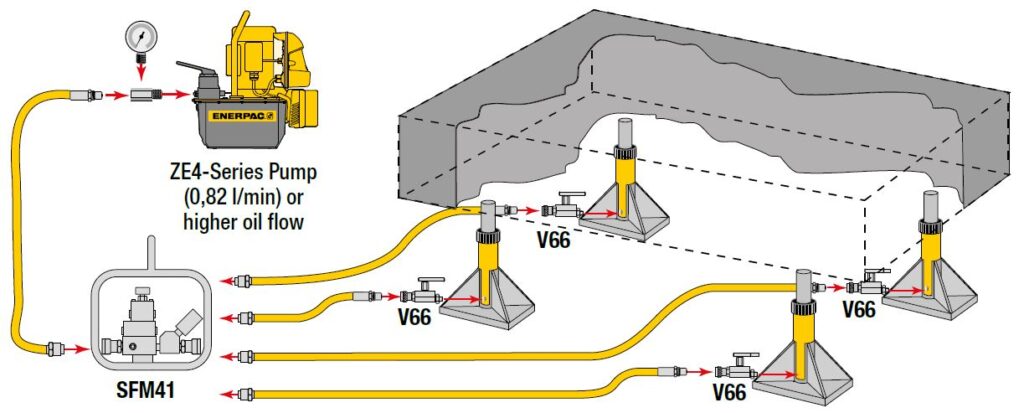 The above picture shows an alternative 4 point set-up that utilizes the new Enerpac Split Flow Manifold (SFM). The SFM works by distributing an even flow rate to all lifting points – regardless of the load distribution across the lifting cylinders. SFM's features and benefits are shown below;
Load compensation valves for synchronous lifting and lowering of heavy loads
Even flow rate from all outlets regardless of load distribution across the hydraulic cylinders
SFM42 can be used for both single-acting and double-acting cylinders for greater versatility.
Gauges installed on all outlet ports for understanding load distribution across jacking locations.
Assists with control of synchronous movements when either lifting or lowering operations.
---
Split Flow Pumps for Multiple-Point Synchronous Lifting Operations
Split flow pumps offer many benefits for large-scale multi-point jacking applications. For lifting and lowering applications with multiple points, split flow pumps are a far better alternative than using independently operated pumps.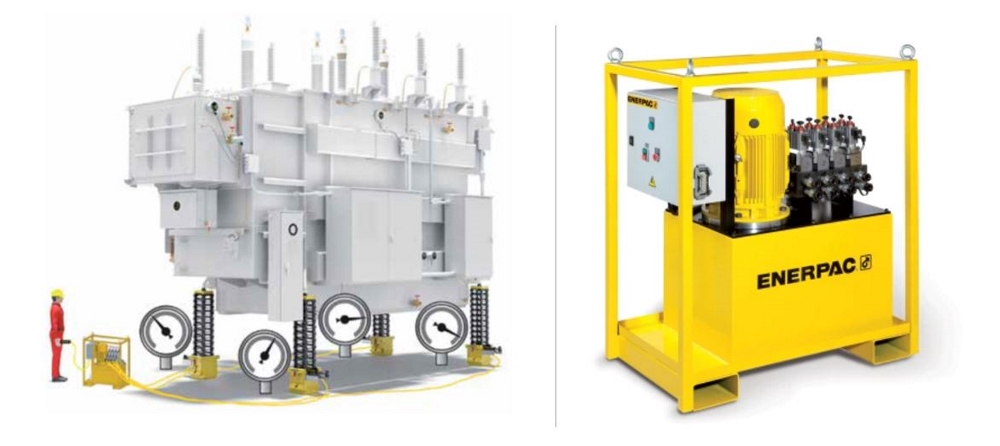 Depending upon the chosen configuration, they can offer extreme control accuracies of +/-1mm per leading and lagging jacking cylinders. See available options described below,
Standard SFP-Series Split Flow Pumps
When synchronization of 4% maximum is acceptable, Standard SFP Series Split Flow Pumps provide a safe and economical solution.
If you need more than 8 lifting points, they can be upgraded to network with additional split flow pumps – increasing the number of jacking locations up to an impressive 32 units!
Available in 2,4,6 or 8 split-flow outlets
Individual or simultaneous operation for valves with advance/hold/retract functionality
Flow rates per outlet ranging from 0,27 – 4,2 l/min at 700 bar
Suitable for both single and double-acting cylinders
Load compensation valves control both the lifting and lowering operation with up to 4% accuracy between the leading/lagging cylinders
Available with 20, 40 or 150ltr capacity reservoirs.
Programmable Logic Controlled Split Flow Pumps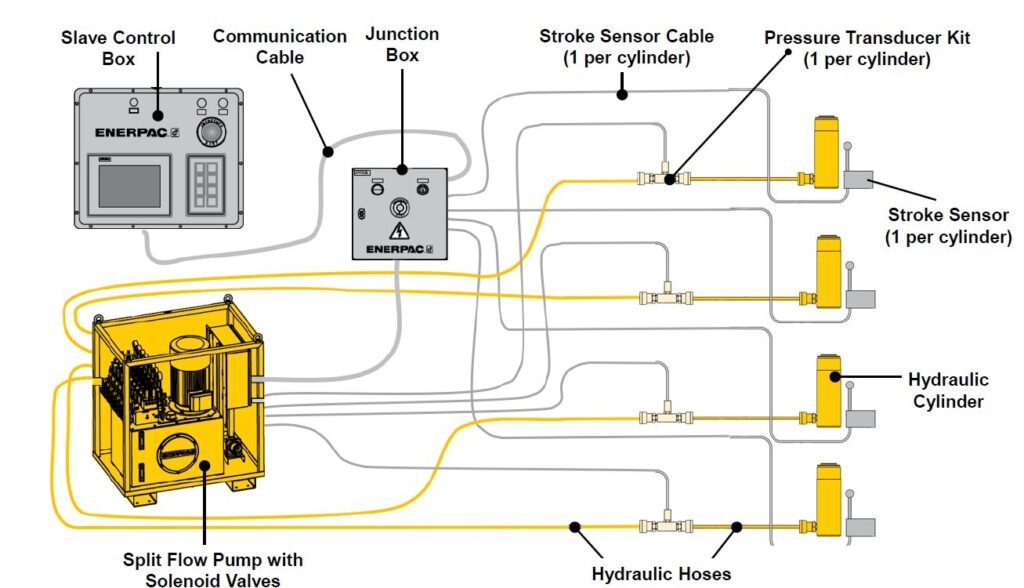 For extreme accuracy applications, SFP-Series split flow pumps can be upgraded to become PLC-controlled synchronous lifting systems. This increases the SFP's capabilities to become an accurate synchronous lifting/lowering system that's capable of achieving +/-1mm accuracy from the leading/lagging hydraulic cylinder.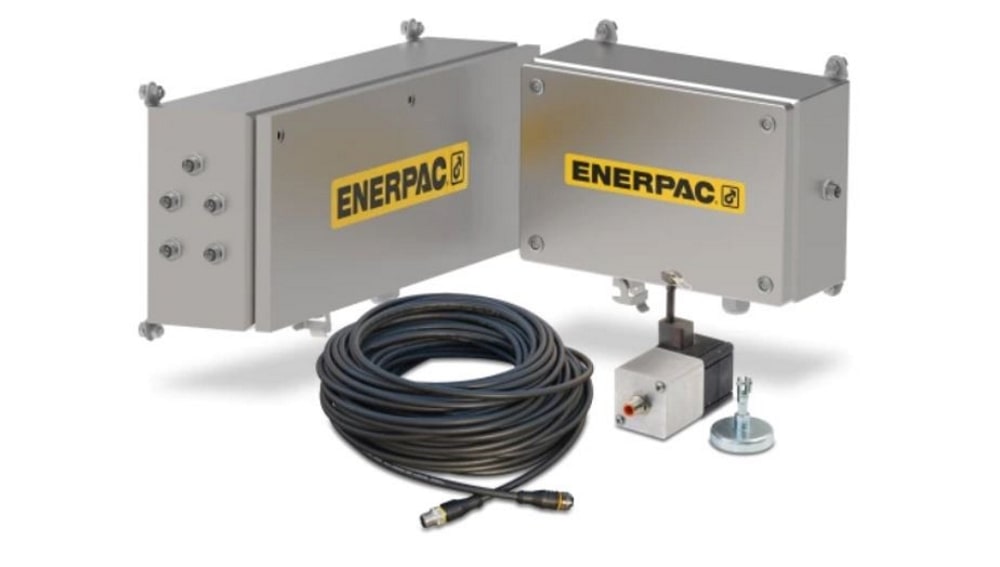 This upgrade utilizes external stroke sensors which communicate with the master control box to provide continuous feedback. Similarly, the upgraded SFP-Series Split Flow Pumps can also be networked to achieve an impressive 32 point synchronous lifting system – without the need to change any of the standard SFP hardware.
As well as the above impressive capabilities, the SFP systems offer the additional elements shown below,
Control of multiple split-flow pumps with one master control unit
Pumps can be closer to the lifting points – resulting in shorter hose lengths for increased accuracy.
All lifting points synchronize within +/- 1mm accuracy
Network control boxes expand the number of lifting points by combining up to four split flow pumps together. This simplifies lifting operations by using a single operator station
Plug and play synchronous lift upgrade kits limit your initial investment, and provide everyday flexibility to tailor the controls to suit the application.
Application examples requiring synchronous lift systems include:
• Bridge deck lifting for bearing maintenance
• Stage lifting in construction and shipbuilding
• Skidding – to move structures and buildings
• Levelling of large constructions like wind turbines
---
Need help choosing components for your hydraulic system? Get in touch.