Balanced Cantilever Bridge Construction: How a Strand Jack Can Help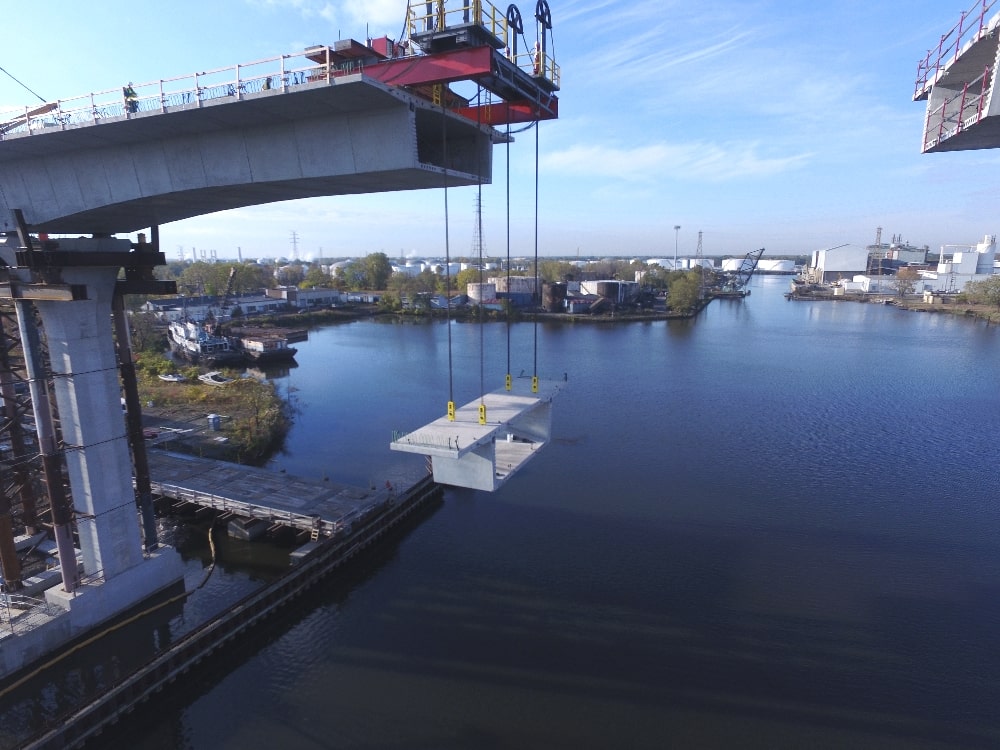 There are several different ways to construct a concrete bridge, and one of the most common is the balanced cantilever bridge construction method. Building a bridge this way involves lifting many pre-cast segments into position – each being added in turn to the developing structure.
We all know that cranes do a great job of lifting heavy objects. But sometimes their sheer size, cost, and setup challenges makes them impractical for some applications.
Strand Jacks offer a compact and powerful solution for many applications where cranes cannot reach. Read on to discover how strand jacks were used to assemble a bridge in Chicago.
The Strand Jack: Reaching the Parts Cranes Cannot Reach
The recently completed Cline Avenue Bridge in East Chicago crosses the Indiana Harbor and Ship Canal – a busy route for maritime traffic. During its construction, two large-capacity, ground-based cranes were used to lift the cantilever segments on each side of the canal. But for lifting the middle sections directly over the water the cranes did not have sufficient reach.
One solution would be to use a floating crane. But this would present many practical challenges and the canal would need to be closed for several weeks. Given the volume of maritime traffic using the canal, this was not a viable option.
FACT FILE: THE CLINE AVENUE BRIDGE IN EAST CHICAGO
Construction Type: This is an elevated expressway based on the balanced cantilever method using precast segments. It was built using a mix of traditional and new techniques.
Dimensions: Total length 6,236 ft. The 316 ft main span provides 100 ft of vertical and 200 ft of horizontal clearance.
Primary Material: Low-maintenance concrete, with an expected lifespan > 100-years
Driving Deck: Comprising of 685 post-tensioned concrete single-cell box girders segments, supported by 29 cast-in-place concrete columns.
Segment sizes to be lifted: 10 ft high, 10 ft deep and 25-30 ft wide, and weighing 75 tons.
Pier heights: Ranging from 24 ft to 86 ft.
Bridge section over the canal: Comprising of 19 precast segments.
Developing a New Approach
Assembling the bridge with minimal disruption to the canal traffic required some fresh thinking. This came from the engineering team at heavy lift specialists 'Engineered Rigging'. The team developed a customized cantilever segmental bridge lift platform – using back span tie-downs to counter each cantilever as the segments were lifted. The platform included two beams extending from the platform – each mounted with two Enerpac Strand Jacks.
Deck Segments Lifting Procedure
Precast segment placed on a barge on the canal.
Strand Jack cables lowered.
Barge moved under the cantilever lift system
Segment corners attached to a Strand Jacks.
Four Strand Jacks lift individual segments 130 ft into position (each taking 2.5 hours).
Strand Jacks are also used to tilt and manipulate each segment during attachment.
Between one and three segments were lifted and installed each day – (dependent upon canal traffic).
As each new segment was added, the platform was moved forward using Enerpac launching cylinders and a low-height skidding system.
Balanced Cantilever Bridge Construction: The short (20-sec) video below shows the assembly in situ.
Read the full Cline Bridge article on the Rock Road Recycle website


Bridge Construction Case Studies
What Is a Strand Jack?
Compared to a crane, a strand jack is a much smaller piece of heavy lifting equipment. Despite the word 'jack' in the name, it can be considered as a linear winch.

How a Strand Jack Works
In a strand jack, a bundle of steel cables is guided through a hydraulic cylinder. Above and below the cylinder are anchor systems with wedges that grip the strand bundle. A split flow pump is used to stroke the cylinders in and out, and while the grips are engaged in the anchors, a lifting or lowering movement is achieved. The system uses a failsafe automated locking and unlocking operation, and enables precision and synchronous lifting and lowering by a single operator.