2 Essential Rigging Tools that Make the Cut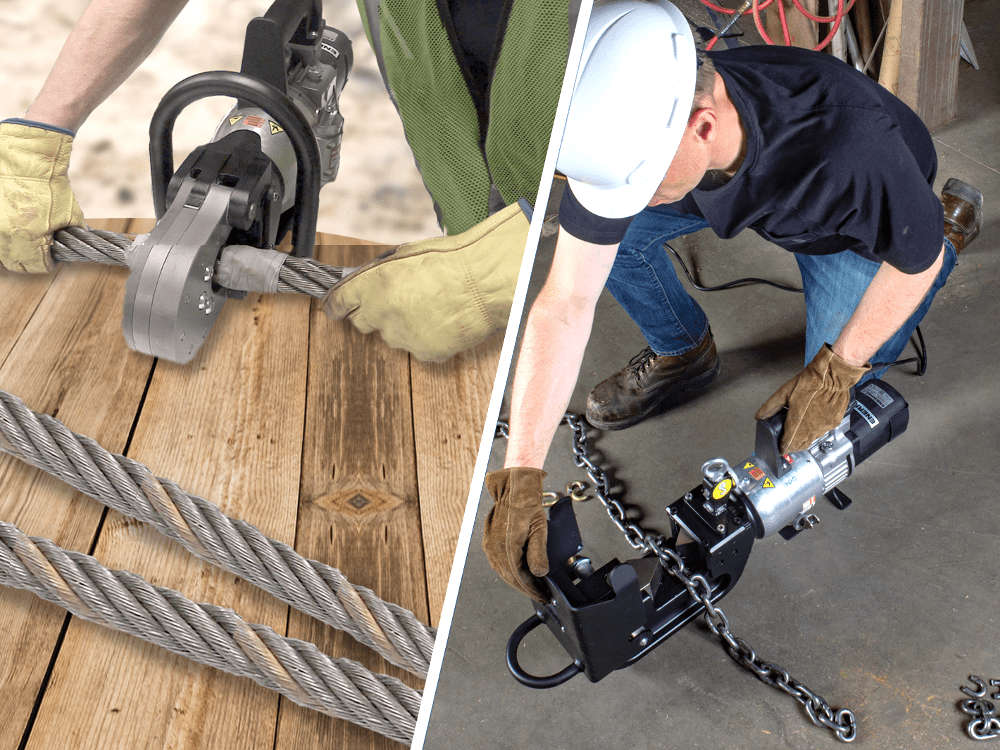 There are many types of rigging tools used by lifting contractors and rigging companies.
Jobs can vary hugely, so having a wide selection of rigging equipment available on standby is a smart move. Keeping a fully stocked inventory means you are in good shape for handling whatever needs arise onsite.
Common items used to connect the load to the lifting device include chain slings, polyester webbing slings, and wire rope slings.
But what rigging tools are best to use when a chain or wire rope needs cutting to a specific length?
Fortunately, there are powered cutters designed to complete tasks like these in an easy, safe, and efficient way.
1. Rigging Chain Cutters
There are different ways to cut a chain, but some present significant risks to safety. You may have a blowtorch available, so this is one option. But the danger of experiencing blowback from the flame is a very real risk, and so is the potential for causing damage to adjacent chain links.
Even without any safety mishap, torching can be laborious and time-consuming.
Angle grinders and cut-off tools are other readily available tools. But again, this takes time and also involves risk to the operator. Both hands are needed to make the cut, sparks fly everywhere, and even worse, the cutting wheel could completely disintegrate.
The safer alternative is to invest in a portable powered chain cutter. If you are reluctant because of the initial cost outlay, for regular users, the gains in productivity, safety, and accuracy will far outweigh the cost of purchase. Furthermore, unlike the more dangerous cutting methods, there's no need for specialized PPE, such as flame-retardant clothing or respirators.
How Chain Cutters Work
The Enerpac example shown in the video below quickly cuts the chain link while the operator is protected from debris by an integral transparent shield. The unit is electric powered but also includes a hydraulic circuit to move the angled blades. The cutters will work on materials up to HRc 46 (Rockwell hardness scale).
How Long Does a Cut Take?
The answer is fast! A 5/8" chain link can be severed in just 6 seconds and sizes of 1 1/4" take just 35 seconds.
2. Wire Rope Cutters
Wire rope suits lifting jobs for many reasons. The helical structure of metal strands provide strength, flexibility, along with resistance to corrosion, abrasion, rotation, and fatigue.
As you can imagine, cutting the large diameters of wire rope used for rigging is not a simple task without the right equipment. As with chain cutting, angle grinders and torches aren't the safest or fastest option.
So, what can be used?
An effective solution is to use a purpose-designed, powered wire rope cutter. Not only do they offer maximum safety and efficiency- they also create a clean cut. An important benefit as frayed or deformed cable ends cause great difficulty when inserting the cable into sleeves.
How Wire Rope Cutters Work
Powered wire cutters such as the Enerpac EWCH-Series work using two blades in a guillotine action. Inside each cutter is a double-acting cylinder plus advance and retract buttons. This improves control and reduces jamming.
They're powered by either an electric source, or an external hydraulic pump. This delivers the required cutting force and allows for higher duty cycles as compared with other cutting methods.
This makes them perfect not just when out in the field, but also in production facilities where demanding, high-volume cutting applications are the norm.
How Long Does a Cut Take?
The cutting time is similar to powered chain cutters. Cutting through wire rope with HRc hardness of up to 48 takes a matter of seconds. The largest cutter in the Enerpac range has the capacity to cut diameters up to 7.09″ (180mm).
More information about these rigging tools
To see full specifications of chain and wire rope cutters check out the Enerpac website.