Why Preventive Maintenance is Better For Hydraulic Tools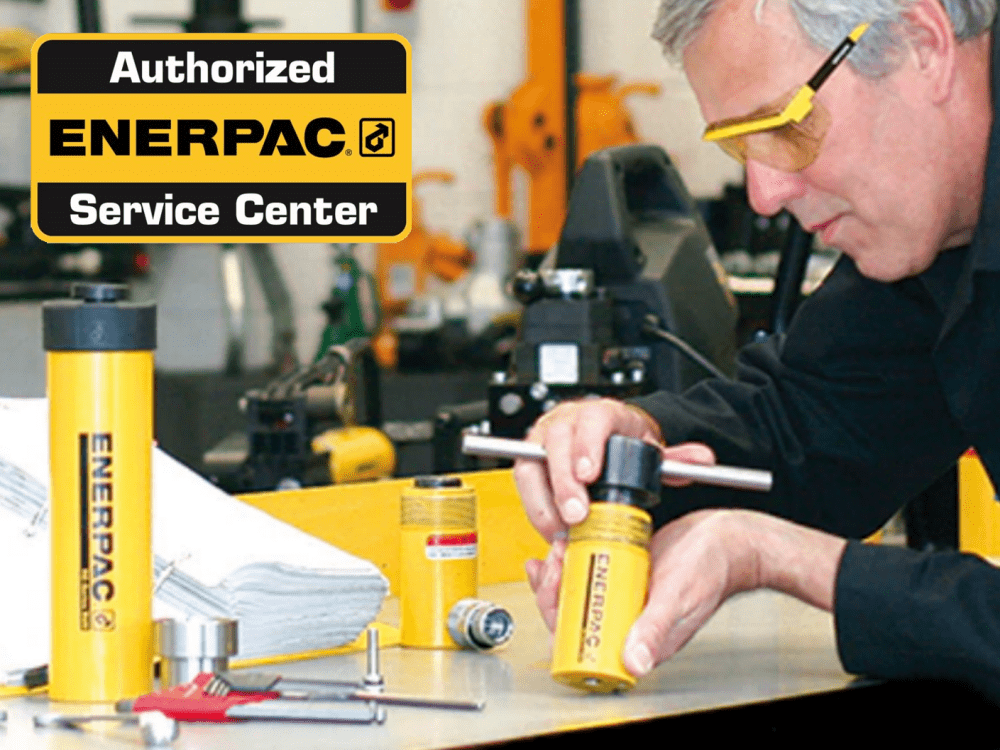 Hydraulic tools are used widely throughout many different industries. When used correctly, they increase productivity and efficiency; however, if not properly maintained, they can be expensive to repair or replace. Using a preventive approach is far better than waiting until a problem arises. By being proactive, you will help to ensure the longevity and optimal performance of your hydraulic tools while reducing safety hazards.
In this blog, we will explore the benefits of preventive maintenance and advise on how your authorized Enerpac Service Center can help.
Prevention is Better than Cure
By default, hydraulic tools are built to withstand huge forces and pressures up to 10,000 psi (700 bar). But even the best quality tools and equipment need maintaining – especially when they're used in harsh working environments.
Ignore maintenance and you risk compromising your productivity, safety, and will probably incur greater expenses over the long term. Common causes of tool problems you can avoid are:
Contaminated hydraulic oil – blocking and damaging valves and increasing wear
Water in hydraulic oil – reducing the load-bearing ability of the fluid and causing corrosion
Side load damage to hydraulic cylinders
Cylinder saddle damage
Seal failure – caused by damage from heat, chemicals, and contamination
Connection failure – damaged or incorrectly attached couplers
Extreme Temperatures
Over-pressurizing
Hydraulic Seal Failure
Where is the best place to go for servicing your hydraulic tools?
Attempting to service or repair your hydraulic tools is not recommended! The risks of injury while disassembling hydraulic tools, and from using them after inadequate maintenance are too high to take chances.
The best approach is to contact your nearest authorized Enerpac Service Center (ASC). You can find out where they are on the Enerpac website here. Look out for an ASC badge next to the distributor's contact details.

Enerpac Authorized Service Center staff will be trained by Enerpac to maintain and repair Enerpac tools and will therefore be able to respond quickly and professionally.
How does tool maintenance work with my Service Center?
The ASC will check the condition of your tools, manage your warranty, and replace wear and tear items. They will check the serial number or QR code shown on your tool to check product information; such as year of manufacture, service information and compatible replacement parts. Each Enerpac Authorized Service Center is audited by Enerpac – so reassuringly, you can expect to receive a good level of service! They can also advise on the safe and efficient use of your tools.
What if my tools aren't manufactured by Enerpac?
Even if your tools are not made by Enerpac, our Enerpac Authorized Service Centers will be happy to check the condition of your tools and will advise on what to do next.
In summary, certification as an Enerpac Authorized Service Center guarantees:
Safety is a primary focus
Technicians are trained by experienced Enerpac trainers
Original Enerpac parts are used for repair
Workshop tools and equipment are adequately tailored for Enerpac repairs
Effective administrative handling is in place
Inventory of spares to support the quicker turnaround of service/repair requests
Repair under Warranty supervised by Enerpac
All the elements above are part of the audit process which the service center must pass to become certified as an Enerpac Authorized Service Center.
In some regions, such as Europe and Sub-Sahara Africa, users of Enerpac tools can sign up to The Enerpac Maintenance Program (EMP). This enhanced maintenance package is an add-on to the standard service available from our Enerpac Authorized Service Centers.
It is an agreement between you, the customer, and your ASC. It provides a hassle-free and preventative approach to maintenance – ensuring your tools are maintained on time and in the best possible way. This keeps your tools in great shape, which helps to boost your safety, reduce operational risk, and minimize costly downtime.
There are standard and optional elements to the EMP. The standard features are:
Service interval recommendations given after initial inspection
Next Service Due,' or 'Inspection Date' labels on your products
Service history records
Repair and service certificates issued on completion
Keeping and managing administrative records
Unique labeling of products at the moment of sales/inspection/repair
Providing a documented recommendation on inspected tools
Issuing service reminders to customers for service/inspection due products
Optional features:
A selection of extra features available at participating Service Centers may include:
Online access to service history
Online access to repair and service certificates
Maintenance contracts (at point of sale)
Regular audits of hydraulic equipment at your workplace
Tool collection service for service and repair
Inspection and repair on site
Loan tools during repair
Calibration services
Trade ins of non-Enerpac tools
Note that the availability of the above will vary across the service network.
What can I do myself to protect my tools?
Read the Product Manual
This may seem obvious, but reading and understanding the manual provided with the product is vitally important. Even the most experienced technician should do this – not just immediately after purchase, but also by keeping the manual handy for repeated reference.
The product manual will contain vital information, such as how to operate the product properly, how to set it up, and how to maintain it. It will also provide important safety information and may also include a troubleshooting guide.
Prevent Contamination
Contaminated hydraulic fluid will shorten the longevity of your product and reduce performance. Make sure you keep couplers and moving parts free from grit and corrosive substances.
Avoid Excessive Sideload
Sideload is when the force on the hydraulic cylinder is not aligned with the direction of travel of the plunger (not vertical). This can cause damage by putting unwanted stress on the plunger, cylinder tube, saddle and internal components. This can lead to bending, wear, leaks, and reduced performance. Always align the cylinder correctly and consider using a tilt saddle to help alleviate sideload.
Follow the 80% Rule
A good practice when using cylinders is to use only 80% of the capacity and stroke ratings given by the manufacturer. For cylinder stroke, this works because when you leave a distance between the stop ring and the bearing the plunger is much more stable and therefore better at resisting side load forces.
Use a Saddle
A saddle is essential for any job lift that uses a cylinder. First, it protects the plunger threads from damage, especially when using attachments. Second, it prevents the end of the plunger from becoming deformed or 'mushroomed.'
Use The Right Tool For The Job
Even the best quality tool will not perform well if used for the wrong purpose. As mentioned previously, always read the manual, and check what the limitations of the product are. Note things like the maximum load capacity, the hydraulic supply needed, whether mechanical load holding is needed, and pump compatibility.
Watch Out For Leaks
Keep an eye out for any leaks and do not use the tool if you spot any evidence of leaking hydraulic oil.
Use the Right Enerpac Hydraulic Oil
Hydraulic oil is available in various grades to meet the specifications of different jobs. Using the wrong type can cause decreased efficiency, increased wear, corrosion, sludge, and increased heat generation. If you're using a powered hydraulic pump, use blue HF high-viscosity oil for maximum lubrication across a wide temperature range. Never use amber-colored Enerpac LX hand pump oil within a powered pump system!
Don't Disassemble Tools Yourself
Never try and repair hydraulic tools yourself. Hydraulic tools are built to withstand considerable pressures and to work in challenging conditions, so the consequences of a botched repair are incredibly risky.
The technicians at Enerpac Authorized Service Centres have the right equipment, they're highly skilled, and have the necessary knowledge to complete the repair or maintenance of your tools safely and efficiently.
Find your nearest Enerpac Authorized Service Center.