Hydraulic Rescue Tools: What Are Your Options?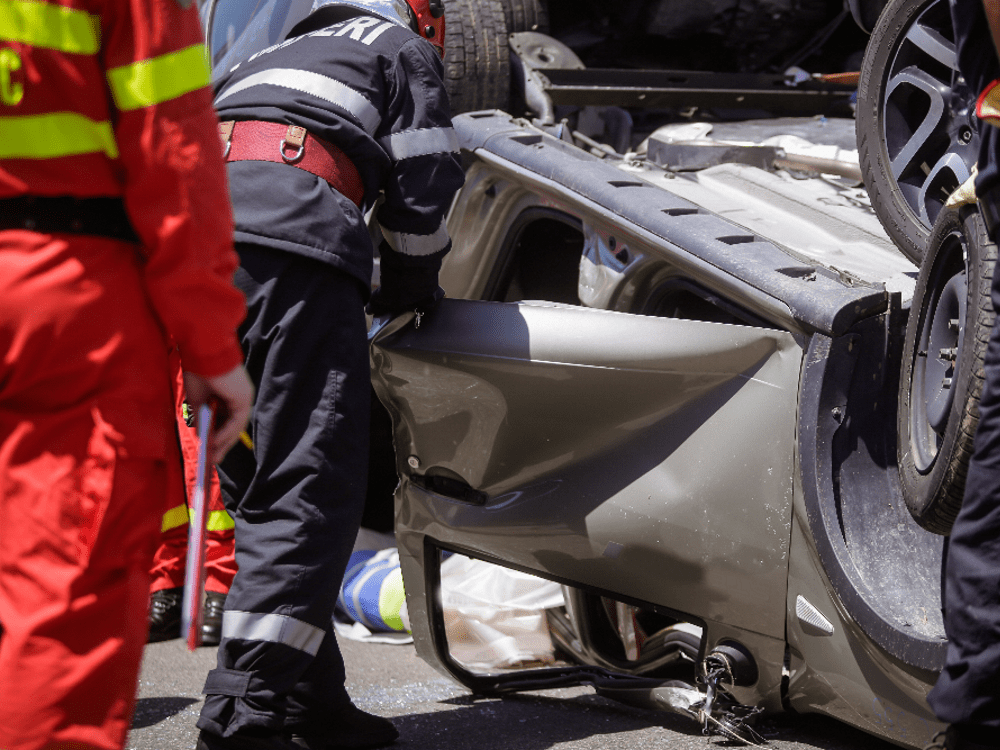 Hydraulic rescue tools date back to the early 1960s when they were first developed to speed up the process of freeing racing car drivers from crashed vehicles.
Today, they're used by fire and rescue teams in response to emergency incidents, such as roadside accidents and building collapses. When working on life-changing emergencies there's no time to lose. So having a wide selection of powerful hydraulic tools to cope with just about any emergency could be the difference that saves a life.
Hydraulic tools take the hard work out of cutting and lifting. They take just seconds to complete life-saving jobs that would otherwise take longer and be more physically demanding.
Getting equipped with the right tools to save lives needs careful consideration. To help out, we've provided a simple overview of each type of tool and links to more detailed specifications.
Types of Hydraulic Rescue Tools
Hydraulic cutters vary depending upon their application. The commonest types available include cutters for extrication, bar cutters, cable cutters, and combined cutter spreaders.
Looking for a particular tool type? Use the quick links below.
Vehicle Extrication Tools

Cutting through formed sheet steel on a car pillar requires large powerful shear-style jaws and a huge amount of hydraulic force. Think of garden pruning shears on steroids with a blade aperture of several inches!
Unlike other cutting methods, such as using angle grinders or circular saws, there's no risk of flying debris, sparks, or disintegrating blades.
To operate one of these cutters you will need a hydraulic pump. These are available as plug-in electric or battery-powered, and don't forget your hydraulic hoses and couplers.
Hydraulic Bar Cutters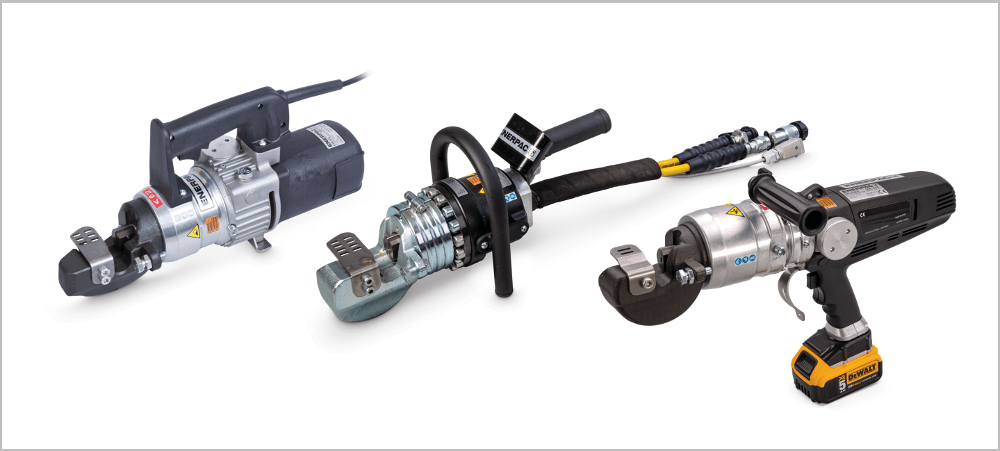 After a building collapse, breaking through concrete slabs usually involves sledgehammers, jackhammers, and chipping hammers. But these will only get you so far. For concrete slab reinforced with metal bars you will need a suitable bar cutter. Manually operated cutters can do this but a hydraulic bar cutter will make it easier and save valuable time.
To power the cutter, a battery-powered pump gives you the freedom to work almost anywhere – or you can opt for a corded electric cutter if a supply is available.

Cable Cutters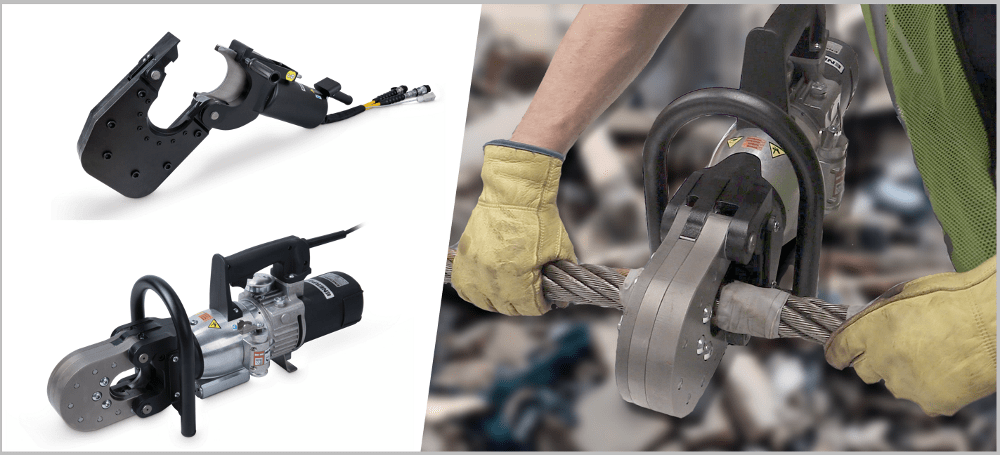 Thick wire ropes and cables flex and twist if not held securely, which can make it tricky to cut. While shear-style cutters do a great job slicing sheet metal, these aren't the best type for cutting wire rope. If you need to cut cable diameters up to 7" diameter, a purpose-designed hydraulic cable cutter with guillotine-style blades will make each cut safely the first time. Alternatives are cutter heads (for diameters up to 4"), and self-contained manual cutters (up to 0.75").

Hydraulic Spreaders

Hydraulic spreaders are ideal for prising open mangled car doors and panels. Especially when you need access to disconnect the vehicle's battery. They're also effective for opening jammed doors in buildings, separating parts of machinery, and lifting heavy parts.
Hydraulic spreaders can include an integrated hand pump, or they may be powered by a separate hydraulic pump.

Cutter Spreader

These are versatile combination tools that can perform cutting and spreading tasks. By having the ability to do both jobs, the need to switch to a different tool is eliminated – which is both convenient and time-saving. The clever blade design allows you to cut metal profiles, pipes, and other obstructions, and wedges on the tips of the blades allow you to apply a powerful spreading force. A hydraulic pump is not needed for these because the tools plug directly into an electricity supply.
Pumps for Hydraulic Rescue Tools


Operating hydraulic rescue tools often requires a compatible portable hydraulic pump. With so many configurations available it can seem a little overwhelming. It's worth checking with the manufacturer or distributor that the pump is right for the particular tool. A handy resource chart can be found on the Enerpac website here (Hydraulic Pump Selection Chart)

Electric Powered Hydraulic Pumps

At the rescue location, if you have access to an electricity supply there are many pump options to choose from.
When power is the priority, the Enerpac ZE6-Series is a great choice for larger tools requiring greater oil flow. ZE6 pumps feature a specially adapted twin hose that allows for complete control on the cutter instead of the pump. For smaller hydraulic tools, such as rebar cutters, the ZE4-Series Pumps offer the optimum choice.
Cordless Battery Hydraulic Pumps

When access to a corded electric supply isn't available, a cordless battery-powered hydraulic pump can provide the performance needed and the freedom from extension cords. Although less powerful than the larger plug-in electric pumps, these have enough power and oil flow to operate shear-style cutters, such as the EDCH 130.
Gasoline/Petrol Hydraulic Pumps
Gasoline-powered hydraulic pumps are another option when there's no electric supply. These are generally much larger to transport, they're noisier and more suited to high-flow high-performance applications.
Button with link to Hydraulic Pumps
Hydraulic Cylinders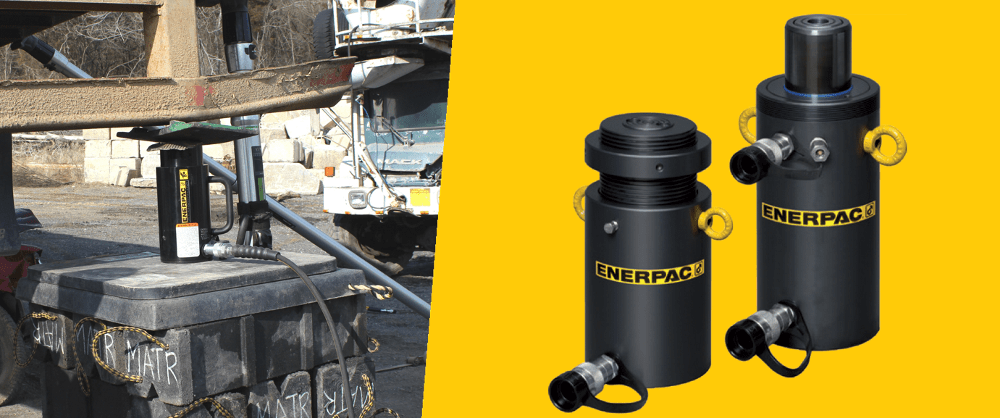 Hydraulic cylinders or rams are versatile tools for lifting, pushing, pulling, bending, holding. Their versatility makes them a worthy addition to your armory of rescue equipment.
Hundreds of configurations are available with different capacities, strokes, and return types. When used with cribbing blocks, hydraulic cylinders provide an effective rescue solution for lifting heavy objects. You will need a hydraulic pump, which, depending upon the job size may be a simple foot or hand pump, or a powered pump.

Air Lifting Bags

Although not hydraulic like the other tools listed here, air lifting bags certainly deserve a mention. Their working principle may be simple but the benefits are significant. Air lifting bags are ideal for lifting heavy objects when there's very limited clearance. For example, bags capable of lifting dozens of tons can be inserted into a space as narrow as 1".
You will need a portable pneumatic source and suitable cribbing to support the load throughout the lifting process.

Bottle Jacks

Bottle jacks can be used immediately to free victims pinned under machinery, vehicles and other heavy objects. They are versatile tools used by most heavy rescue squads. They're self-contained and manually operated, there's no valuable time wasted setting up and connecting to a separate hydraulic pump.

Summary

Choosing hydraulic tools and equipment for rescue operations needs careful consideration and a clear idea of what rescue challenges you expect to face. With so many options and configurations available, anything that simplifies the process will make a huge difference. One way to do this is to standardize and buy tools from a single brand. By keeping to a single tool platform you will make it easier for operators to familiarize themselves with the tools. Additionally, access to a single support team helps with training and makes tool compatibility much more straightforward.