How to Select the Right Hydraulic Hose for Your Project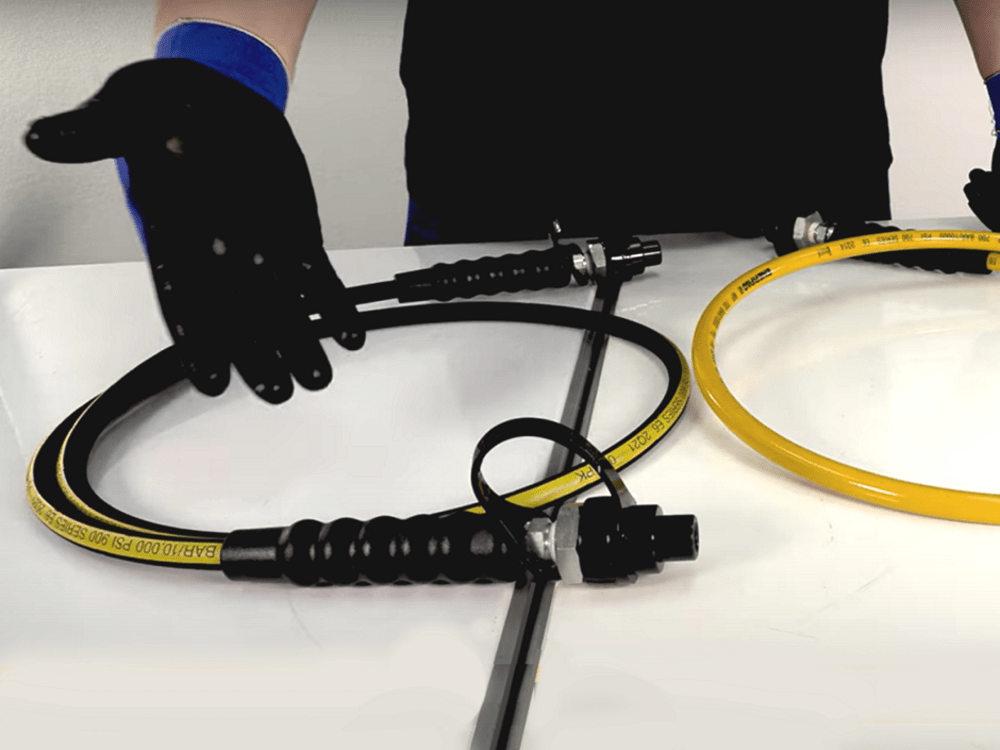 Choosing the right hydraulic hose for a high-pressure industrial tool application can be a challenge – especially for new hydraulic tool users, or more experienced technicians planning a new type of project. In this article, we cover the basics and terminology of hydraulic hoses. We then look at the different materials to choose from, the sizes available, and coupler options.
Part 1: Hydraulic Hose Essentials

Hydraulic Hose Materials
Hydraulic hoses are available in three different types of material. Rubber, Thermoplastic, and Plastic. Each with its own operational characteristics. This article and the videos below cover the Rubber and Thermoplastic types only – as these are the ones commonly used with Enerpac tools. The other plastic hose type is designed for different applications where a non-conductive hose material is specified.

Safety Factor
The safety factor (or design factor) is the ratio between the hose rating and the minimum pressure at which the hose would burst. For example, a rubber hose rated for pressures up to 10,000 psi (700bar) with a minimum burst pressure of 20,000 psi (1400 bar) has a safety factor of 2:1. The safety factor required varies by region across the world and in many cases should be 4:1. In most of these regions, the Enerpac 700 series thermoplastic hoses will meet these requirements.

Hose End Assembly
The end of a hydraulic hose on a typical assembly usually includes a male thread. This is normally 3/8"NPTF or ¼ NPTF. To simplify ordering and set up you can also buy them with a coupler on one or both ends.

Below: Watch the video summary of Part 1
Part 2: Hose Materials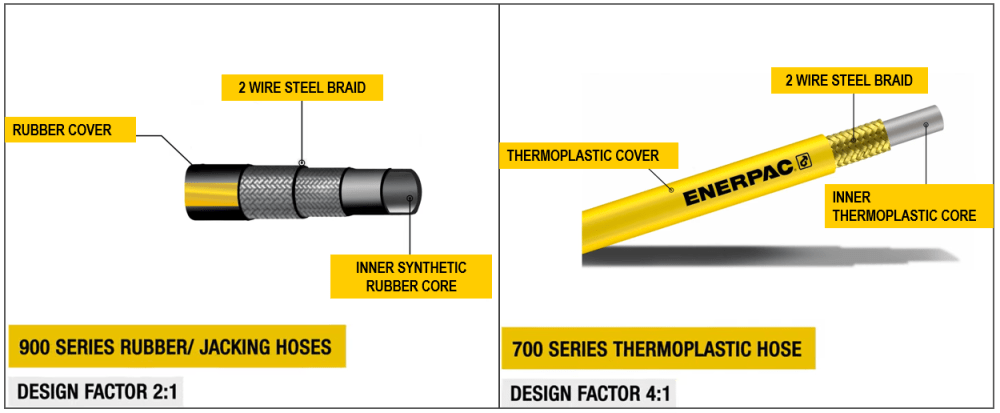 Rubber Hoses
Rubber is used in many regions around the world. Rubber hydraulic hoses are manufactured from 3 different layers: an inner synthetic rubber core, a 2-wire steel braid, and a rubber cover.

Advantages of Rubber for Hydraulic Hoses

• Flexibility – even at low working temperatures
• Exceptional compatibility with many types of hydraulic oil
• Low 'memory' – which means the hose will lie flat even when it has been coiled for a long time. The advantage of this is easier hose management with reduced trip hazards.

Disadvantages of Rubber for Hydraulic Hoses

• More prone to degradation if exposed to ultraviolet light for extended periods
• Offers a 2:1 safety factor – less than the 4:1 of thermoplastic hoses.
• More prone to abrasion damage than thermoplastic hoses.
Thermoplastic Hoses
Advantages of Thermoplastic Hoses

• High safety factor 4:1 for hoses rated at 10,000 psi 700 bar.
• Good choice for applications with high-pressure spikes and high-cycle applications.
• Outer cover gives good abrasion resistance
• Thermoplastic material allows the manufacture of attached twin hoses – improving hose management on torque wrench applications.

Disadvantages of Thermoplastic Hoses

• Thermoplastic hoses experience memory – which means they're less likely to lie flat after being stored in the coiled state.
• Less flexible than rubber hoses when working in cold environments.
Watch Video summary of Part 2
Part 3: Hose Sizes

There are many different links, diameters, and coupler options to consider.
The hose to choose depends upon the hydraulic system you intend to create.

The first thing to select is the internal diameter of the hose (the ID). For most high-pressure industrial applications there are two main sizes to choose from – 1/4" (6.4mm) and 3/8" (9.7mm). Note that the larger the ID the easier the hydraulic oil will flow.

Hose runs less than 20 feet long (6.1m)

For low flow systems powered by hand pumps, small air pumps, and power pumps under 1hp (0.75kw), a good rule of thumb is to use a quarter-inch (6.4mm) diameter hose for lengths up to 20 feet (6.1m).
For higher flow applications with larger powered pumps a 3/8" (9.7mm) ID hose is usually the optimum choice.

Hose runs longer than 20 feet (6.1m)

For longer hose runs when using single-acting tools, e.g., a hydraulic cylinder, a larger diameter 3/8" hose is a good choice. This will allow for easier oil flow back to the reservoir and therefore offer a better retraction. The retract performance may also improve if the pump is not run during the retract cycle. If you need a long hose run, it is better to create this by coupling 2 or 3 hoses together. Doing it this way is more cost-effective because if a section is damaged you will not need to replace the full hose.

Hose End Fittings

Selecting the right hose end fittings depends not only on intended use, but also portability, and storage considerations.

If you're working on a benchtop system the hose may be plumbed directly to the pump or gauge, with a quick coupler attached to the tool at the other end. If you leave the hose attached to the pump when not in use it will not need refilling each time you use it.

If your system often needs to be taken apart its best to use a quick coupler at both ends. This allows for fast disassembly; it also prevents leaks during storage and means you won't need to refill the next time you use it. With dual coupler assembly, you can easily place the hose into a toolbox together with the cylinder and pump.

Watch video summary of Part 3