Types of Hydraulic Cylinders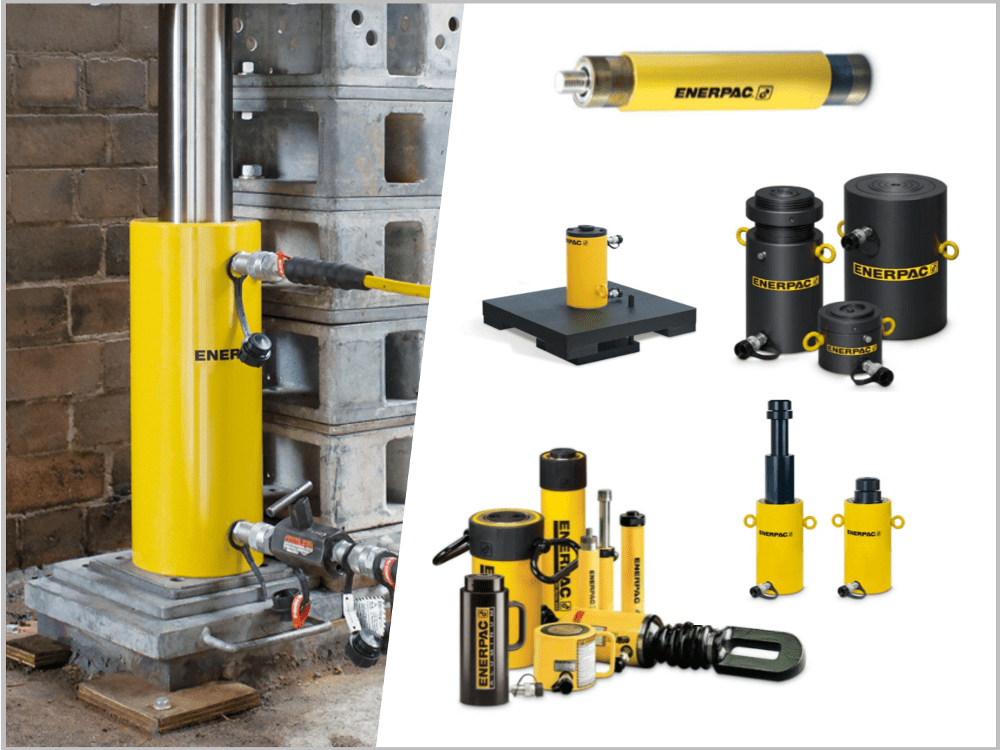 There are many different types of hydraulic cylinders with varying features to suit the intended application. Depending on where you are in the world, you may know them as 'hydraulic rams' or 'hydraulic jacks'. But regardless of the name, all use the same working principle according to Pascal's law – which states that Force = Pressure x Area.
Pressure is applied to hydraulic fluid using a pump, and the area is the size (diameter) of the plunger/piston that extends and retracts. An important Unlike pneumatic cylinders, hydraulic fluid will not compress. This is why hydraulic cylinders are the choice for lifting heavy loads.
In this article, we cover the main types of high-pressure hydraulic cylinders. (Mostly the portable kind used for maintenance and tensioning jobs which can be used up to 10000 psi / 700 bar). We've listed them by category type based on their primary characteristics or features, but the reality is that hundreds of configurations are available using different combinations of the various features
Types of Hydraulic Cylinders and Rams
• Single-Acting
• Double-Acting
• Pull Cylinders
• High-Tonnage
• Locknut
• Production
• Climbing Jacks
• Hollow
• Telescopic
• Lightweight
• Tie-Rod
Single-Acting Hydraulic Cylinders
A single-acting cylinder is the simplest type. Hydraulic force can only be applied to the cylinder through its single port – typically to extend the plunger. This is returned to its starting position through the weight of the load, or by a return spring within the cylinder.

Double-Acting Hydraulic Cylinders
A double-acting hydraulic cylinder uses hydraulic flow to both advance and retract the plunger. It includes two connection ports and a compatible pump is needed to provide hydraulic flow in both directions. The benefits of a double-acting cylinder are that they provide a faster and also more controlled retraction. This is especially useful for applications that demand both push and pull forces and those needing repeatable accuracy.
Hydraulic Cylinders for Pulling Applications
Pulling applications using hydraulic cylinders include cable and bar tensioning. Typically, these are single-acting with spring return. The typical maximum pulling force of a pulling cylinder is up to 60 tons. Pulling force can also be applied by using a hollow cylinder.
High-Tonnage Hydraulic Cylinders
General-purpose hydraulic cylinders offer tonnage capacities from just a few tons up to several hundred, whereas high-tonnage models can handle applications up to 1000 tons. There is of course some overlap between the two, but high tonnage cylinders often include additional features. These extras can include low-wear high pressure seals, replaceable composite plunger support bearings, and tougher nitrocarburized finishes. They're also available in single-acting, double-acting, lock nut, configurations and are often used with tilt saddles.

Locknut Hydraulic Cylinders
A locknut cylinder is ideal when the application requires load holding for extended periods. This feature is available on different cylinder types, such as low height, lightweight or high-tonnage models.
Hydraulic Cylinders for Production
Hydraulic cylinders for manufacturing are designed with high-cycle performance in mind and they need to satisfy different mounting configurations for fixing to machinery. They do this using collar threads, base threaded holes, plunger end threads, and attachments such as foot mounts, flange mounts, retainer nuts and clevis eyes.
Climbing Jacks
A climbing jack incrementally lifts or lowers a load and is used with cribbing blocks to overcome the height limitations of a cylinder's stroke length. They are constructed using a large base with an anti-rotation rod that provides stability and safety. They also include double-acting hydraulic cylinders with tilting saddles up to 5°. A built-in safety valve prevents accidental over-pressurization
Hollow Plunger Cylinders
Hollow plunger hydraulic cylinders (sometimes called center-hole cylinders) provide both, pull and push forces. The hollow plunger features an internal thread allowing fixing to the item to be pulled and tensioned. Hollow plunger hydraulic cylinders can be specified as single-acting or double-acting, steel or aluminum, and with removable saddles, and steel base plates.

Telescopic Hydraulic Cylinders
Telescopic hydraulic cylinders provide extended stroke where space is limited. The telescopic action allows the operator to lift a load a greater distance without the need for temporary cribbing. When choosing a telescopic cylinder, make sure you check the maximum load capacity which decreases the further it is extended.
Lightweight Hydraulic Cylinders
For many applications, aluminum hydraulic cylinders offer the capacity and strength to get the job done, but with the added advantage of being lighter and therefore easier to transport or move into position. Aluminum is inherently less non-corrosive than steel – which makes it a great material for use in many caustic environments. Like their steel equivalents, they're available in all of the usual configurations and include a hardened steel saddle and base plate.
Tie-Rod Hydraulic Cylinders
Tie-rod cylinders are so-called because of the way they're constructed. They include a head, a base, and a cylinder barrel connected by four or more tie-rods. This differs from the more robust high-pressure cylinders mentioned previously, which are manufactured from a solid piece of high-alloy steel.
For this reason, tie-rod cylinders are not suitable for high-pressure lifting and pulling applications. They are better suited to manufacturing applications up to 3000 psi 210 bar – typically within machinery, transfer lines, and other equipment.
Selecting the Right Types of Hydraulic Cylinders for Your Applications
For more information to help you make the right choice see our other article 'How to Choose the Right Hydraulic Cylinder'. Alternatively, browse hydraulic cylinders from Enerpac.

Machine Mover's Virtual Tool Room
Everything you need in one place