Mining Equipment: A-Z List for Maintenance Contractors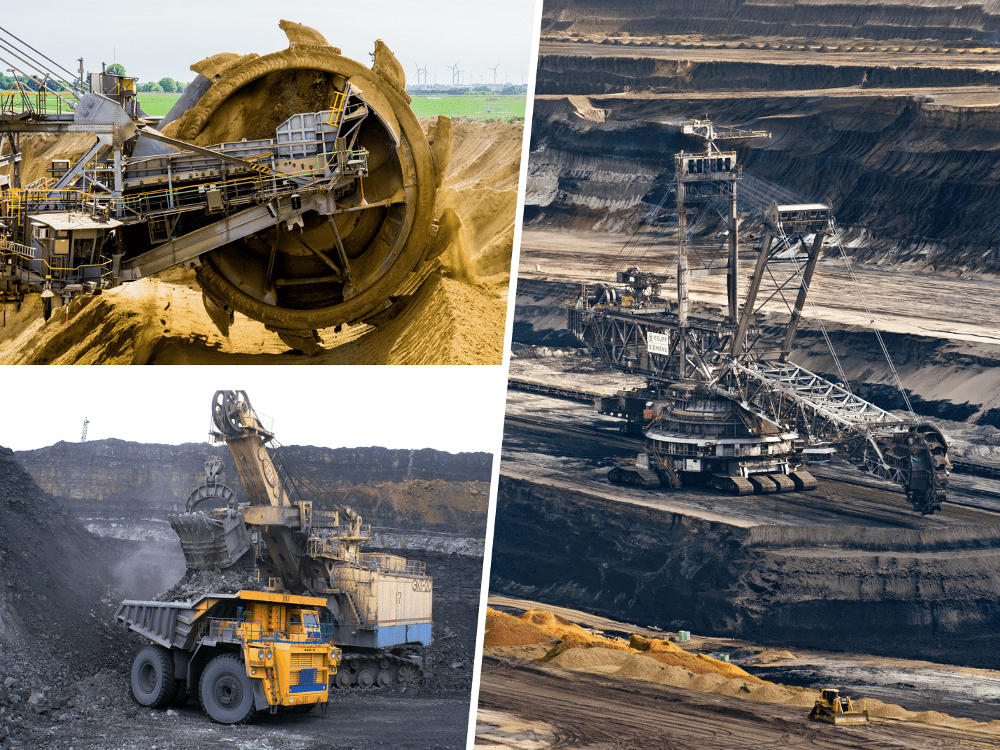 Mining Equipment, such as large machinery and heavy plant generally falls into one of 3 categories.
Mining equipment for extraction: For removing the material from the ground. Typically, by drilling, blasting, cutting, or digging
Equipment for material handling: For sorting and loading the mined material in advance of processing, or to go to a waste area.
Machinery for material processing: Turning the mined material into finished products. This may involve grinding, separating, crushing, refining, and smelting.
As a maintenance engineer in this industry, (whether a contractor or a permanent employee), you will be expected to have a basic knowledge of the machines and the plant used at a mining site – especially if you intend to install, maintain, or repair them.
Like many other industries, the mining sector has its fair share of confusing acronyms and technical jargon. Anyone new to the industry could be forgiven for not knowing the difference between a 'dragline' or a 'drilling jumbo'.
So, to give you a basic introduction, we've listed some of the more common pieces of mining equipment and machinery. And if you want to know more, take a look at the websites listed at the end of the article – some which show pictures of the machinery in action.
Types of Heavy Mining Equipment and Machinery
Articulated Hauler
Sometimes called an articulated dump truck (ADT), or dump hauler. This is a very large dump truck used to transport loads over rough terrain, and occasionally on public roads. They're usually all-wheel drive and consist of two parts.

Auger
A rotary drill that uses a screw device to penetrate, break, and transport drilled coal.

Ball Mill
A steel cylinder filled with steel balls into which crushed ore is fed. As it rotates, the balls are agitating which grinds the ore.

Belt Conveyor
A looped belt for carrying coal or other materials. Normally a flame-resistant material or a rubber-like substance.
Boom
A telescopic, hydraulically powered steel arm that can have equipment such as drifter drills, man baskets, and hydraulic hammers.
Bridge Carrier
A mobile conveyor used as an intermediate unit to create a system of articulated conveyors. For example, between a mining machine and another area or conveyor.
Bucket Chain Excavator (BCE)
A piece of heavy equipment used in surface mining and dredging. BCEs use buckets on a revolving chain to remove large quantities of material. They remove material from below their plane of movement – which is useful if the pit floor is unstable or underwater.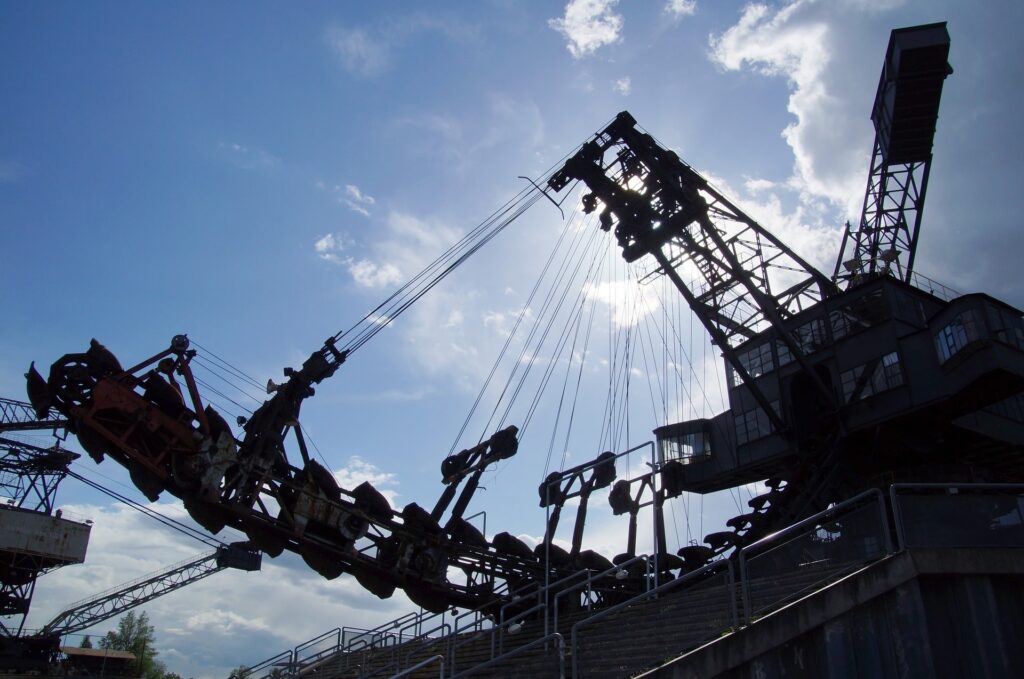 Bucket-Wheel Excavator (BWE)
A large heavy machine used in large-scale surface mining. Unlike the bucket chain excavator, a BWE uses a large wheel with a series of buckets for scooping up material as the wheel turns.

Bulldozer
Bulldozers used in mining are primarily used for digging and pushing. They have some vertical movement of the blade but cannot load materials on trucks or hoppers.
Chain Conveyor
Different from a belt conveyor, this works by moving material along solid troughs by the action of scraper crossbars attached to powered chains.
Chock
A large hydraulic jack for supporting the roof in mining systems.
Churn Drill
Also called percussion drills. A large drilling machine for boring large diameter holes in the ground. They work by dropping a heavy chisel-like bit, pulverizing the rock with successive blows.
Classifier
A machine for processing minerals by separating them according to size and density.
Continuous Miners
A machine with large, rotating tungsten carbide teeth. Used in underground mines to scrape coal from coal beds. These can sometimes be controlled remotely.
Conveyor
A general term for equipment to move material from one point to another in a continuous fashion. Types include belt conveyors and chain conveyors.
Crusher
In the mining industry, there are many types of machines for reducing large rocks into smaller rocks, or to gravel, sand, or rock dust. These include the jaw crusher, gyratory crusher, cone crusher, compound cone crusher, Symons cone crusher, single cylinder hydraulic cone crusher, multi-cylinder hydraulic cone crusher, impact crusher, horizontal shaft impactor (HSI) / hammermill, vertical shaft impactor (VSI), and mineral sizers.
Cutting Machine
A machine that usually cuts coal with a 10 to 15cm slot. The slot allows room for the expansion of the broken coal.
Diamond Drill
A rotary type of rock drill. These cut a core through rock and recover it in long cylindrical sections, 2 cm or more in diameter.
Draglines
Large excavators using a bucket supported by ropes and wires at the end of a boom. The bucket is lowered and it scrapes along the ground collecting material.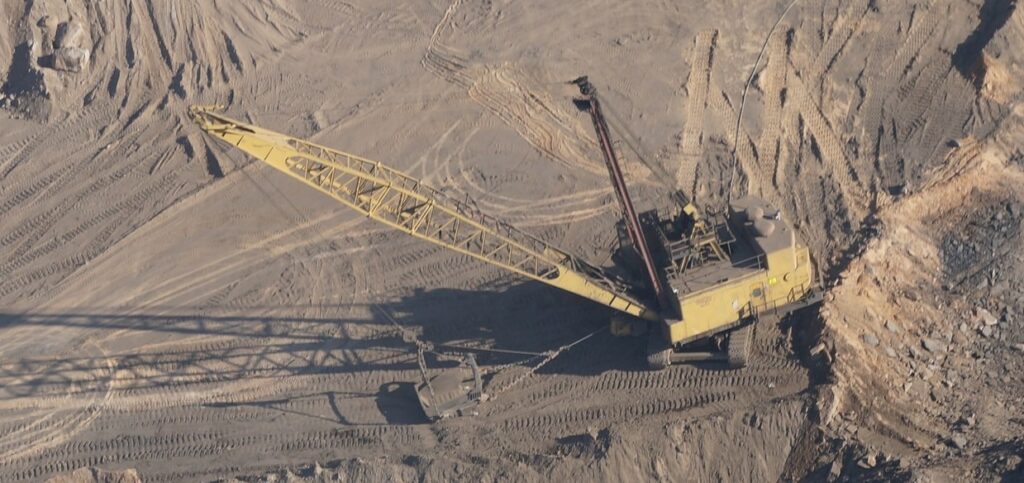 Drill
A machine that uses a bit that rotates and hammers to make holes. If the hole size is over 0.4m diameter the machine is classed as a borer.
Drilling Jumbos
Used in underground mining if the method involves blasting. They are also used in tunneling in situations where the rocks are too hard for tunneling machines. A drilling jumbo usually consists of one, two, or three rock drill carriages, and a platform, on which the miner stands to load the holes with explosives.
Drifter Drill
Sometimes called a rock drill, this type of mining equipment is used for making holes for placing dynamite or other explosives, and holes for plug and feather quarrying. They're placed on top of a feed (a rail that the drill travels on). This procedure is called drifting.
Electric Rope Shovel
Instead of using hydraulics to control the movement of the shovel at the end of the arm, electric rope shovels use a series of pulleys and ropes. Unlike hydraulic shovels, these use electric operation, delivering highly efficient performance over time.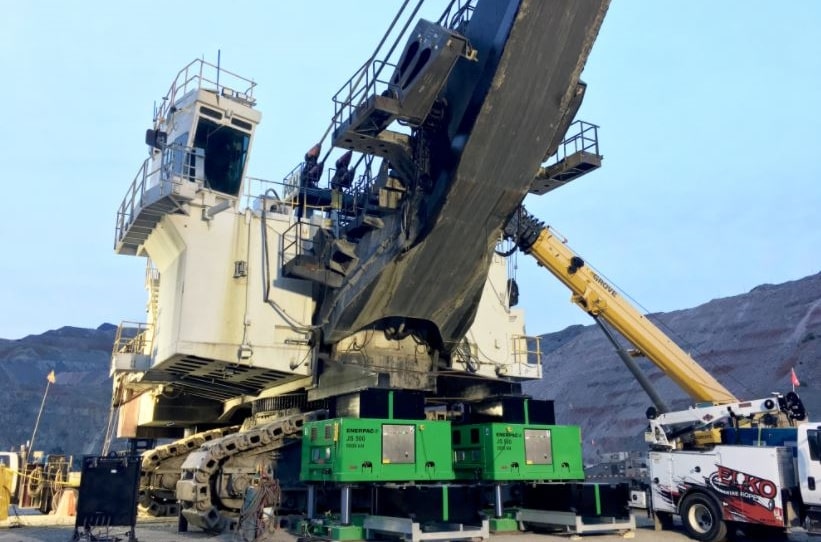 Excavator Shovel
An Excavator shovel or mechanical shovel is used in opencast mining. It is self-propelled using either tires or tracks and rotates at least 360 °. They can excavate, load, lift, rotate and unload materials.
Face Conveyor
A conveyor that is used parallel to a working face. One that delivers coal into another conveyor or into a mine car.
Feeder
A machine to feed coal onto a conveyor belt evenly.
Gathering Conveyor/ Gathering Belt
A conveyor to gather coal from other conveyors, and to deliver it into mine cars, or onto another conveyor.
Highwall Miner
A highwall mining system is typically used for surface mining. It consists of a remotely controlled continuous miner to extract coal from exposed seams by driving a cutter module into a coal seam under a high wall. The coal is mined by the action of the cutterhead that is raised and lowered to dig out the entire height of the coal seam.
Hoppers
These supply conveyor belts with a specified amount of ore and waste.
Hydraulic Cylinders
Hydraulic cylinders are versatile tools, for lifting, pulling, and pushing. See case study.

Hydraulic Tensioner
Sometimes used by maintenance contractors as an alternative to a torque wrench.
Hydraulic Torque Wrench
Heavy-duty torque wrenches for maintaining heavy equipment are likely to be hydraulic. See the case study describing how hydraulic torque wrenches are used to maintain heavy plant.
Jackleg
Another name for a percussion drill. These are mounted on a telescopic leg which has an extension of about 2.5 m. The leg and machine are hinged so that the drill need not be in the same direction as the leg.
Large Wheel Loader
For picking up and quickly moving material across a mining site for loading into trucks.
Load Haul Dumper
Used in underground mines to load and transport ore and minerals. They can be operated manually or automatically.
Loading Machine
A general term to describe a piece of equipment for transferring excavated coal into the haulage equipment.
Longwall Miner
A type of mining equipment used in underground mines to remove large, rectangular sections of coal.
Mill
A plant in which mined ore is treated and metals are recovered or prepared for smelting. The term mill can also mean a revolving drum used for the grinding of ores in preparation for treatment e.g., ball mill.
Off-Highway Truck
Unlike conventional trucks, large mining trucks these mining vehicles have extra-large tires to support the heavy loads they transport over the rough terrain commonly found around surface mines.
Portable Lifting Jack
Another tool used help to maintain heavy equipment – See case study
Motor Graders
Surface mines rarely have proper roads on site. Even those near major roadways still need roads created within the area to move material and haul the mined material off-site. Motor graders are used to create and maintain these roads.
Percussion Drill
A drill that delivers its energy through a pounding or hammering action. (See also Jackleg and Drifter drills).
Portal Bus
A track-mounted, self-propelled people carrier, typically holding 8 to 12 people.
Reaming Shell
A component consisting of a string of rods, used in diamond drilling. It is set with diamonds and placed between the bit and the core barrel to maintain the gauge (or diameter) of the hole.
Reclaimer
A large machine used in bulk material handling applications. A reclaimer's function is to recover bulk material such as ores and cereals from a stockpile. A stacker is then used to stack the material. See also Bucket Wheel Excavator which is a reclaimer.
Ripper
A coal extraction machine that tears the coal from the face.
Road Header
A piece of excavating equipment consisting of a boom-mounted cutting head, a loading device – usually involving a conveyor, and a track to move the whole machine forward into the rock face.
Rock Breaker
A machine to break large rocks into smaller pieces. Typically used to process oversize rocks that are too big for a crusher.
Rod Mill
A rotating steel cylinder that includes steel rods for grinding ore. Similar to a ball mill.
Roof Bolter
Large, hydraulically powered machines to force bolts into roofs. Used underground to support tunnel roofs and prevent collapses.
Roof Jack
A screw or pump-type hydraulic extension post made of steel. Normally used as temporary roof support.
Rotary Drill Rig and Rock Drill
Used for drilling large-diameter blast holes in open-pit mines. Rotary drill rigs create holes through rock or soil, allowing placement of charges for blasting.
Scoop
A battery or diesel-powered piece of equipment designed for cleaning runways and hauling supplies.
Shaker Table
Like a giant gold pan, but using an engine to drive a belt to vibrate the huge bucket.
Shotcrete Machine
A mechanized concrete spraying machine. Used underground to increase operator safety through tunnel stabilization and ground support.
Shuttle Car
A low-profile intermediate haulage truck. Used to transfer coal from a loading or mining machine to an underground loading point, mine railway, or belt conveyor system.
Skip
A self-dumping bucket for hoisting ore or rock in a shaft.
Stacker
A large machine used in bulk material handling. For piling bulk material onto a stockpile.
Synchronous Lifting System
Not specifically mining equipment but these are used by contractors to lift heavy plant items accurately. Synchronous lifting systems allow maintenance to be carried out on site. See case studies here
Tractor
A piece of battery-operated equipment to pull trailers, skids, supplies, and personnel carriers.
Tube Mill
A revolving cylinder containing steel rods or balls into which crushed ore is fed for fine grinding.
Tunnel Boring Machine
Used an alternative to drilling and blasting for excavating tunnels with a circular cross-section. They are capable of boring through anything from hard rock to sand.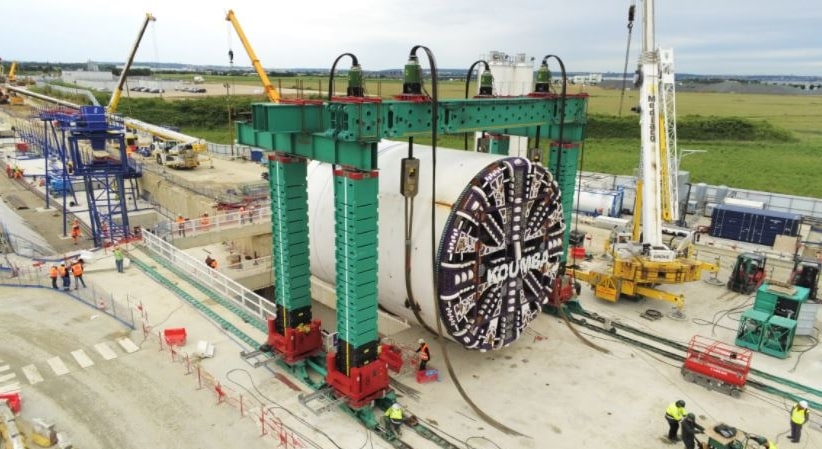 Underground Mining Loaders and Trucks
A general term covering the trucks and loaders used underground. These are different from standard trucks used for surface mining because they have specially built engines that do not produce emissions, yet still are still powerful enough to move tons of rock.
Unit Train
A long train that includes 60 and 150 or more hopper cars for transporting a single commodity between a mine and another destination.
Universal Coal Cutter
A type of coal cutting machine that makes horizontal cuts into a coal face at any point between the bottom and top. The cutter bar can be twisted to make cuts at any angle to the horizontal or vertical and it may be mounted on crawler tracks.
Wheel Tractor Scraper
Wheel tractor scrapers have a design similar to motor graders (used to prepare and maintain road surfaces on site). The difference is that wheel tractor scrapers commonly have an attached bin to collect the material – instead of pushing it to the side.
References and Resources
Websites including pictures of some of the items mentioned in this article:
Flyability Gruasyaparejos
Other Websites: Cashman Equipment Crux Investor Caterpillar