Bridge Construction Equipment: Essentials for Contractors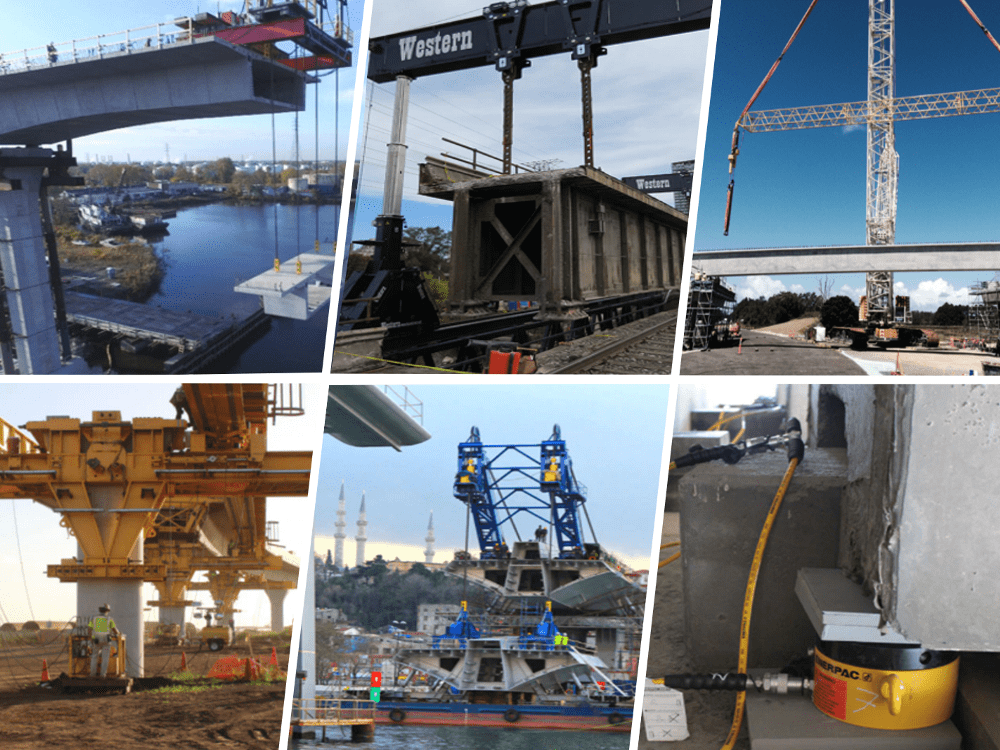 Bridge construction equipment that uses hydraulics makes lifting and positioning bridge sections easier and safer than alternative methods (such as traditional cranes). They can also play an important part in key maintenance and demolition projects.
The list below provides a summary of hydraulic equipment for bridge projects. More details can be found on our bridge projects and heavy lifting technology pages.
Types of Hydraulic Bridge Construction Equipment
Strand Jacks
Hydraulic strand jacks provide an effective solution for lifting bridge segments into position. In addition to construction, they can also be used in decommissioning projects – supporting the weight of bridge spans as they are disconnected from the main structure.
Controlled Lifting Pumps to Power Bridge Construction Equipment
Bridge construction equipment not only needs to be powerful – it must also provide precision. A controlled lifting pump provides precise and synchronized lifting of multiple lift points. They can be used for a variety of different bridge applications, including:
Controlling multiple hydraulic cylinders for pushing, pulling, or lifting segments or box beam girders as part of a new build.
Lifting components to allow access for inspection, repair and replacement of bearings.
Operating form travelers or launching gantries during segmental bridge construction.
Moving steel girders in unison (to prevent binding or misalignment).
Operating hydraulic cylinders to lift and support bridge counterweights. (Allowing access for inspection, repair, or replacement).
Electric Hydraulic Pumps
Electric hydraulic pumps are smaller and simpler than controlled lifting pumps. Typically, these are used to lift, push, or pull bridge components. Bridge-related applications include
Operating individual hydraulic lifting cylinders.
Powering other hydraulic tools such as rebar cutters, nut splitters and torque wrenches.
High Tonnage Cylinders
High-tonnage hydraulic cylinders work together with hydraulic pumps to align and position precast segments – typically in the latter stages of installation. They're also used within form travelers (bridge launching equipment) and launching gantries.
High Tonnage Cylinders can support up to 1000 tons. This makes them ideal for supporting the weight of bridge segments, girders, and box beams. For example, as a bridge segment moves into place, the cylinders can lift the nose of the bridge segment as it reaches the next pier position.
Besides bridge construction, they also play a key part in lifting bridge sections to allow inspection, repair, or replacement to take place.

Bridge Construction Case Studies
Skidding Systems
When pre-cast or box beam spans are staged at the proper elevation, a skidding system is used to slide them into place. They work using skid beams, hydraulic push-pull cylinders, and a track that includes PTFE-coated pads to reduce friction.
Hydraulic Gantry
A hydraulic gantry provides a safe, efficient way to lift and position heavy loads where traditional cranes aren't an option. They lift heavy loads from above – making them ideal for placing and positioning medium-length girders for spans over solid ground.
Jack-Up Systems
These are multipoint incremental lifting systems for synchronous lifting, lowering, and holding. During bridge deconstruction, a jack-up system is also used to support the weight of bridge sections as they are lowered to the ground safely.
Torque and Tension Tools
Hydraulic torque wrenches and tensioners are essential for providing the right amount of torque. On bridge projects, this is typically during the final installation of precast spans and steel box beams. They also assist in demolition by providing an efficient way to loosen bolted connections between bridge sections.
SyncHoist Bridge Construction Equipment
A synchoist is a below-the-hook crane attachment used to accurately adjust and align box beams and other bridge sections when moving them into their final position. They eliminate the need for using two separate cranes for manipulation or rotation of the bridge sections.
Low Height Cylinders
Low-height hydraulic cylinders fit into small openings underneath a bridge structure. Despite their low height, these powerful tools provide enough force to lift large bridge spans, allowing the replacement of bearings and other components.
Bar and Cable Cutters
Bar and cable cutters can eliminate obstructions, allowing access for inspection and repair. They provide a significant safety advantage over other cutting methods as they quickly cut through various materials without generating sparks and flying debris.

Bridge Constructor's Equipment Guide
Find out about Enerpac Heavy Lifting Products