Enerpac Online Tools to Boost Your Productivity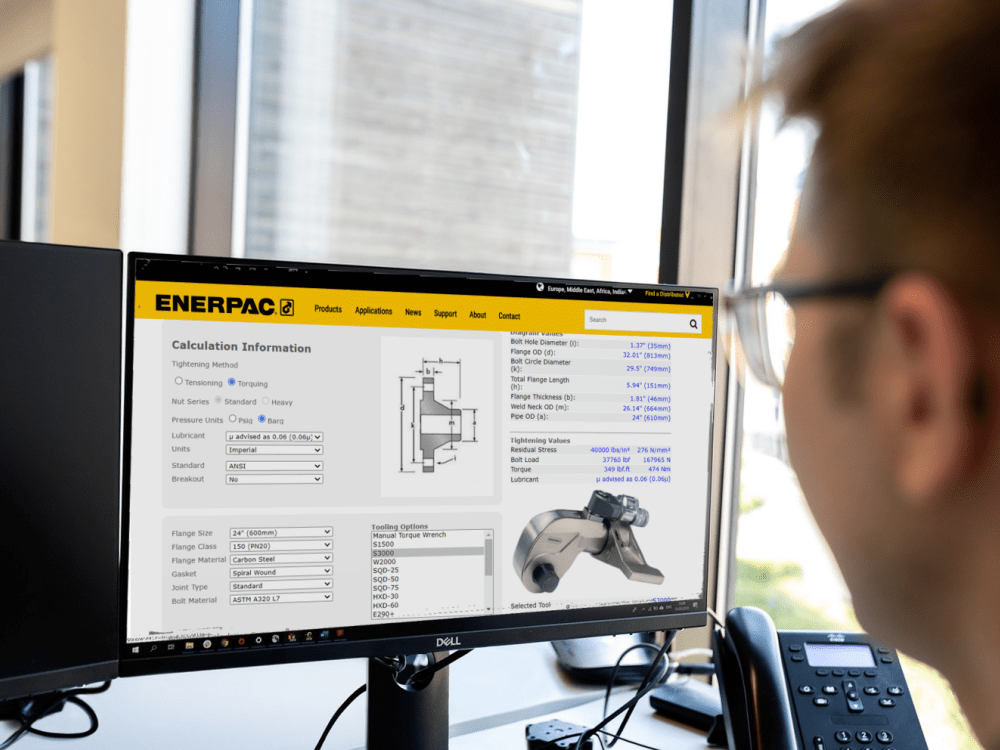 In this article, we take a brief look at a selection of online tools for lifting and flange-related projects. The four tools covered include the hydraulic cylinder speed guide, a flange tool selector, a bolting calculator, and the iDMS asset management system.
Cylinder Speed Guide
Projects requiring hydraulic cylinders can vary enormously, and with so many cylinder options to choose from, selecting the right hydraulic pump can seem a daunting task. The Enerpac cylinder speed guide can eliminate some of the hard work and help you make the right choice.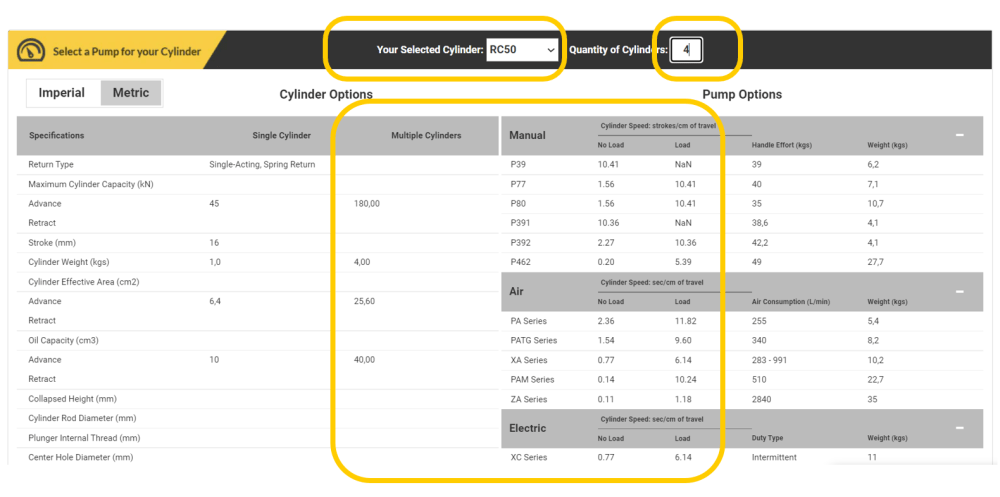 Who is it for?
The cylinder speed guide is useful for anyone who wants to calculate how long it will take for one or more Enerpac cylinders to lift a load when powered by a 10,000 psi 700 bar Enerpac hydraulic pump. It also helps you select the right pump to achieve the required speed.
What it does
All you need to do is select the cylinder model and how many cylinders will be used on the application. The charts underneath will then refresh to show new information, such as the speed of the cylinder when used with each pump. A simple tab switches the display between metric and imperial units.
Flange Tool Guru
Who is it for?
Flange Tool Guru is intended for technicians constructing or maintaining pipework at industrial plants such as oil rigs, refineries, and power generation plants.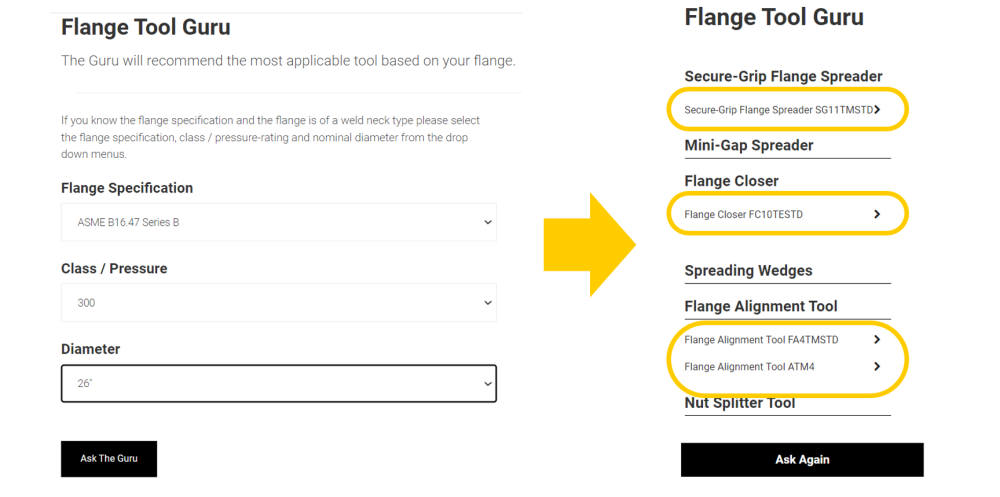 What it does
This is a simple tool that helps you to select the right flange spreader, aligner, closer, or nut splitter. You will need to know details of the flanges you will be working on such as

• The type of flange: for example, ASME B16.47 Series A
• The Class/pressure of the flange: for example, Class 300
• The diameter of the flange (imperial)

If you don't have this information, the alternative option is to measure the flange and input the dimensions into a different section. When the information is entered, and the 'Ask the Guru' button is clicked, compatible flange tools are listed, and a link is provided to click through to the product web page.
Enerpac Bolting Calculator

So many factors can affect the integrity of a flange joint. This tool takes all of these into account and presents you with the information you need to complete the job correctly.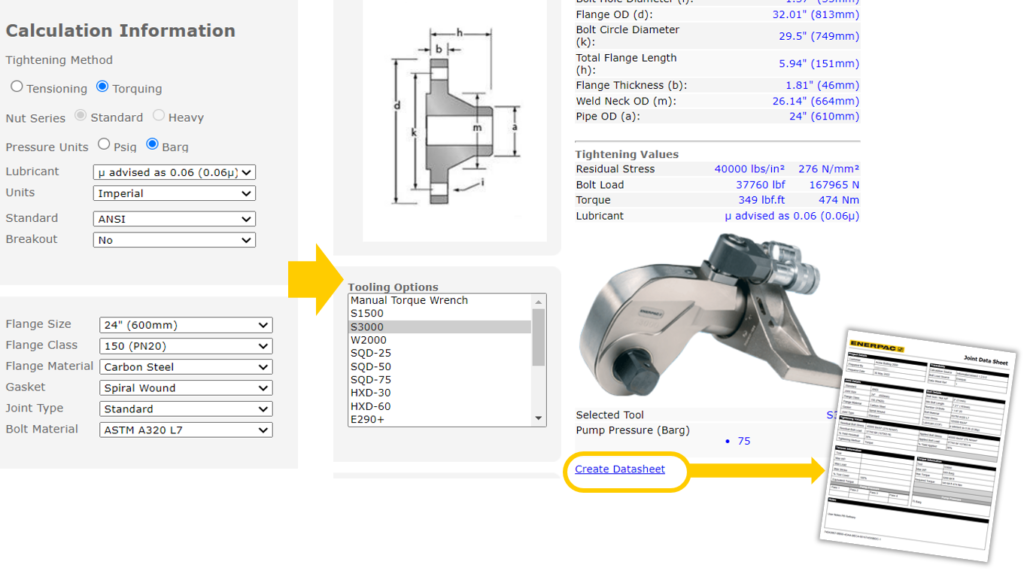 Who is it for?
The Enerpac Bolting Calculator is for bolting technicians who use hydraulic torque wrenches and tensioners. Registration is needed, but this is done simply by completing an online form.
What it does
It calculates and recommends bolt loads, torques and tool pressures to use across a wide range of flanged joints and clamp connections. It works for both torquing and tensioning tightening methods and recommends the torque wrench or tensioning tools for the application. The tool is available online or as a desktop download.
iDMS (Integrity Data Management System)
It's clear that apps and software are great for bolting calculations. But it takes more than a bolting calculator to manage joint integrity across a whole plant. That's why Hydratight created the iDMS Integrity Data Management Software.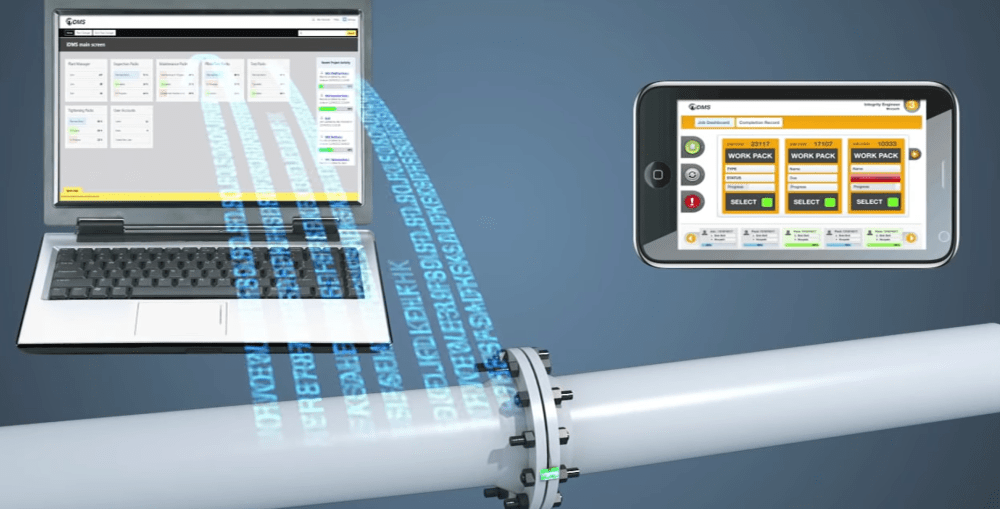 Who is it for?
iDMS is for technicians and managers in the O&G, Wind, and Nuclear industries who are responsible for the safety of assets across a plant. The system helps managers make the right decisions with absolute confidence.
What it does
iDMS is a one-stop shop for logging and retrieving data on materials, assembly, bolt loads, and maintenance history. Over time, the system builds up an accurate picture of the entire lifecycle of every critical bolted joint on an installation. This aids planning ensures joint integrity and reduces overall costs. Just as importantly, it offers a fully traceable record for each individual piece of work, therefore contributing to certification and compliant working practices. It can also supply a full audit trail to help in the management of technician and sub-contractor competence.