8 Essential Flange Tools for Pipeline Engineers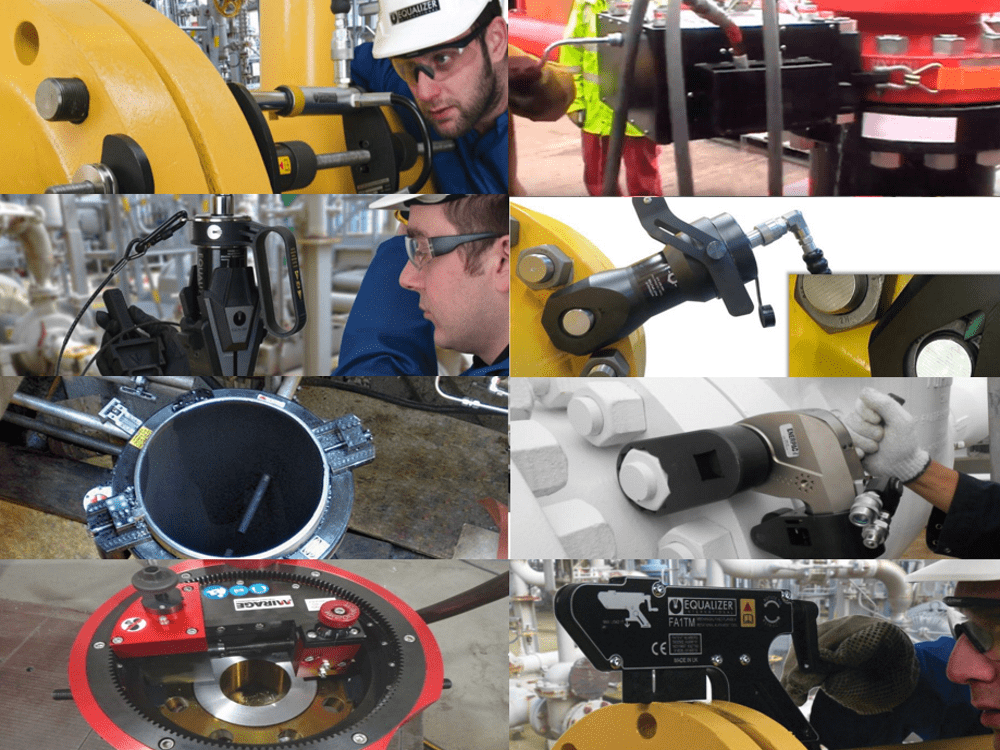 In the oil & gas, petrochemicals and power generation industries, a huge amount of work revolves around flanges used to connect sections of pipe, pumps and valves. This work may be during the construction of a new petrochemical or oil and gas plant, or as part of a maintenance project.
In either case, whoever is responsible for carrying out the work needs complete confidence that their tools are robust enough to handle the demands of the toughest challenging jobs.
So what tools and equipment are available and where can you get your hands on them?
To help you out we've put together our list of 8 essential flange tools, including links to product pages where you'll see full specifications and contact details.
Flange Facing Machines
The faces on new flanges can be damaged during transit to the construction site, or when welding the flange onto pipe when in-situ. Typically, this damage may include scratches and dents to the sealing surface, which puts the integrity of the flange joint at risk – with potentially disastrous consequences!
Even after pipelines have become fully operational, a joint's integrity can be compromised by ongoing corrosion inside the joint. When this happens the flange needs to be re-machined or replaced.
Flange facing machines are used to machine a new sealing surface onto the flange by creating a spiral serrated finish. Whatever the size of flange, you can be sure there's a flange facer available to get the job done efficiently and safely. Choose between internal and external mount types with either pneumatic or hydraulically driven motors.

Recommended flange facing machines: If you mention 'flange facing machines' to an on-site machinist the chances are Mirage is the first brand they'll think of. The Mirage company has now been integrated into the Enerpac Tool group – which means there's likely to be a distributor in your region whom can help you. The easiest way to get support is to enquire on the Enerpac website here.

Interactive Flange Facer Guide
Answer key questions to find the right machine for your projects
Flange Spreader
When pipe flanges need to be separated this can require considerable force delivered in a manner that doesn't damage either flange. To help with this you'll need a flange spreader and there's two different types available;
First of all, there's 'spreading wedges', which require an access gap between the flanges (normally around 4mm).
Alternatively, where there's a very small gap or no gap at all, use the 'secure grip spreader' type. These work by gripping inside the flange bolt holes.
Recommended flange spreader tools: Equalizer is a tried and tested brand of flange maintenance tools. The product range is broad, so whatever flange sizes you're working on you'll find a tool suitable to get the job done. As with the Mirage brand, Equalizer is also part of the Enerpac group. So to make it easy for yourself you may want to consider getting all of your flange management tools from a single supplier – Enerpac.
See Equalizer range of flange spreading tools here
Flange Alignment Tools
The name is self-explanatory. Flange alignment tools are used to line up flange joints during pipework construction, commissioning, or during routine maintenance. The tools work by attaching to the flange joint where misalignment is at its greatest and simply push and pull the flanges into correct alignment.
Recommended flange alignment tools: Equalizer flange alignment tools are available through Enerpac in sizes that cover smaller flanges through to large wind turbine flanges. See flange alignment tools on the website here
Flange Closing Tools
When flanges are aligned in advance of bolting, it may be necessary to use significant force to move the flanges closer together. When this is needed Flange closing tools (aka flange pulling tools) can be used for this purpose. Using a minimum of 2 tools per flange is recommended and more can be used to provide greater and more evenly distributed pulling force.
Recommended flange closing tools: Once again see Equalizer tools on the Enerpac website.
Bolting Tools
There's many different types of bolting tools available for tightening flange bolts. These include manually operated torque multipliers, bolt tensioners and torque wrenches which can be powered pneumatically, hydraulically, or electric.
Hydraulic torque wrenches can come with either a hex or square drive, and when standard torque wrenches aren't suitable, customized components can be made for your bolting application.
Recommended bolting tools: Visit the Enerpac website

Decommissioning Case Study Pack
Learn how portable machine tools solved four tough decommissioning challenges
Nut Splitters
If you need to loosen stubborn flange bolts and they won't budge, a nut splitter can save the day. These hydraulically powered tools use either an external or integral pump and do all the hard work for you.
Nut Splitters in the Equalizer line-up are available in various sizes designed to split bolts up to 75mm across flats (2.94")
Recommended nut splitter tools: See the Enerpac website
Bolt Saw
An alternative solution to the seized flange bolt problem is to cut through the studs. Try the MBS1360 Bolt Saw from Mirage. This is a clever machine which attaches to the flange using a simple ratchet strap. It uses a circular saw blade to sever the flange bolts through the gap between the two flanges and can be mounted on to flange diameters from 20.5" up to 71.25". After each bolt is cut, the ratchet strap is loosened allowing the cutter to be repositioned ready for the next bolt. This product was developed as a custom product so is not a standard product.

Clamshell Cutter
The clamshell cutter (also known as clamshell lathe, or split frame) is a portable machine tool which clamps around a pipe's diameter. They can be used for weld preparation or to sever the pipe. The latter will be necessary when you need to completely remove a flange.
Recommended clamshell cutters: The DL Ricci range from Enerpac
Want to make it easy?
Get all of the above tools from through a single supplier – Enerpac. Simply use any of the contact forms on our Enerpac, Mirage and Equalizer websites and your enquiry will be routed to your nearest representative. Having just one point of contact for all of your tools will make your purchasing process quick and easy and hassle-free.