4 Most Important Considerations When Selecting Tooling for a Clamshell Cutter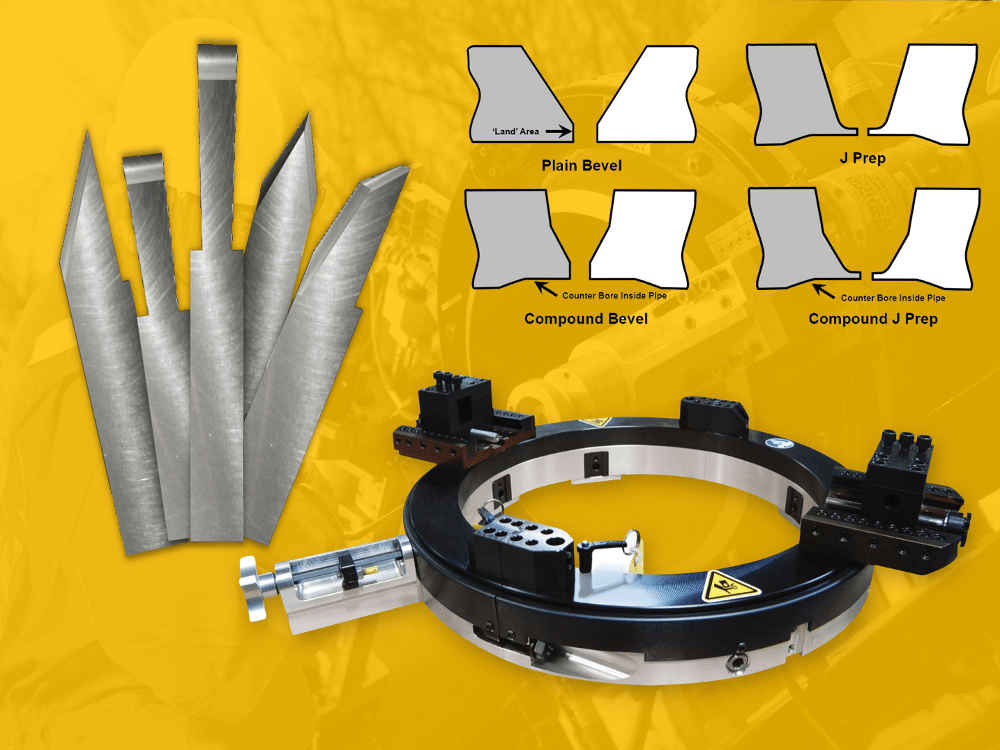 Choosing the right clamshell cutter for a pipe cutting or beveling application is one thing. Yet, even with the best machine, if you don't understand the tooling options available, you risk getting poor results and causing damage to the machine or pipe.
So, what are your options? And how do you choose?
The four key areas that determine the type of tooling needed are the pipe's wall thickness, the material, the tool profile required, and whether to opt for inserted tooling instead of standard tooling.
1. Choose Tooling to Suit the Pipe Wall Thickness
If you intend to cut a pipe, you will need a sever tool that includes enough distance from the tip of the tool bit to the shoulder. This should be greater than the wall thickness of the pipe. A standard tool length is 3 ½", while 7" is available for thicker wall piping above 30mm (1.18"). When beveling, the cutting edge of the tool should be long enough to make contact with the full thickness throughout the beveling operation.
2. Choose the Right Grade of Tool Steel
When cutting and beveling tough metals, you should select tools in a material strong enough to handle the job. Two common grades are as follows.
M2 Tooling
Standard tooling is normally a grade M2 tool steel. M2 is the most widely used industrial high-speed steel – often used for twist drills, reamers, broaching tools, milling tools, taps and metal saws. For durability, M2 includes Tungsten (6.15%), Molybdenum (5%), Chromium (4%), Vanadium (1.8%), and Carbon (0.85%).
T15 Tooling
If you intend to cut or bevel tough metals such as Super Duplex Stainless Steel, or super alloys. You should consider a stronger grade of tooling such as T15. This grade of high-speed steel provides a combination of high resistance to wear, bend strength, and high impact toughness – all which help towards a longer tool life.
The chemical composition of T15 differs to M2 through the addition of Cobalt (5%), and increased amounts of Tungsten (12.25%), Carbon (1.6%), and Vanadium (4.9%). Also included is Chromium (4%), unlike M2 grade steel where Molybdenum is not used.
3. Choose the Right Tool Profile
Before we look at tool profiles, if you are new to this topic, here is an explanation of why pipes are beveled, and their different profiles.
Why Pipes are Beveled
The end of a pipe is beveled to prepare it for an item such as a flange to be welded onto it. The flange then allows connection of other items such as a valve, pump, tee, or bend.
The ends of each item need to be prepared for welding by machining. This enables both pieces to fit together accurately, and it also creates a groove to accept a welded bead of metal around the joint. Creating this groove increases the surface area of the weld site and results in stronger welds that are able to handle more stress.
There are various shapes of pipe bevel used, these are dependent upon the pipe thickness and the welding process which may be automatic or manual.
The image below shows some commonly used pipe edge treatments used for weld preparation.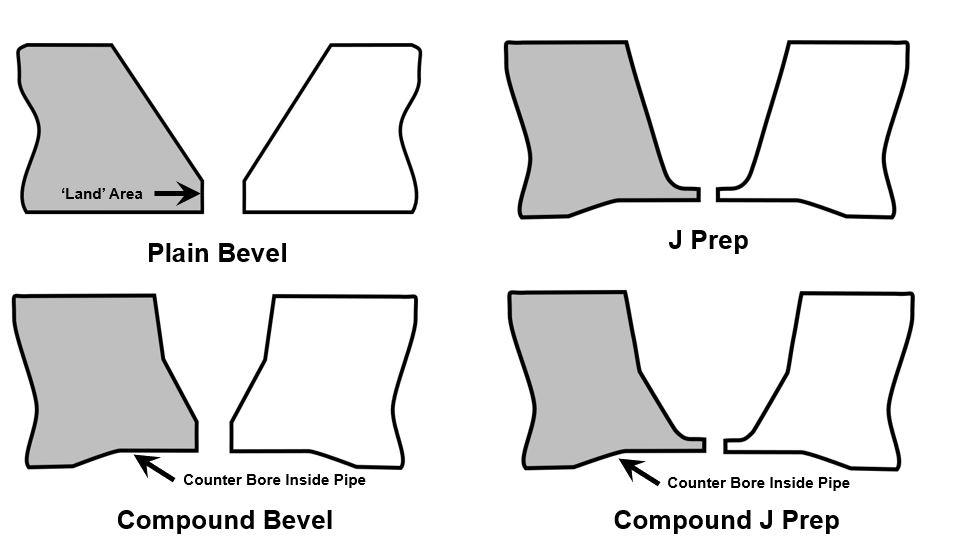 Plain V-Bevel and Compound V-Bevel
The plain bevel, also known as the V groove, is the most common bevel shape. The V shape is created using 30°, 37.5°, and 45° degree angles. Most include a small 'land' which is an unbevelled section that remains at 90 degrees to the exterior of the pipe. Both plain bevel and compound bevel edge treatments are used in both automated and manual pipe welding processes.
J-Prep and Compound J-Prep Bevel
By comparison, the J Prep Bevel, or so-called 'Tulip Bevel' requires less material to be machined and less volume of welding material. This process is often described as 'narrow gap welding'. This method can also be adopted for manual or automatic welding.
The J Prep can be used on light and heavy-walled pipe, whereas the Compound J Prep is suitable for heavy-walled pipe only.
Inside Bevel – Counter Boring
When the inside of a pipe needs machining the process is called counterboring. This ensures the 'land' (contact area) is the same width over the full circumference of the pipe.
Tooling for a Clamshell Cutter: Common Profiles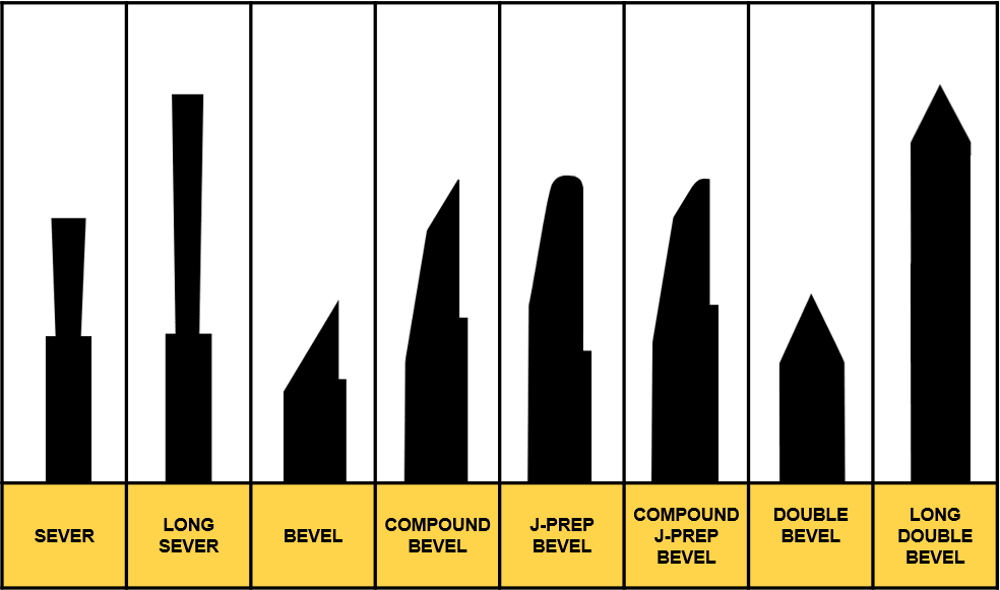 Many different types of tooling for a clamshell cutter are available to achieve the required weld prep profile. Some common tooling types are shown in the image above.
Sever Tools
Sever tools are usually supplied in pairs. One to make the leading cut, and the other (which is positioned at 180° to make the follow-up cut. Standard tool lengths for wall thicknesses up to 30mm are 3 ½" long. 7" length tools are recommended for thicknesses over 30mm (1.18") and up to 57mm (2.25").
Beveling Tools
Common weld prep profiles are available in left-hand and right-hand options. Profile types include straight bevel, compound bevel, j prep, j prep bevel, compound j prep, double bevel.
Custom Tooling
On some special projects, onsite engineers may prefer tooling that's purpose-designed. Some tooling manufacturers can provide this service on request.

Decommissioning Case Study Pack
Learn how portable machine tools solved four tough decommissioning challenges
4. Consider Standard vs Inserted Tooling
Standard HSS (High Speed Steel) Tooling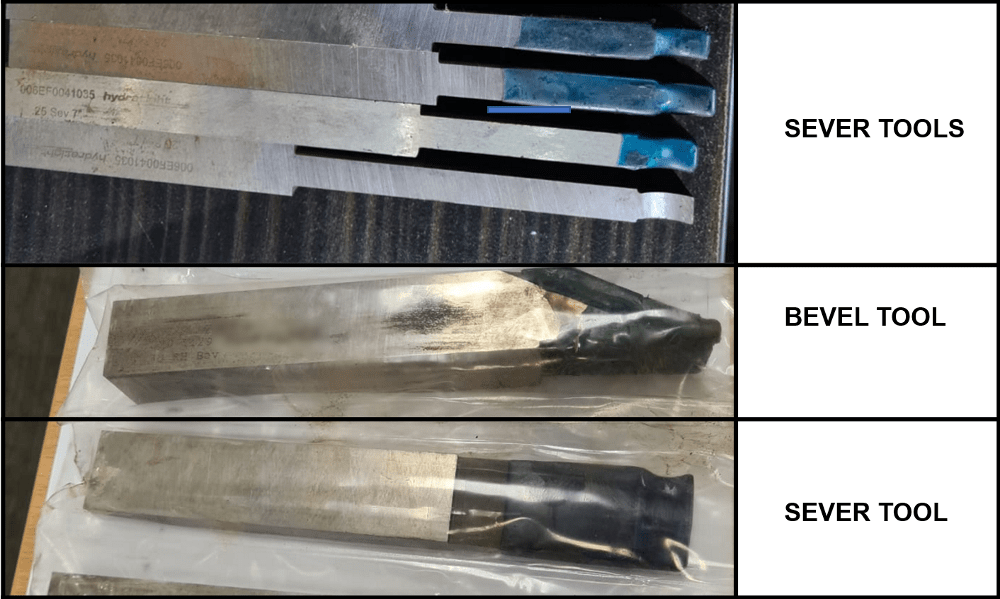 Standard tools for sever and beveling can be reground and reused for cost efficiency. This can be done in-house (provided somebody has the skills), or they can be sent back to your specialist machining supplier.

Inserted Tooling
The alternative is inserted tooling. In the short term this is more expensive as you are paying for an inserted tool holder. The inserts are relatively inexpensive and are easy to replace when worn. The advantages of inserted tooling are as follows.
Longer-term cost-effectiveness
Convenience when cutting difficult materials, superalloys, or pipes with an Inconel lining.
Flexibility due to the many different insert material types available.
Inserts can be selected to avoid contamination of the pipe material.
Need help choosing tooling or clamshell cutters? Get in touch with an Enerpac Machining Specialist.
Glossary of Clamshell Tooling Definitions
Counterbore: leaves an inside diameter angled edge.
J-Prep: outside diameter bevel with a radius and lip.
Severing: straight cut, no bevel.
Square: a 90° face on a surface.
Severing: straight cut, no bevel.
Right-hand bevel: bevel the end of the pipe the machine is mounted on.
Left-hand bevel: bevel the end of the pipe opposite of where the machine is mounted.
Double bevel: simultaneously bevel both sides of the pipe.
Compound bevel: two or more bevels using one tool bit.