Wind Turbine Construction: Time Lapse Video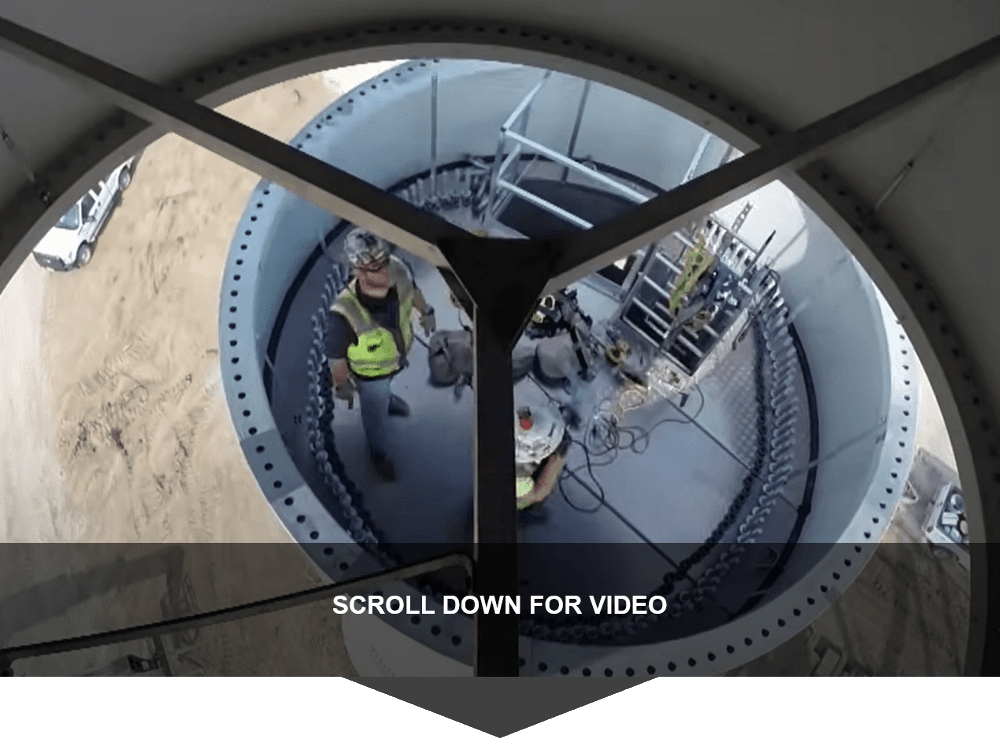 The easiest way to understand the onshore wind turbine construction process is to watch how it happens on YouTube.
A great example by MidAmerican Energy Company shows the three-week installation process compressed to less than six minutes.
This may take a short while to load on the page
Onshore Wind Turbine Construction: Video Summary
In this installation, 40-100 Geopiers were installed to improve ground stability.
Ground excavated 10 ft deep and 100 ft wide.
Base layer of concrete poured.
Steel rebar installed.
Up to 96,000 lbs of reinforcing steel installed -including a cage-like structure.
Concrete poured from 53 trucks – cured in 2 days.
1500 tons of soil backfilled and leveled.
Turbine blades and tower sections delivered to site (8 truckloads).
Base tower lifted by crane and installed by bolting to foundations (160 bolts). Usually done using foundation bolt tensioners.
Mid tower lifted by crane and bolted to base tower. (Typically, this is done using pneumatic or hydraulic torque wrenches).
On the ground, the three blades are bolted to the hub (three hours)
Top tower raised and bolted to middle tower section.
Nacelle prepared and raised to top tower (4 hours).
Rotor (hub and 3 blades) raised and attached to the nacelle.
More Information on Wind Turbine Construction
The video above provides a great overview and was published in 2015. For in-depth and more recent information we recommend the free documentary shown below and on YouTube. (Run time just over 49 minutes).
Wind Turbine Documentary

Tools and Equipment Used for Wind Turbine Assembly
Heavy Lifting Equipment
Synchronous Hoist Systems for Cranes
Equipment used for Wind Turbine Blade Manufacture

Orbital Milling Machines: used to machine the blade root end – creating a flat connecting surface.