How Flange Rating Works
A common area people new to the piping industry struggle with is how flange rating works. Here is a brief explanation:
With so much at stake, it's vital that flanges in the oil, gas, and petrochemical industries can withstand the temperatures and pressures they're subjected to. So it's not simply the size of the flange that's important, but its rating. Choosing a flange with the correct rating will ensure it can withstand the working pressure at various temperatures.
What the rating (or class) system means is that two flanges designed for the same nominal pipe size (NPS) can have different ratings. Obviously, the bigger the class number the stronger and heavier the flange is. The picture below shows class #900 and #300 flanges with the same NPS (nominal Pipe Size of 4 inches).

What is the recognized industry standard?
ASME B16.5 covers standards applicable to pipe flanges and flanged fittings, including flanges sizes from NPS ½" through to 24" diameters.
To illustrate, the chart below shows the maximum pressures allowed for different classes of carbon steel flanges. As you might expect, as the temperature increases the maximum permitted pressure is reduced.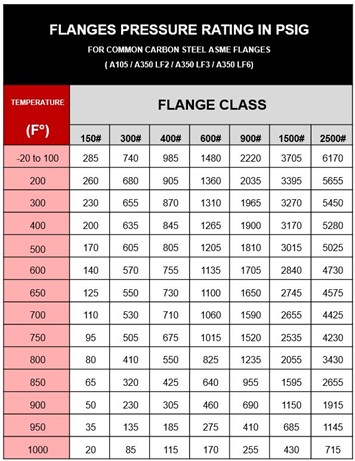 Source: hardhatengineer.com

Interactive Flange Facer Guide
Answer key questions to find the right machine for your projects
How flange rating works for diameters over 24"
For NPS 26" through to NPS 60" sizes, a different standard applies. This is ASME B16.47.
As before, there are different ratings up to class 900 but these are also split into two groups: There's series A and series B. Unlike ASME B16.5 flanges, the only types of flange available here are the weld neck and blind types.
Series A applies to MSS SP-44: steel pipeline large diameter flanges
In general, ASME B16.47 Series A flanges are thicker, heavier and stronger than Series B flanges for the same size and pressure rating, and can therefore withstand more external loading than Series B type. From a commercial point of view this makes Series A more expensive than series B equivalents.
Series B applies to API 605: large-diameter carbon steel flanges.
These need more bolts and nuts than Series A flanges and have a smaller bolt circle diameter. This results in less flange movement after installation.
Ensuring joint integrity
Selecting the right flange is important, but the integrity of the joint will not be assured if the flange sealing surface is damaged. This may occur during transportation, construction of the pipeline, or through corrosion after a period of use.
Fortunately, a damaged flange can be repaired by machining the surface with a flange facing machine. These are available in external and internal mount configurations in different sizes, some capable of machining with flange diameters as large as 120" (3050mm).
If you would like to speak to our technical team about our products you can get in touch below