Flange Facing Machine FAQS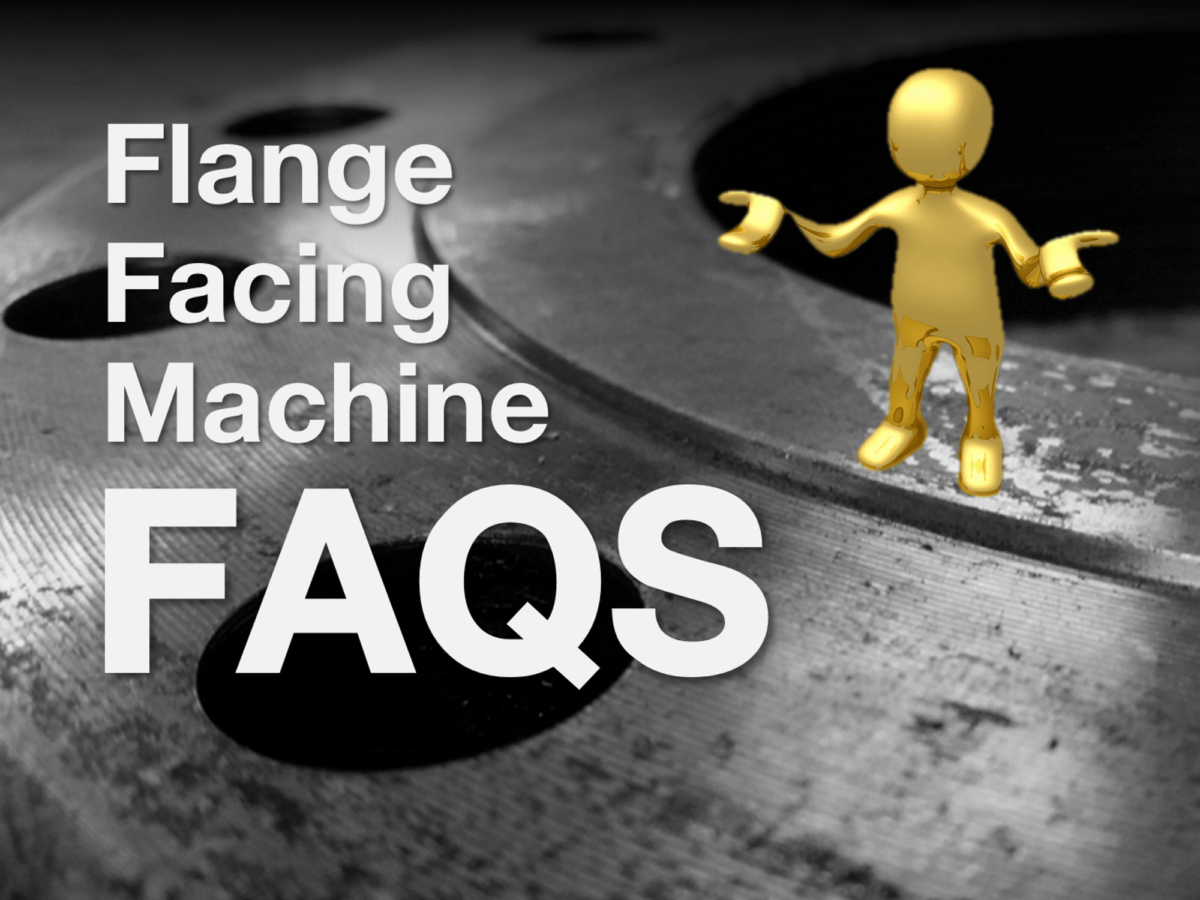 Manufacturers of all types of industrial products go to great lengths when promoting the features and benefits of their products on their websites. But many fall short of offering any real guidance on how to choose the right machine for each individual customer's needs. So, to help out, we're pleased to offer guidance to people wanting to know more about flange facing products. Included are answers to some of the commonest questions our technical sales team encounter.
We've divided the article into sections of 'Beginner Basics', 'Applications', 'Choosing a Flange Facing Machine' and 'Operating a Flange Facing Machine.'
SECTION 1: BEGINNER BASICS
If you're new to flange facing. Here are answers to some of the more fundamental questions;
Why is there a need for flange facing machines?
Although flanges are mass-produced with machined surfaces, damage to the flange surface during transit and installation can occur. This results in scratches and dents to the sealing surface. Damage like this puts the integrity of the joint at risk – with potentially disastrous consequences. Even after pipelines have become operational, a joint's integrity can be compromised by corrosion inside the joint. When this happens, the flange often needs to be replaced and can be removed using a split frame/clamshell cutter.
What are the main industries using flange facing machines?
These include petrochemical and pharmaceutical production plants, oil wells, pipelines and power generation plants.
How do flange facers work?
They work in a similar way to a gramophone player, with the cutting tool traveling in a spiral path across the face of the flange. This surface finish is commonly specified for flanges in the oil and gas industries, with the gasket material being compressed to fill the spiral groove. A flange with a spiral grooved finish is less liable to leakage, as any gas or liquid is forced to travel in the long spiral path rather than across the flange face.
How are they powered?
Pneumatic is the standard method, but hydraulic versions can be provided as an option on many machines in the range.
How do I know if the flange surface needs machining?
We recommend you read our previous blog article which includes a section covering what ASME states as acceptable flange damage.
SECTION 2: APPLICATIONS FOR A FLANGE FACING MACHINE
Raised Face Flanges, Heat Exchanger Flanges, Techlok Flanges, Recessed Gaskets & Spigots, Weld Preps, Hub Profiles, RTJ Flanges, Lens Ring Joints, SPO Compact Flanges, Swivel Ring Flanges.
Note: to carry out some of the above applications you will need additional options and accessories.
What options and accessories are available?
Optional components for widening the usage of the flange facing machine include:
Compact flange machining kit to convert your existing flange facer. Alternatively you can specify a dedicated compact flange facing machine at the time of order.
Journal/end shaft turning kit
Heat exchanger mounting kit
Heat exchanger back facing kit
Lens ring machining kit
Orbital milling kit, replacing the single point tool post with a milling head.
Hydraulic conversion kit – to convert a pneumatic machine to hydraulic drive.
Can a flange facing machine work in a subsea environment?
Yes, however it will need to be a hydraulically powered.
SECTION 3: CHOOSING A FLANGE FACING MACHINE
What size machine do I need?
There are many different sized flange facing machines available, for example smaller machines can be used on flanges from 2" up to 12" and the larger machines covers sizes from 45" up to 120". Additionally, the MM1080ie is a unique design which can be mounted internally or externally and used to machine flanges from 0" all the way up to 157" diameter.
Should I choose hydraulic or pneumatically powered flange facer?
This depends upon the availability of an air line at your project location. Pneumatic machines are the commonest type of flange facer, but hydraulic versions can be used with a power pack on locations where pneumatic is not an option. The good news is that it is often possible to convert a pneumatic machine to a hydraulic drive by using a conversion kit.
Do I need an ID or OD mounted flange facing machine?
This depends upon whether you can access the bore of the flange to install the mounting legs. ID mount machines are the commonest type, but OD mount versions are frequently used when access to the flange bore is restricted.
Should I buy or rent?
As you might expect, this depends upon how often you think a similar project will occur. In many cases, it pays to take the longer-term view and purchase a machine (or machines), to cover a range of popular flange sizes. This means you will be able to react much quicker to future needs as compared with renting on an ad-hoc basis.
What are the common problems with cheap flange facers?
When shortlisting your priorities, price is obviously a key consideration, but buying on price alone is a false economy, as unfortunately many cheap flange facers are not robust enough and simply aren't up to the job. If a machine is not stable it can move during the machining process, causing damage to the flange and producing an inconsistent surface finish. Another issue is that some machines don't have pre-set gears. These cheaper variable feed machines can (in theory) produce a wider range of finishes, but can inconsistent and be fiddly to operate. If you choose a machine with pre-set feed rates you will make consistent spiral groove surface finishes every time.
Why should I buy a flange facer from Mirage Machines?
Although this article is not intended as a sales pitch, it does provide the opportunity to mention that Mirage are market leaders for flange facing products. We design our flange facing products to be robust and easy to use, which has resulted in the Mirage name being becoming synonymous with flange facing.
The company was founded in 1993 and prior to this, our company founder George Silk was responsible for the development of the well-known 'Silk' range of flange facing machines. Our products are designed and manufactured in-house in Derby, UK, in an area known for engineering excellence through companies such as Rolls Royce, Bombardier Transportation and Toyota's UK manufacturing plant.
What air supply is needed?
This depends upon the size of the machine and can be from 1.6 m³ the smallest machines to 2.89m3/m for the largest.
What is supplied as standard?
Each machine is supplied complete with toolkit including tools and inserts, air filter lubricator and hose connection, all required mounting base and extensions, storage / shipping box, CE certificate, packing list and manual.
What are the lead times for purchase?
This varies depending upon size of machine and stock availability. Provided the machine is in stock it can be despatched within 48 hours.
Can you supply a machine to my area?
Yes, we have a network of representatives and distributors who can organise what you need.

Interactive Flange Facer Guide
Answer key questions to find the right machine for your projects

Decommissioning Case Study Pack
Learn how portable machine tools solved four tough decommissioning challenges
SECTION 4: OPERATING A FLANGE FACING MACHINE
How can I create a spiral serrated finish?
Finishes are created using geared fixed feeds, to help achieve ASME B16.5 specifications.
What positions can they be mounted?
Flange facing machines can be mounted at any angle, including the inverted orientation. When not mounted horizontally, the facing arm is balanced using adjustable counterweights.
How to set up a flange facing machine
For internal mount flange facers; the base unit is pre-assembled and offered to the flange using setting straps resting on the edge of the flange surface. The base legs are then adjusted to clamp inside the bore, and the machine fixed onto the base unit. The machine's position is finely adjusted and checked using a clock dial indicator. When level, the setting straps are removed and machining can commence.
How long does it take to machine a flange face?
The actual machining time is normally just a few minutes. Most of the time taken on a flange facing job is taken up with machine installation and removal.
What maintenance is needed?
If looked after correctly, the flange facing machine will provide years of trouble free use, with accurate and consistent results produced every time. Simple cleaning, debris removal and oiling is mostly all that is needed.
To discuss your next project, visit our website to get in touch with an Enerpac contact for your region here