Steam Turbine Maintenance: How Portable Machine Tools Can Help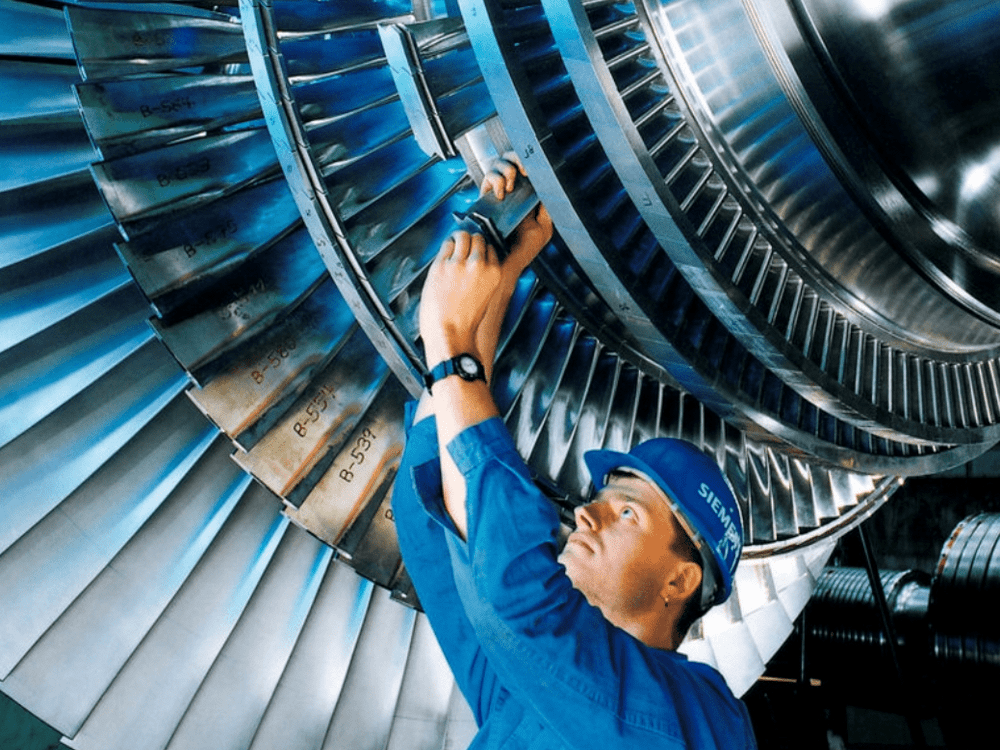 A properly maintained steam turbine can operate reliably for many decades. But to make sure this happens it needs to undergo regular maintenance, with as much as possible of this being preventative.

While there are differences in the design and complexity of steam turbines, they all fundamentally do the same thing: converting energy derived from heat into electricity.
What can go wrong with steam turbines?
Many turbine types use similar components and supporting systems, and therefore share some common failure issues. The tables below published by NERC (North American Electric Reliability Council) and EPRI present turbine failure from two different angles. Fig 1. The shows the top failure causes ranked by lost availability in MW-Hrs per year from 1998 to 2002. You'll see that turbine blades and buckets used in the turbine's LP (low pressure) section came out on top – and by a significant margin. Next were bearings within the HP (high pressure) section, followed by vibration of the turbine generator unit.

The second table in Fig 2. shows failure mechanisms ranked by frequency and severity. You'll see that the loss of lube oil is a big problem, along with blade erosion, vibration and rubbing of components.
Figure 1. Failure types ranked by lost hours in turbine availability.
Figure 2: Failure failure types ranked by frequency and severity.
Maintenance Programmes
Turbine manufacturers typically recommend minor overhauls every few years and major overhauls being carried out after no more than 15 years. A minor overhaul will typically take two to four weeks and a major overhaul anywhere between four and eight weeks.
These overhauls are in addition to regular ongoing checks, which should take place daily, weekly and monthly. These daily and weekly tasks mostly involve monitoring and measuring where temperatures, pressure, lubrication, vibration, steam flow rates, speed, and output are measured and analyzed.
Bearings, Couplings and Shaft Journals
Bearings are used to support the turbine rotor inside the housings within the turbine shells. Bearing types can vary, with common smaller steam turbines utilizing rolling element bearings and larger turbines using journal and multi-pad thrust bearings. Poor lubrication of these will lead to excessive wear and vibration, resulting in components that need to be refurbished or replaced.
Shaft journals can be machined using portable lathe or journal turning machine and internal bores or bearing mounts with a line boring machine.
Turbine Casings
Steam sealing faces play an important role within the turbine, and when these need refurbished they can be machined using a line boring machine, (or the Mirage WP1500 which was custom designed for one customer's application). Turbine casing split lines can be machined using a 2-axis milling rail mounted onto a gantry frame. View our case study to find out more about these applications.
Turbine Blade Refurbishment
As the information presented in the above charts show, turbine blades are subject to extreme conditions, ultimately with many needing to be replaced. Removal of these blades can be difficult, which is why Mirage was asked by a major customer in the power gen sector to develop two bespoke products to make this easier.

The resulting PD760 Pin Drill eliminated the need for hand held pistol drills and the BLS760 Blade Saw shortened blade cutting time from 2 hours to just 8 minutes. View our case study to find out more about these applications.
Supporting Systems
Secure and stable connections on any pipe runs attached to the turbine play an important part in effective turbine operation. These should be installed and maintained properly, avoiding mechanical distress to the turbine connections and any unwanted vibration.
Leaking flanges on pipes, pumps and valves leading to and from the turbine can be re-machined using a flange facing machine and pipe runs replaced using a clamshell/split frame pipe cutter.
Vibration problems caused by unsteady motor and pump mounts can be machined level using a portable 2-axis milling machine mounted onto a gantry.
Summary
Preventative maintenance is the key to a prolonged turbine life, but inevitably some components will wear and therefor need to be either refurbished or replaced. On these occasions when there's metal machining work to be done, you can be confident that there's a Mirage portable machine tool available to get the job done efficiently, safely and on time.

If you need equipment for an on-site machining project, visit our resources section or get in touch with your regional contact here